Reviewer:
Rowena
Count to Ten
by
Karen Rose
Series:
Romantic Suspense #6
Publisher
:
Grand Central Publishing
Publication Date
: February 1, 2007
Format:
eBook
Source:
Purchased
Point-of-View:
Third
Genres:
Romantic Suspense
Pages:
564
Add It
:
Goodreads
Reading Challenges:
Rowena's 2019 A-Z Reading Challenge
,
Rowena's 2019 GoodReads Challenge
,
Rowena's 2019 New to Me Challenge
Amazon
|
Barnes & Noble
|
The Ripped Bodice
|
Google Play Books
Series Rating:
In all his years in the Chicago Fire Department, Lieutenant Reed Solliday has never experienced anything like this recent outbreak of house fires - devastating, vicious and in one case, homicidal. He has another problem - his new partner, Detective Mia Mitchell. She's brash, bossy, and taking the case in a direction he never imagined. Mia's instincts tell her the arsonist is making this personal. And as the infernos become more deadly, one look at the victims' tortured faces convinces her and Reed that they must work closer to catch the killer. With each new blaze, the villain ups the ante, setting firetraps for the people Reed and Mia love. The truth is almost too hot to handle: This monster's desire for death and destruction is unquenchable ... and for Mia he's started the countdown to an early grave.
Count to Ten is the sixth book in Karen Rose's Romantic Suspense series and the first book that I've ever read by Rose. I don't know what I was expecting when I jumped into this book but whatever, I liked this one. This was a book club read and if you guys know anything about my book club, they like happy, happy, joy, joy stories and this weren't one of them. I didn't mind the gore and the darkness that surrounded the villain (that we actually see on the page) because I was super wrapped up in the investigation, the romance between the main couple and I was really rooting for the good guys to figure everything out.
This book read like an episode of Law & Order: SVU. The crime is committed, the fire department and the cops are called, the detectives scramble from lead to lead to find the bad guy and all of that is happening at the same time that some characters are dealing with personal issues and falling in love. I thought Karen Rose handled each aspect of the story really well. It was too heavy on one specific thing. The characters were fleshed out, the story was engaging and though it was a bit slow in the beginning when it picked up, it really picked up.
Reed Solliday was an interesting hero, one that I really enjoyed getting to know. He is still grieving his late wife, even though it's been a few years and his daughter is really going through it. She's fourteen and is feeling some type of way about constantly living in the shadow of her dead mother. It's a big thing that is tackled in this book and I thought Rose did a great job of letting the reader feel what the characters were feeling. I loved that Reed wasn't perfect, that you really go through every day with him and see him grow into his feelings for Mia while figuring out how to reach his daughter and trying to stop a serial killer from taking another life. I loved seeing him struggle with trying to understand his growing daughter, struggle with moving on from his wife, a woman he thought was the love of his life.
Mia Mitchell really grew on me. I didn't read any of the other books in this series, so I didn't go into this story knowing the background on what happened with Mia and her partner, Abe but that didn't really matter because Rose did a good job of making the reader understand what was going on anyway. It took a little bit for me to warm up to Mia's character but I ended up really loving her. I thought she had a great head on her shoulders, she was strong and brave and she didn't need anyone to save her, no matter how many times Reed tried. She was also extremely caring of those in her small circle of trust and I really loved seeing her fix the broken parts of her life. She dealt with a lot of things on her own and it took her a while to really come around to the idea of leaning on anyone so when she finally does, I was here for it.
Overall, this story was action-packed and the romance was sweet so I had a good time reading it. I am definitely interested in reading more books in this series and more books from this author. This was a great introduction to Karen Rose's work and I'm glad that I read it. I definitely recommend.
Final Grade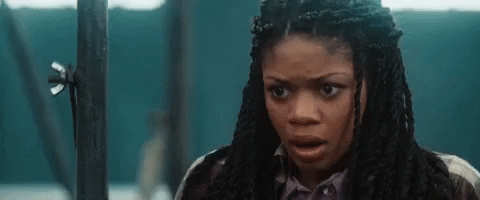 4 out of 5
Romantic Suspense