Reviewer:
Rowena
Then Came You
by
Kate Meader
Series:
Laws of Attraction #3
Also in this series:
Down with Love
,
Illegally Yours
Publisher
:
Loveswept
Publication Date
: May 7, 2019
Format:
eARC
Source:
NetGalley
Point-of-View:
Alternating First
Genres:
Contemporary Romance
Pages:
200
Add It
:
Goodreads
Reading Challenges:
Rowena's 2019 GoodReads Challenge
Amazon
|
Barnes & Noble
|
The Ripped Bodice
|
Google Play Books
Series Rating:
In the courtroom, they're rivals. In the bedroom, they're . . . divorced. But could the road trip from hell lead to a second chance at love?

Aubrey Gates is the hottest divorce lawyer in Chicago, a barb-tongued stiletto with legs that go on for miles. When her cool gray eyes meet mine across the battlefield, I want her like I've never wanted anyone or anything. Then I remember who she is: the woman who brought me to my knees. The woman who destroyed my faith in relationships.

The woman I used to call . . . wife.

And she needs a favor from me, Grant Lincoln.

It seems my ex forgot to mention the demise of our marriage to her dear old grammie, and now we're both expected to attend her ninetieth birthday party. In Boston. And because it isn't already awkward enough, Aubrey and I are driving there together from Chicago. That's more than a thousand miles of tension, heartbreak, and barely concealed lust.

A little piece of paper might say we're over, but this road trip is the true test. I intend to get my wife back . . . and I won't stop until "I do."
Then Came You is the third and final book in the Laws of Attraction series by Kate Meader and it was the book that I was most looking forward to because we're finally going to get the lowdown on what truly happened between Grant and Aubrey. Grant and Aubrey used to be married but something happened that drove them apart and before either of them knew what was what, the marriage and the relationship were over. These days, they're still in each other's lives because they share friends and work near each other. They're both divorce attorneys and often find themselves across the courtroom from each other so when Grant hears that Aubrey needs a ride home for the holidays, he offers to take her…and to pretend to still be married to her so that she can tell her aging grandmother the truth, in person.
On the road trip, Grant and Aubrey are stuck in close quarters with nothing but the road and time on their hands. They have a lot of time to talk things over and Grant realizes that his feelings for Aubrey never went away so he decides that he's going to use this opportunity to try to figure out where they went wrong and how to fix them.
Aubrey grew up rich and she didn't have the kind of loving upbringing that Grant did so she grew up to have a lot of Mommy and Daddy issues. Her parents left a lot to be desired in the parenting department and the only person in her family that she is close to is her grandmother. Her grandmother that never knew that she and Grant have been divorced for the last few years. Aubrey is finally going to tell her the truth but when they get home, Aubrey is so confused about everything that things don't go the way that she thought it would.
Grant grew up with his single mother and all the love that could be showered on one person. He grew up in a happy home and never wanted his Mom to work as hard as she did while he was growing up. He wanted to take care of everyone around him and when he failed with Aubrey, his life was thrown off its axis. Being around Aubrey again, wanting to fix everything that went wrong with them is a lot harder than he thought as well.
Of the three books in this series, this book was my favorite. It was full of angst and just as intense as I thought it would be. Seeing Grant and Aubrey work through their shit and fall in love all over again with who they were now and recognizing who they were before, it all made for such a great second chance romance. I loved seeing the gang altogether again and really, Kate Meader did her thing with this one and I'm glad that I read it.
Final Grade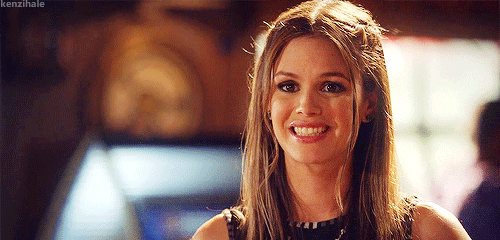 4 out of 5
Laws of Attraction