Reviewer:
Rowena
Headliners
by
Lucy Parker
Series:
London Celebrities #5
Also in this series:
Pretty Face
,
Making Up
,
The Austen Playbook
Publisher
:
Carina Press
Publication Date
: January 20, 2020
Format:
eARC
Source:
NetGalley
Point-of-View:
Third
Cliffhanger:
View Spoiler »
No « Hide Spoiler
Content Warning:
View Spoiler »
None « Hide Spoiler
Genres:
Contemporary Romance
Pages:
400
Add It
:
Goodreads
Reading Challenges:
Rowena's 2020 Goodreads Challenge
Amazon
|
Barnes & Noble
|
The Ripped Bodice
|
Google Play Books
Series Rating:
Sparks fly when two feuding TV presenters are thrown together to host a live morning show in Lucy Parker's latest enemies-to-lovers contemporary romance.

He might be the sexiest man in London, according to his fan site (which he definitely writes himself), but he's also the most arrogant man she's ever met.

She might have the longest legs he's ever seen, but she also has the sharpest tongue.

For years, rival TV presenters Sabrina Carlton and Nick Davenport have traded barbs on their respective shows. The public can't get enough of their feud, but after Nick airs Sabrina's family scandals to all of Britain, the gloves are off. They can barely be in the same room together—but these longtime enemies are about to become the unlikeliest of cohosts.

With their reputations on the rocks, Sabrina and Nick have one last chance to save their careers. If they can resurrect a sinking morning show, they'll still have a future in television. But with ratings at an all-time low and a Christmas Eve deadline to win back the nation's favor, the clock is ticking—and someone on their staff doesn't want them to succeed.

Small mishaps on set start adding up, and Sabrina and Nick find themselves—quelle horreur—working together to hunt down the saboteur…and discovering they might have more in common than they thought. When a fiery encounter is caught on camera, the public is convinced that the reluctant cohosts are secretly lusting after one another.

The public might not be wrong.

Their chemistry has always been explosive, but with hate turning to love, the stakes are rising and everything is on the line. Neither is sure if they can trust these new feelings…or if they'll still have a job in the New Year.
Headliners is the fifth and I think it's the final book in the London Celebrities series by Lucy Parker. This book follows Sabrina Carlton as she falls in love with the man she despises above all over men, Nick Davenport. They are rival TV presenters who bicker back and forth but their rivalry kicks into high gear when Nick drops a story that takes Sabrina's family by the throat and squeezes. The story Nick drops hurts Sabrina's family and it's something that Sabrina hasn't gotten over so when they're forced to join forces on a morning TV show, in order to keep their jobs and neither of them is happy about it.
Nick's career was on a fast track to him getting his own travel journalist gig where he would be writing investigative news. He would have followed in his father's footsteps but nobody is more surprised as Nick to learn that he is actually enjoying hosting the morning show with Sabrina Carlton of all people. Sure, they had a rough start where anything that could go wrong, did go wrong but with Sabrina's help, Nick is doing his own investigative journalism trying to figure out who is trying to wreck their show. It's an inside job for sure and the deeper Nick and Sabrina dig to find out who the bad guy is, the closer they seem to get with each other.
I really enjoyed getting to know both Sabrina and Nick in this book. Seeing them both front and center was a lot of fun. I didn't think that I would love Nick as much as I did because I couldn't stand him at the end of the last book but Lucy Parker did a fantastic job of redeeming his character for me and I'm glad because I really, really loved him. He was probably my favorite part of the book. I loved him on his own, I loved him when he was with Sabrina. I loved seeing him with his niece, with his brother, and his mother. He was a fleshed out character that melted me at every turn and I just adored him.
Sabrina was a fantastic character on her own. She's the big sister who loved and supported her sister in every way, but she struggled with her relationship with her father and I was glad to see that Lucy Parker included that relationship in Sabrina's overall character arc. I was glad to see her and her father work through their issues and come out stronger on the other end. Sabrina was such a strong character and I really enjoyed seeing her work through her different issues within herself, with Nick, her father and I loved that through it all, she was still the Sabrina that we knew and loved. She was just so much more in the end.
The romance between Nick and Sabrina was hot and I was here for it all. I thought they complimented each other well and when they became each other's person without realizing it at first, I was thrilled because I really enjoyed seeing them together. This was such a strong addition to this series and if it's the end, I thought this story ended the series on a high note. I adored seeing everyone from the other books in this one and I have come to care about all of these characters so I will miss the hell out of them. All in all, this was a great book and if you haven't read this series, I highly recommend that you change that. Everyone should know and love these characters, Nick and Sabrina will capture your heart just like they captured mine. So good!
Final Grade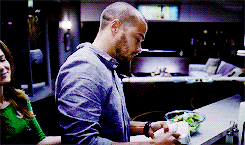 4 out of 5
London Celebrities