Reviewer:
Rowena
Huge Deal
by
Lauren Layne
Series:
21 Wall Street #3
Also in this series:
Hot Asset (21 Wall Street, #1)
,
Hard Sell (21 Wall Street, #2)
,
Hot Asset
,
Hard Sell
,
Huge Deal
,
Hot Asset
,
Hard Sell
,
Huge Deal
Publisher
:
Amazon Publishing
,
Montlake Romance
Publication Date
: February 12, 2019
Format:
eBook
Source:
Purchased
Point-of-View:
Alternating Third Person
Genres:
Contemporary Romance
Pages:
259
Add It
:
Goodreads
Reading Challenges:
Rowena's 2019 GoodReads Challenge
Amazon
|
Barnes & Noble
|
The Ripped Bodice
|
Google Play Books
Series Rating:
Even for a top-gun banker, temptation this hot is quite a gamble, in a sexy Wall Street romp from New York Times bestselling author Lauren Layne.

An alpha among the wolves of Wall Street, Kennedy Dawson rose to the top of the pack by striking the right contracts at the right times. But there's one deal that's been giving him a run for his money—a pact to never again let his assistant, Kate, get under his skin. She may be smart, gorgeous, and sharp as a whip, but she's definitely off-limits.

Kate Henley isn't a banker, but she knows a thing or two about risk management—specifically, about managing her attraction to her smolderingly sexy boss. She already fell once, and Kennedy showed no sign of paying a return on her investment. So when Kennedy's brother starts pursuing her, Kate figures she has the best of both worlds. Jack is charming, rich, very attentive, and the spitting image of his older brother.

It's also making Kennedy think twice. But to win Kate's heart, he'll have to broker the deal of a lifetime…and prove he's worth the risk.
Huge Deal is the third book in Lauren Layne's 21 Wall Street series and it is legit, my most anticipated release of the year. I have wanted Kennedy and Kate's story since they were first introduced in Hot Asset. I pre-ordered this the minute I found out that it was up for pre-order and I read it in one sitting the night that it was delivered to my kindle. You guys will have to excuse me because I can't help myself. I fangirl over everything that I read by Lauren Layne. Are we friends? Nope. Do I get paid to scream from the rooftops over my love of all things Lauren Layne? Nope. Do I hype myself up for all of her new releases? You betcha. Did she deliver a romance worthy of the hype that I gave this book in my head?
I am a sucker for the unrequited trope and Lauren Layne did such a fantastic job of showcasing that same trope for both Kennedy and Kate. We saw Kate's feelings for Kennedy over the course of this series but in this book, we saw the tables turn and saw Kennedy waking up and catching on to what everyone already knew…that Kate was his lobster.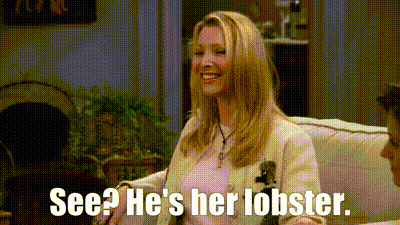 I think what I was most looking forward to in this book was seeing the usually staid and reserved Kennedy finally lose his cool over a woman, but not just any woman. No, I was looking forward to him losing his cool over the woman. Over Kate. The Kennedy that we know and love is low key a fuddy-duddy who is not exactly a prude but low key maybe is a prude? That probably doesn't make sense to people who haven't read this series but trust me, that's Kennedy's charm. From the jump, you can tell that Kate has a different relationship with one of her bosses. She's got three but there's only one that rubs her the wrong way. There's only one that brings out the snarky personality in her…and for two books, I wanted to know the full background that explained the combative nature of Kate's relationship with Kennedy.
Oh man, the waiting damn near killed me but boy did I eat up every single word of this book. I was here for all of the drama, all of the passion and I was definitely here for the explosion. Holy cow, Jealous Kennedy was a sight to behold. I freaking loved seeing Kennedy so jealous and not even realize that he's jealous. I loved seeing him twisted up in knots over Kate being with anyone not him. I was over the moon when he finds Kate at his parent's anniversary party on the boat. I had the biggest smile when Kate finally yells at him about the word she'd use to describe him. My feelings and my emotions were wrapped up from beginning to end and I thought Lauren Layne delivered a damn near perfect romance for two of my favorite characters of hers. She never fails to write the kind of romances that I need right now and that I read in one sitting. Is this book perfect? Probably not to everyone but it was damned perfect for me. Kate and Kennedy forever!
Grade: 5 out of 5
21 Wall Street
Related Posts