The first book in this series, Best Friend with Benefits caught my eye a while ago but then fell off my radar for some reason so when I came across this book, the first book came right back on to my radar. These books sound like all kinds of fun. I mean, who doesn't like high school reunion shenanigans? It's always fun to live vicariously through our books, right?
I'm mighty curious about this series and I'm glad that we're featuring it on the blog today because I need to get these books pronto!
Wrong Bed Reunion by Candy Sloane
Most Likely To Series #2
Releases on July 11, 2016 by Entangled Brazen
Fake relationship, real temptation.

Most Likely To #2

Georgia Cahill is at her high school reunion to seduce the quarterback boyfriend she left behind ten years ago. Unfortunately, one too many margaritas accidentally land her in bed with Gideon Neill, the class geek, instead. By the time she realizes her mistake, she's the one being seduced.

Gideon Neill is a new man—confident, gorgeous, and about to make the biggest business deal of his life. He just needs a girlfriend to land it. Georgia provides the perfect solution—he'll help her make her ex jealous if she'll be on his arm for his business deal.
But he quickly realizes he likes her in his arms even better!

Who'd have guessed that sleeping with the enemy would be so hot? But it isn't long before their act becomes all too real. Could this truly be love? Or is it just the best sex
they've ever had?
Order the Book:
AMAZON || BARNES AND NOBLE || GOOGLE || KOBO
Excerpt
"You're going to have to do better than prom night, Peach." He kept his voice as heavy as cement. Her hand stopped pumping and he tried to ignore the protest screeching from his cock in its absence. Peach was what everyone called her in high school, her name being Georgia. It was a much nicer nickname than Gilligan had been, based not only on the island but also his skinny neck, sharp shoulder blades, and perpetually wet hair from daily jock-stipulated swirlies. He hadn't thought about that in years, either. About the day he first became the focus of her group's taunts and every terrible day after that.

Bad memories mingled with good old uncontrollable desire as her legs crisscrossed like scissors
along his side—hot, smooth skin and her need slicked his thigh. Her nickname had another meaning. She was a juicy peach through and through. "Are you coming up with ideas?" The timbre of his voice was low and direct. He couldn't, wouldn't get lost in her. Her hand started working his cock again, fingers skimming from his base to his tip. He bit back a moan. She was a cheerleader to the very end. It felt good, ten years better than good, but he needed more. For making his life hell during high school, she'd have to give him a show, a damn parade. "Tick tock, Peach."

It was bold, to be sure. He figured she would balk and leave. Intellectually, he wanted her to. She couldn't expect to treat him the way she had and then just climb into his bed and expect all was forgiven—though his cock definitely seemed willing to hear apologies. She straddled him, laid her legs on either side of his hips, and rubbed along his straining length. "Better?" she mused, grinding and teasing. Her tits jostled against his chest with each thrust.

She was sopping through her panties, and the contact drowned his nerves into a pool of lightning. He'd wanted it to not be enough, but it was all he could do to stay secured to the bed as she writhed and thrashed. Her pretty, pouty mouth nibbled on his neck and she pounded against his cock at the pitch of his heartbeat, turning that lightning to thunder. Her breath was ragged as her tongue tasted his earlobe.

The mouth that had teased him all through high school was teasing him in a different way now. A burn he'd suffered years ago was being soothed by her hot skin. He sank lower into the bed, and bursts of glow-in-the dark pom-poms flashed behind his eyes. If he didn't push her off of him, he was done for. Who was he kidding? He was done for already. It was too much. It might have been ten years past his fantasy, but Georgia "Peach" Cahill was giving him a private lap dance. More than that, she seemed to like it. With each lunge, it was like she welcomed the jab of his cock against her waiting and willing pussy. It didn't matter why she'd snuck into his bed, because she was here for him now. For Gideon, the man he had become.

He'd give her what she was asking for. Prove to her that his unexpected windfall wasn't all that had changed about him. He urged against her with more force, hitting the spot that would make her ride him even harder, reveling in the pressure of her sweet softness against his cock. Her breath escalated, and she moaned in gratitude. He wanted to see what other noises he could force out of her. He longed to make her squeal, to make her beg. To make the bright blue eyes that had rolled at his nerdiness now roll back in her head in ecstasy. She might have started this, but he was going to finish it. He spread his thumb along her jaw. "That's enough playtime; panties off, Peach." Her breath rasped, but she didn't acquiesce.

"That's why you're here, isn't it? To fuck me—to get fucked by me?" He wielded more power by forcing her off of him and positioning her against the bed, his legs locked on either side. She let out a surprised gasp. "Yes, but I'm supposed to seduce you."

"Things change, and I don't seduce." He snaked his tongue along the center of her body, between her tits, and down to her belly button. She tasted of vanilla incense. "I own."
Well, alrighty then…
Most Likely To Series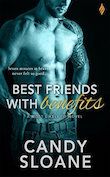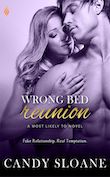 About the Author
FACEBOOK || TWITTER || GOODREADS
Candy Sloane is a pseudonym for a Young Adult & New Adult author who needed to write some naughty books her mother couldn't read. She lives in Portland, OR and loves Lifetime movies. She would tell you more, but this persona is a secret.