Reviewer:
Rowena
The Worst Best Man
by
Mia Sosa
Publisher
:
Avon
Publication Date
: February 4, 2020
Format:
eARC
Source:
Edelweiss
Point-of-View:
Third
Genres:
Contemporary Romance
Pages:
368
Add It
:
Goodreads
Reading Challenges:
Rowena's 2020 Goodreads Challenge
,
Rowena's 2020 New to Me Challenge
Amazon
|
Barnes & Noble
|
The Ripped Bodice
|
Google Play Books
Critically acclaimed author Mia Sosa delivers a sassy, steamy enemies-to-lovers romantic comedy about a wedding planner whose new job opportunity forces her to work side-by-side with the best man who ruined her own nuptials: her ex-fiancé's infuriating, irritating, annoyingly handsome brother. Perfect for fans of Jasmine Guillory, Helen Hoang, and Sally Thorne!

A wedding planner left at the altar. Yeah, the irony isn't lost on Carolina Santos, either. But despite that embarrassing blip from her past, Lina's managed to make other people's dreams come true as a top-tier wedding coordinator in DC. After impressing an influential guest, she's offered an opportunity that could change her life. There's just one hitch… she has to collaborate with the best (make that worst) man from her own failed nuptials.

Tired of living in his older brother's shadow, marketing expert Max Hartley is determined to make his mark with a coveted hotel client looking to expand its brand. Then he learns he'll be working with his brother's whip-smart, stunning—absolutely off-limits—ex-fiancée. And she loathes him.

If they can survive the next few weeks and nail their presentation without killing each other, they'll both come out ahead. Except Max has been public enemy number one ever since he encouraged his brother to jilt the bride, and Lina's ready to dish out a little payback of her own.

But even the best laid plans can go awry, and soon Lina and Max discover animosity may not be the only emotion creating sparks between them. Still, this star-crossed couple can never be more than temporary playmates because Lina isn't interested in falling in love and Max refuses to play runner-up to his brother ever again...
The Worst Best Man is the first book that I've read by Mia Sosa and it won't be my last. This was a hate to love romance that I was looking forward to digging into and while it was good, I struggled with parts of the story.
So Lina was all set to marry Andrew but the night before the wedding, Drew decides that marriage to Lina isn't for him so he leaves Lina at the altar and has his brother Max break the news since he was the reason Drew came to this decision. Drew sounds like such a delight, huh? eye rolls So Max delivers the news, Lina is rightfully hurt so they part ways. Ten years later, Lina has made a name for herself in the wedding planning world and she's got a shot at working exclusively with a big hotel but when she shows up at her meeting, Max and Drew are there as well. She's got to choose who to work with and she, of course, chooses to work with Max.
Seeing these two reunited was where I struggled with the story. I struggled with all of the pranks, I struggled with Lina's attitude toward everything, especially because I felt like she was pissed off at the wrong person and I just couldn't connect with the romance because of all that. I wanted Lina to be more mature about everything, to show both Max and Drew that she was better above stupid pranks. I did really enjoy her family though. They were such a great bunch. I also enjoyed getting to know Max and was glad that he was able to just take everything in stride.
Overall, the story was good and though I could have done without a bunch of different things, I didn't hate this book. I liked Lina though I struggled with her character at times, I really enjoyed Max. He was probably my favorite part of the book. There was enough there to let me know that Mia Sosa is an author that I'd like to read more of so I'm giving this one 3.5 out 5 stars.
Final Grade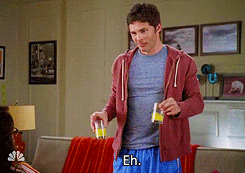 Grade: 3.5 out of 5
Related Posts