Reviewer:
Holly and Rowena
Never Have I Ever
by
Lauren Blakely
Narrator:
Amanda Ronconi
,
Jason Clarke
Publisher
:
Self-Published
Publication Date
: July 30, 2019
Format:
Audiobook
Source:
Audible Escape
Point-of-View:
Alternating First
Genres:
Contemporary Romance
Length:
8 hours, 20 minutes
Add It
:
Goodreads
Reading Challenges:
Rowena's 2019 GoodReads Challenge
Amazon
|
Barnes & Noble
|
The Ripped Bodice
|
Google Play Books
What happens when two frenemies can't stop pushing each other's buttons? Find out in this tender, laugh-out-loud funny romance from number-one New York Times best-selling author Lauren Blakely, available in audio first!

Never Have I Ever been so infuriated by a man I wanted to kiss.

They say opposites attract, but I beg to differ. Combust is more like it. Because every single time I talk to Zach Nolan, I see red.

The too-good-looking, too-smart, too-effortlessly-charming single dad who works down the hall from me has turned getting under my skin into a sport. Call it the battle of wits between the wedding planner and the divorce attorney. Trouble is, when we're forced into closer quarters, planning an engagement party for our best friends, I start to see his other sides.

And I fear I'm falling for the enemy.

***

I'm not out to make friends. My goals are simple -- fight till the end for my clients, and my family. The last thing I need is a vibrant, outgoing, snarky, and surprisingly big-hearted wedding planner to spend my precious free time with…except, watching Piper bond with my daughter just might break down the cinder block walls I've built around my heart these last few years. Second chances don't come around for guys like me…or do they?
Rowena: Never Have I Ever is the latest contemporary romance released by Lauren Blakely and, honestly, it's the Single Dad romance that Holly and I wanted back when we were thirsting for a good Single Dad romance. Lauren Blakely shows us again why she's so good at her job.
Single Dad Zach Nolan is a divorce attorney who has his hands full. With his clients, his two kids and now, his best friend's wedding. He's only a little annoyed that this wedding is going to put him into the path of Piper Radcliff, the woman that annoys the shit out of him and has for quite some time now. They share a lot of friends and a lot of animosities as well. They're office neighbors and Piper sparks up a friendship with Zach's daughter so they're in each other's personal space a lot. When wedding preparations for their friends amp up, they get closer and that fire turns to an attraction neither of them was expecting but aren't willing to walk away from.
Alright, what did you think, Holly?
Holly: I've come to expect a great story from Lauren Blakely, but honestly this one was everything I didn't know I needed and more. I absolutely loved Zach and his kids. This is definitely the Single Dad romance I've been looking for.
Rowena: I haven't read very many books from Lauren Blakely and I don't even have a good reason. I'm just super happy that I took the time to actually listen to this because I adored it from beginning to end. I thought both of the narrators were fantastic throughout the entire story and it was by far, my favorite narration job of all of the audiobooks that I've listened to so far. Jason Clarke??? I need to listen to more of his books.
Holly: I really loved the narrators, too. I've listened to a lot of audiobooks narrated by Amanda Ronconi, but this is one of my favorites. Jason Clarke was great, too.
Rowena: Like you, I absolutely adored Zach and his kids. I loved that they had such a great relationship and that being a father was important to Zach. I also really loved that Zach didn't make his kids the only part of his life. They were super important to him but when he finally decides to move on from his late wife, I'm glad that he didn't use the kids as a way to keep Piper at arm's length.
Holly: Yes, I loved that Zach put his kids first, but didn't make his kids his whole life. He may have struggled a bit with balancing his personal life at first, but I loved how he decided he needed to open up to a future with more, then did it. But Rowena, seriously. The kind of father he was? It melted me.
Rowena: I also really enjoyed the romance between Zach and Piper. I loved that Piper's friendship with Zach's daughter was something that outside of her relationship with Zach. I loved that her friendship with Zach's daughter was important to Piper and that everything felt organic and real and I just super duper loved it all.
Holly: There was a part where he was reflecting on what his life was about and I swear, my heart grew two sizes during his internal monologue.
She's in her element. My element, it's back in the hotel with two rugrats. It's the courtroom. It's the gym. It's the couch with a book and a glass of scotch late at night. It's boxing gloves to fight like hell for my clients. It's math problems and Goosebumps and taekwondo and Lucy's list of things she wants to do for the summer.
Rowena: Yep. I was right there with you on Zach's inner monologue. I remember texting you while I was listening to this one about how cute this book was and it was because I was grinning like a maniac over something Zach had just thought and like you, my heart exploded with love for every little thing in this book.
Holly: I just loved his daughter, Lucy, and how well she and Piper connected. Some of my favorite parts of the book featured Piper and Lucy. GIRL POWER!
Rowena: YESSSSSS!!! I loved Piper and Lucy's girl power friendship. I also loved that Piper did everything she could for Lucy because she wanted to, not because she felt like she had to because she was her boyfriend's daughter. The letter thing in the end? I freaking loved it. I swear I don't think there was any part of this book that I didn't like.
Holly: Oh man, that letter thing at the end reduced me to a pile of goo. Gah, I just loved Lucy. She was so smart and thoughtful.
Rowena: Even the parts of the book where both Zach and Piper were being jerks to each other, I liked…because their issues with each other were relatable. I understood where they both stood on those issues and I loved seeing them figure their shit out…together. There was no going back and forth, when they decided to be all in, they were all in and figuring everything out together.
Holly: I agree about Zach and Piper's issues being relatable. You know what I loved, even when they "hated" each other, they were still adults. They still worked together in the same building and attended the same functions, and they didn't make it awkward or uncomfortable for anyone else. They bantered and poked at each other, but at the end of the day they were both still adults who acted like adults.
Rowena: This book was the bomb. I loved it all. This book gets 5 out of 5 stars from me. Period. You?
Holly: I loved this book, too. I loved Piper and Zach and how their relationship developed. I liked Piper and Lucy's friendship. I loved how Zach was as a father. I even loved the secondary characters. I'm going to give this 4.5 out of 5.
Final Grade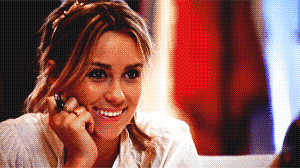 Holly: 4.5 out of 5
Rowena: 5 out of 5
Related Posts