Rowena: June is a solid month of releases that we all are looking forward to (don't lie, you know you've got a long list of books you want releasing this month!) so here are the books that made our wish lists this month.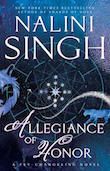 1. Allegiance of Honor (Psy/Changelings #15) by Nalini Singh.
The "unparalleled romantic adventure"* of Nalini Singh's New York Times bestselling series continues as a new dawn begins for the Psy-Changeling world…

A staggering transformation has put the Psy, humans, and changelings at a crossroads. The Trinity Accord promises a new era of cooperation between disparate races and groups. It is a beacon of hope held together by many hands: old enemies, new allies, wary loners.

But a century of distrust and suspicion can't be so easily forgotten, and it threatens to shatter Trinity from within at any moment. As rival members vie for dominance, chaos and evil gather in the shadows and a kidnapped woman's cry for help washes up in San Francisco, while the Consortium turns its murderous gaze toward a child who is the embodiment of change, of love, of piercing hope: a child who is both Psy…and changeling.

To find the lost and protect the vulnerable—and to save Trinity—no one can stand alone. This is a time of loyalty across divisions, of bonds woven into the heart and the soul, of heroes known and unknown standing back to back and holding the line. But is an allegiance of honor even possible with traitors lurking in their midst?
Rowena: I'm all caught up on this series and am always looking for more Psy/Changeling goodness. I am so in for this one.
Holly: This was such a great read. I can't wait to see where the series goes from here.
Casee: I'm such a Nalini Singh fangirl. I loved this book. I can't wait to see the next arc.

2. Bay of Sighs (Guardians Trilogy #2) by Nora Roberts.
The new Guardians Trilogy novel from the #1 New York Times bestselling author of Stars of Fortune.

To celebrate the rise of their new queen, three goddesses of the moon created three stars, one of fire, one of ice, one of water. But then they fell from the sky, putting the fate of all worlds in danger. And now three women and three men join forces to pick up the pieces…

Mermaid Annika is from the sea, and it is there she must return after her quest to find the stars. New to this world, her purity and beauty are nothing less than breathtaking, along with her graceful athleticism, as her five new friends discovered when they retrieved the fire star.

Now, through space and time, traveler Sawyer King has brought the guardians to the island of Capri, where the water star is hidden. And as he watches Annika in her element, he finds himself drawn to her joyful spirit. But Sawyer knows that if he allows her into his heart, no compass could ever guide him back to solid ground…

And in the darkness, their enemy broods. She lost one star to the guardians, but there is still time for blood to be spilled—the mermaid's in the water and the traveler's on the land. For she has forged a dangerous new weapon. Something deadly and unpredictable. Something human.
Rowena: I've been interested in this series since I first read this blurb so this book is going on my wish list for sure.
Holly: I don't tend to love Roberts' novels, but the premise has me intrigued.
Casee: I wasn't thrilled with the first book, but I loved Annika. Intriguing is exactly the right word for her.

3. Idol (VIP #1) by Kristen Callihan.
Libby

I found Killian drunk and sprawled out on my lawn like some lost prince. With the face of a god and the arrogance to match, the pest won't leave. Sexy, charming, and just a little bit dirty, he's slowly wearing me down, making me crave more.

He could be mine if I dare to claim him. Problem is, the world thinks he's theirs. How do you keep an idol when everyone is intent on taking him away?

Killian

As lead singer for the biggest rock band in the world, I lived a life of dreams. It all fell apart with one fateful decision. Now everything is in shambles.

Until Liberty. She's grouchy, a recluse—and kind of cute. Scratch that. When I get my hands on her, she is scorching hot and more addictive than all the fans who've screamed my name.

The world is clamoring for me to get back on stage, but I'm not willing to leave her. I've got to find away to coax the hermit from her shell and keep her with me. Because, with Libby, everything has changed. Everything.
Rowena: I like Kristen Callihan books. I like rock stars. Kristen Callihan wrote a rock star romance so of course I've already got this book pre-ordered and have blocked out time to read this. I aint no fool. 🙂
Holly: Ugh, I read a teaser for this ages and ages ago and I've been DYING for it since. Gimme.

4. Sweet Little Lies (Heartbreaker Bay #1) by Jill Shalvis.
Choose the one guy you can't have . . .

As captain of a San Francisco Bay tour boat, Pru can handle rough seas—the hard part is life on dry land. Pru loves her new apartment and her neighbors; problem is, she's in danger of stumbling into love with Mr. Right for Anybody But Her.

Fall for him—hard . . .

Pub owner Finn O'Riley is six-foot-plus of hard-working hottie who always makes time for his friends. When Pru becomes one of them, she discovers how amazing it feels to be on the receiving end of that deep green gaze. But when a freak accident involving darts (don't ask) leads to shirtless first aid, things rush way past the friend zone. Fast.

And then tell him the truth.

Pru only wants Finn to be happy; it's what she wishes for at the historic fountain that's supposed to grant her heart's desire. But wanting him for herself is a different story—because Pru's been keeping a secret that could change everything. . . .
Rowena: Jill Shalvis writes great romances and I can't wait to dig into this new series of hers from Avon.
Holly: A new series!

5. Bittersweet (True North #1) by Sarina Bowen.
The new series is set in Vermont. True North is populated by the tough, outdoorsy mountain men that populate the Green Mountain State. They raise cows and they grow apples. They chop a lot of wood, especially when they need to blow off steam. (Beards are optional but encouraged.)

If you can't stand the heat, get out of the orchard.

The last person Griffin Shipley expects to find stuck in a ditch on his Vermont country road is his ex-hookup. Five years ago they'd shared a couple of steamy nights together. But that was a lifetime ago.

At twenty-seven, Griff is now the accidental patriarch of his family farm. Even his enormous shoulders feel the strain of supporting his mother, three siblings and a dotty grandfather. He doesn't have time for the sorority girl who's shown up expecting to buy his harvest at half price.

Vermont was never in Audrey Kidder's travel plans. Neither was Griff Shipley. But she needs a second chance with the restaurant conglomerate employing her. Okay—a fifth chance. And no self-righteous lumbersexual farmer will stand in her way.

They're adversaries. They want entirely different things from life. Too bad their sexual chemistry is as hot as Audrey's top secret enchilada sauce, and then some.
Rowena: Sarina Bowen writes my kind of romances and I'm in love with all of her work so of course I want to read this book. I'm so looking forward to getting to know both Griff and Audrey.
Holly: You guys, I loved this book. LOVED. Griff was so awesome, and Audrey rocked, too. SO GOOD.

6. Addicted (Outlaws #2) by Elle Kennedy.
From the New York Times bestselling author of Claimed comes the second enticingly erotic novel set in a world on the brink of chaos.

Lennox used to live in a paradise on earth with his best friend Jamie, in a place where visitors came and went, allowing their desires to run free. But everything changes when a deadly attack forces them to take up with Connor Mackenzie's band of Outlaws. Lennox knows Jamie is hung up on someone else, but he's always believed he's the man for her—and won't let her go without a fight.

Even though Jamie is well aware that Lennox is one hot specimen of a man, she refuses to let sex ruin the most important relationship in her life. But when the object of her interest spurns her, she indulges in a little pleasure-filled revenge with her very magnetic, very willing best friend. One thrilling night with Lennox is enough to awaken Jamie's unexpected desires for him. And now that she's had a taste, she's not sure she can ever give him up…
Rowena: I read the first book in this series and really enjoyed it so I'm looking forward to reading this book too. I'm all for the pairing of Jamie and Lennox. I'm mighty curious about Lennox, to be honest. He's an interesting character and I'm looking forward to see him win Jamie over.
Holly: This one is going in my TBR pile with the first one. I'll get to them..someday.

7. From this Day Forward (Wedding Belles #0.5) by Lauren Layne.
Sex and the City meets The Wedding Planner in this prequel to USA TODAY bestselling author Lauren Layne's The Wedding Belles series about three high-powered New York City women who can plan any wedding—but their own.

Up-and-coming wedding photographer Leah McHale's career is on the rise–thanks in no small part to the Wedding Belles, the elite New York wedding planning agency that always throws top-tier business Leah's way. So when one of the Belles asks Leah to fill in at the former First Daughter's wedding, Leah is overjoyed to say yes–until she finds out who she'll be working with.

Jason Rhodes is the one man who was able to capture Leah's heart and, once he had it, promptly stepped all over it and left her broken. Now he's working side-by-side with her at the biggest wedding of the season and Leah is determined to give him the cold shoulder. Despite his persistence, she is not going to fall for his charming, impish ways again. Not even if he still has that killer, irresistible smile…
Rowena: Lauren Layne has fast become a go to author for fabulous contemporary romances and this book kicks off her new Wedding Belles series. I already read this book and enjoyed it so I'm pimping it out to you guys. It's a great sneak peek into the Wedding Belles world and I'm anxious for more.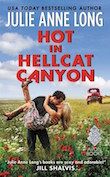 8. Hot in Hellcat Canyon (Hellcat Canyon #1) by Julie Anne Long.
A broken truck, a broken career and a breakup heard around world lands superstar John Tennessee McCord in Hellcat Canyon. Legend has it hearts come in two colors there: gold or black. And that you can find whatever you're looking for, whether it's love… or trouble. JT McCord may have found both in waitress Britt Langley.

Britt sees right through JT's hard edge and soft drawl to a person a lot like her: someone in need of comfort and the kind of healing best given hot and quick, with clothes off and the lights out.

Her wit is sharp but her eyes and heart – not to mention the rest of her – are soft, and JT is falling hard. But Britt is hiding a few secrets as dark as the hills, and JT's past looks set to invade their present. It's up to the people of Hellcat Canyon to help make sure their future includes a happily ever after.
Rowena: This book came across my radar when looking up upcoming releases and after reading the excerpt provided for our Sunday Spotlight on this book, I'm even more anxious to get to this one.
Holly: I love Long's historicals and I'm anxious to see how she does in a contemporary setting.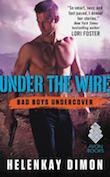 9. Under the Wire (Bad Boys Undercover #4) by Helenkay Dimon.
The Bad Boys of the Alliance—a top-secret military security agency—are back for more in HelenKay Dimon's sexy, action-packed series

Only one thing could pull Reid Armstrong away from a vacation he's earned with every muscle in his finely honed body—learning that his former fiancée has disappeared on a top-secret science expedition in the middle of nowhere. Second chances don't come often in Reid's business, and he needs to prove his worth to Cara Layne or die trying.

Waking up to find her camp destroyed and her colleagues missing, Cara is a walking target. She can't trust anyone, least of all Reid. Even if his skills get them out alive, he's a heartache waiting to strike twice. Yet being in close proximity proves their connection burns hotter than ever.

The body count is rising, the enemy is getting closer, and soon Reid will be right back in the position that cost him everything—forced to choose between the woman he loves, and the job that's his only hope of saving them both . . .
Rowena: Every time I see one of these books, I have to put it on my list because I do want to read these and one of these days, I'm going to finally do it. This one looks good. I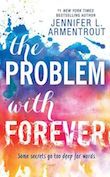 10. The Problem with Forever by Jennifer L. Armentrout.
From #1 New York Times bestselling author Jennifer L. Armentrout comes a riveting new story about friendship, survival and finding your voice

For some people, silence is a weapon. For Mallory "Mouse" Dodge, it's a shield. Growing up, she learned that the best way to survive was to say nothing. And even though it's been four years since her nightmare ended, she's beginning to worry that the fear that holds her back will last a lifetime.

Now, after years of homeschooling with loving adoptive parents, Mallory must face a new milestone—spending her senior year at public high school. But of all the terrifying and exhilarating scenarios she's imagined, there's one she never dreamed of—that she'd run into Rider Stark, the friend and protector she hasn't seen since childhood, on her very first day.

It doesn't take long for Mallory to realize that the connection she shared with Rider never really faded. Yet the deeper their bond grows, the more it becomes apparent that she's not the only one grappling with lingering scars from the past. And as she watches Rider's life spiral out of control, Mallory must make a choice between staying silent and speaking out—for the people she loves, the life she wants and the truths that need to be heard.
Rowena: I've read and really enjoyed some of Armentrout's books and while the last couple of books didn't completely win me over, I still enjoyed them but this book…this book looks damn good and I've been hearing a lot of good things about it so on my list it goes.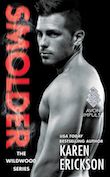 11. Smolder (Wildwoods #2) by Karen Erickson.
Lane Gallagher wants Delilah Moore – bad.

He's imagined the sexy brunette in his bed more times than he can count.

She's everything he's ever wanted, but the only problem is…

She's his brother's ex.

For years, the stoic sheriff's deputy has fantasized about the sweet, bubbly dance teacher who stirs his deepest desires. But Lane's too loyal to ever move in on forbidden territory and he knows that while he can look, he definitely can't touch. Fighting his attraction to Delilah is nearly impossible, but the infuriating-and incredibly sexy-woman seems determined to drive him crazy.

And she's bringing him to his knees. One smoldering kiss at a time.
Rowena: I read the first book in this series and wanted more from both Lane and Delilah. I can't freaking wait to start this book.

12. For the Win (The Perfect Play #1) by Sara Rider.
What happens when you fall for your biggest competition? Sara Rider scores with this charming romance about soccer stars battling their tough opponents and playing the field of love.

Lainey Lukas has sacrificed everything—sleep, family, carbs, a life—to earn her spot as the top player and captain of the Seattle Falcons women's soccer team. She's determined to lead her team to a national championship and finally earn the sport the respect it deserves—and nothing will throw her off her game. When Lainey's hero Gabe Havelak, star of the Seattle Surge, crashes her team's first press conference—making the Falcons look like a joke to the local media and humiliating Lainey in the process—she's hell-bent on revenge.

Charming, confident Gabe is practically a god to Seattle soccer fans, but he doesn't mind a little friendly competition from tough-as-nails Lainey, with her top-notch athletic skills, her mile-long legs, and her girl-next-door freckles. But when he learns the Falcons are booting the Surge from their coveted practice space to the notoriously cursed Cricket Field, those warm feelings give way to crippling superstition. With his contract up for renewal and his thirty-fourth birthday just weeks away, Gabe will risk anything to protect his position with the Surge.

The rivals agree to settle their differences in a Battle of the Sexes competition—a test of skills, fitness, and willpower. At first the situation seems win-win: Gabe gets the chance to earn back the Surge's practice space, and Lainey's team will finally get some much-deserved media attention. But as the friction between them becomes hot enough to spark and smolder, Lainey and Gabe are entering new territory—and with both of their careers on the line, love might just be the toughest opponent of all.
Rowena: Ever since the US Women's Soccer team won the World Cup last year, I've been thirsty for a contemporary romance featuring a soccer athlete heroine. This book has that heroine that I wanted and it's got a hot men's soccer team and a bit of competition so I'm in.
Holly: Soccer romance? SIGN ME UP!

13. Shadow Rider (Shadow #1) by Christine Feehan.
The #1 New York Times bestselling "queen of paranormal romance"* is back with a sexy new series starring a Chicago crime family that hides a dark, mystical secret…

Whether it's fast cars or fast women, Stefano Ferraro gets what he wants. When he's not fodder for the paparazzi, he commands Ferraro family businesses—both legitimate and illegitimate.

While their criminal activity is simply a rumor yet to be proven, no one knows the real truth. The Ferraros are a family of shadow riders capable of manipulating light and dark, an ability Stefano thought ran in his family alone—until now…

With little left to her name, Francesca Cappello has come to Chicago in hopes of a new life. She wasn't expecting to attract the attention of a man with primal hunger in his eyes, driven to claim her as his to protect and to please. And if he discovers her secret, it could ruin her…
Rowena: Holly brought this book to my attention and it looks good. I'm in need of more paranormal type books since my glomming of all things Psy/Changelings by Nalini Singh so I'm definitely going to check this book out.
Holly: I loved this book. It features a typical Feehan alpha-hero, but I loved the premise and the heroine.
Casee: This book was almost perfection. I love this new series by Feehan. It's long overdue.

14. The Way to Game the Walk of Shame by Jennifer L. Nguyen.
Taylor Simmons is screwed.

Things were hard enough when her single-minded dedication to her studies earned her the reputation of being an Ice Queen, but after getting drunk at a party and waking up next to bad boy surfer Evan McKinley, the entire school seems intent on tearing Taylor down with mockery and gossip.

Desperate to salvage her reputation, Taylor persuades Evan to pretend they're in a serious romantic relationship. After all, it's better to be the girl who tames the wild surfer than just another notch on his surfboard.
Rowena: The title of this book was what caught my attention at first but after reading the blurb, I was completely sold. I want to read this book.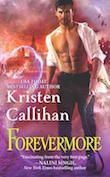 15. Forevermore by Kristen Callihan.
Miss Layla Starling, the young, beautiful, and extremely wealthy heiress, is the talk of London. Until now, she's managed to evade the marriage noose. Despite the fact that she is unfortunately American, she's received a staggering number of offers. And turned down every one.

St. John Evernight does not want to admit the relief he feels every time he hears that she has rejected one of her suitors. Which is unfair of him. Layla deserves to be happy. But he can not offer her happiness. He will never be normal, never be anything but a freak in her world. So St. John resolves to keep his distance, until he is recruited by the Society for the Suppression of Supernaturals to guard Layla. For she is in grave danger, and he is about to learn the full extent of his powers.
Holly: The final Darkest London book!

16. Moonstruck by Lauren Dane.
In Diablo Lake, Washington, a town populated by werewolves, witches, and more, magic woven deep into the earth protects the town's secrets from outsiders.

Katie Grady left Diablo Lake to get over a humiliating breakup; but her family needs her help, so she's back, in a sublet right across the hall from the guy she's lusted after for years. Jace Dooley is hotter than ever, and their friendship picks up along with massive doses of grown-up chemistry.

The very scent of Katie sharpens Jace's canines, makes the wolf within him stir. There's nothing more alluring to a Pack Alpha than a sexy female who is so very in charge. She won't be coddled, but if he plays his hand just right she might be convinced to become his.

Katie presents a challenge to Jace's wolf nature, whose chief instinct is to protect. Especially now that she's coming into the magic that is her birthright – and suddenly Jace isn't the only one who's interested in Katie, or the raw power she's just learning to use.
Holly: A new paranormal series from Lauren Dane. I am so ridiculously excited about this.
There you have it, the books that we are looking forward to releasing in the month of June. What books did we miss? What books are you excited about?
Related Posts