Reviewer:
Rowena
Rookie Move
by
Sarina Bowen
Series:
Brooklyn Bruisers #1
Also in this series:
Rookie Move
,
Hard Hitter
,
Rookie Move
,
Hard Hitter
,
Pipe Dreams
,
Pipe Dreams
,
Pipe Dreams
,
Brooklynaire
,
Rookie Move
,
Overnight Sensation
,
Superfan
,
Superfan
Publisher
:
Berkley
Publication Date
: September 6th 2016
Pages:
336
Add It
:
Goodreads
Amazon
|
Barnes & Noble
|
The Ripped Bodice
|
Google Play Books
Series Rating:
The first novel in a sexy new series featuring the hockey players of the Brooklyn Bruisers and the women who win their hearts—from the USA Today bestselling author of the Ivy Years series.

In high school they were the perfect couple—until the day Georgia left Leo in the cold...

Hockey player Leo Trevi has spent the last six years trying to do two things: get over the girl who broke his heart, and succeed in the NHL. But on the first day he's called up to the newly franchised Brooklyn Bruisers, Leo gets checked on both sides, first by the team's coach—who has a long simmering grudge, and then by the Bruisers' sexy, icy publicist—his former girlfriend Georgia Worthington.

Saying goodbye to Leo was one of the hardest things Georgia ever had to do—and saying hello again isn't much easier. Georgia is determined to keep their relationship strictly professional, but when a press conference microphone catches Leo declaring his feelings for her, things get really personal, really fast....
Rookie Move is the first book in Sarina Bowen's Brooklyn Bruisers series and it's a spin off from her Ivy Years series as the hero for this book, Leo Trevi was a recurring character in the Ivy Years books. Leo is also the older brother of the hero from The Fifteenth Minute, DJ.
In the Ivy Year books, we know that Leo had a high school girlfriend who dumped him after she was attacked. We also know that she was the only girl that Leo has ever loved so when we meet up with Leo after he graduates from Harkness, he's just been given his shot at the big leagues and the head of PR for his new team is none other than Georgia Worthington. The love of his life.
I've been pretty anxious to read this book because I love Sarina Bowen's books. She writes the kind of contemporary romances that I adore and while I did end up enjoying this book a whole bunch, there were things that I struggled with.
Mainly, Georgia and her punk ass Dad.
I was so excited for this story because I wanted Leo to finally get his girl. The girl that he wanted and I was glad that he was far away from that awful girlfriend he had in college. Amy. But it took me a while to warm up to Georgia because for a hot shot professional career woman, she behaved quite immaturely where Leo was concerned. She ran away a lot, instead of dealing with the problems at hand. She shied away a lot too and she assumed a lot where Leo was concerned. Their whole romance was one misunderstanding after another and after a while, I wanted to shake some sense into her.
Then there was the issue of her father. What a complete dickhead that guy was! He was so unprofessional and while I could understand why he hated Leo so much, the way that Leo was treated right from the jump by Coach Worthington was completely unfair and I don't understand why he wasn't suspended for punching Leo in the face. Whether Leo pressed charges or not, had the player punched the coach the way that Worthington did Leo, you bet your ass he would have been fined and suspended but I didn't feel like much happened to Coach for his actions. It was like it just rolled off his back and that soured his character to me. Sure, he makes up for it in the end but holy cow did he drive me right up the wall during the entire book.
But holy cow. Leo freaking Trevi made this book completely swoonable. I loved every little thing about him. From the moment he sees Georgia again, he was all in. He loved that girl since he asked her to Homecoming Sophomore year of high school and he was going to figure out how to win her over again because ..she tasted like his. There were so many things about him that I loved. His fierce determination to earn a spot on the team. His attitude toward his rookie duties and the friendship that blossoms between him, Silas and O'Doul. Theirs was a bromance that I could totally get behind. Leo made this book for me and in the end, I absolutely loved that he got his happy ending because he deserved it. He was worthy of it.
This was me whenever Leo was on the scene: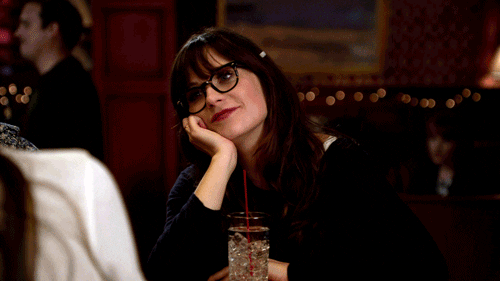 So despite some frustration with the heroine and her father, I still really enjoyed this book. I'm so looking forward to the next book, Hard Hitter. Bring on the Patrick O'Doul goodness. Does anyone know who the third book is going to be about? I'm kind of dying to know if it's Silas but I can't find anything online about it. I'll have to do some more digging on that.
Grade: 4 out of 5
Related Posts