Reviewer:
Casee, Holly and Rowena
A Wallflower Christmas
by
Lisa Kleypas
Series:
The Wallflowers #5
Also in this series:
Again The Magic
,
The Devil in Winter
,
Scandal in Spring (The Wallflowers #4)
Publisher
:
Macmillan
Publication Date
: November 2nd 2010
Genres:
Fiction
Pages:
224
Add It
:
Goodreads
Amazon
|
Barnes & Noble
|
The Ripped Bodice
|
Google Play Books
Series Rating:
New York Times bestselling author Lisa Kleypas invites you to spend the holidays with the Wallflowers—four young London ladies who finally found the men of their dreams...and will join together once more to help the world's most notorious rogue meet his match.
The magic of Christmas
Rafe Bowman has just arrived from America for his arranged meeting with Natalie, the very proper and beautiful daughter of Lady and Lord Blandford. His chiseled good looks and imposing physique are sure to impress the lady-in-waiting, and if it weren't for his shocking American ways and wild reputation, her hand would already be guaranteed. Before the courtship can begin, Rafe realizes he must learn the rules of London society. But when four former Wallflowers try their hand at matchmaking, no one knows what will happen...
BEGINS under the mistletoeWinning a bride turns out to be more complicated than Rafe Bowman anticipated, especially for a man accustomed to getting anything he wants. However, Christmas works in the most unexpected ways, changing a cynic to a romantic...and inspiring passion in the most timid of hearts.
"Splendid romance."—Booklist
*****As part of our 10 year anniversary celebration, we'll be re-posting old reviews and posts that make us cringe, laugh or sigh all over again.*****
Holly: The three of us haven't done a review together in awhile. I remember how much I loved this series. Getting this novella was such an lovely bonus.
This post was originally published October 14, 2008
It's been awhile since we did a joint review here at Book Binge, but when Rowena, Casee, and I realized we'd all read A Wallflower Christmas by Lisa Kleypas, we decided to do one. Please note: There will be spoilers below.
Holly: It was great seeing the Wallflowers again, though I'm glad the story wasn't totally focused on them. I adored Hannah and Rafe both. There was something very real about them and their relationship. I think Hannah's understanding of her situation was very well done. I really didn't like Lady Natalie, though. I'm not sure if LK meant for her to be a sympathetic character, but I didn't buy it. Especially the way she treated Hannah when she didn't get her way.
Rowena: I KNOW! I am not a fan of Natalie's. I hated the way that she treated Hannah, especially when she wanted to spend time alone with Rafe. The way she talked down to Hannah in front of Rafe as if that made her cooler to Rafe seriously pissed me off and sealed her fate for me as the tramp I didn't like at all.
But, I LOVED THIS BOOK! I thought it was such a fast and cute holiday read. I loved how The Wallflowers were all reunited and happily married. It was fun to see them all band together to help Hannah and I loved the whole Cinderella theme as well.
Rafe was a hottie of a hero, loved him! I loved his personality and I loved his hotness and I just effing loved him! The way he was with Hannah and the way that he was with his sisters and the kids. He was an all around great hero.
Hannah was great too! I loved how we saw her change her mind about Rafe. I loved how smart she was and how she wasn't afraid to show how smart she was and I loved how easy it was for her to befriend the Wallflowers and fit in with them. She was great, great, great.
Casee: I couldn't stand Lady Natalie. The way she treated Hannah was just awful, especially in front of Rafe. I thought I would like her b/c of how amused she was when Hannah told her about meeting Rafe. But then she just seemed spiteful and petty.
I loved the first meeting between them. The way Hannah was so apalled by Rafe's manners was freaking funny.
Like Rowena said, it was a fast and cute holiday read. I really enjoyed it.
H: Natalie was very much the spoiled child. I'm still not clear if LK meant for her to be likable or not. I mean, were we supposed to want her to end up happy, just not with Rafe? I certainly didn't feel that way in the end. I wanted her to get her comeuppance. I loved that the Wallflowers kind of jumped in and took Hannah under their wing. The scene where they find the letter from Rafe and are examining it is hilarious. It starts with one and then another pops her head in and they all said the same thing, "Hannah found a letter. It's a secret. Come in." Adorable. I liked Rafe, too. He was very chivalrous. The way he joked and teased them was great. I definitely loved the intimacy he and Hannah established right in the beginning. How they talked to each other about things and really listened to each other. Oh! How about that first kiss? Scorching! One thing that really bothered me was Lilian. Why in the world would she think Westcliff was cheating on her? That really didn't ring true for me at all. She was always self-assured and confident and having her question herself and Marcus just..didn't work. Is that just me?
R: I hope she wasn't meant to be likeable because I didn't like that little tramp at all. So crosses fingers not meant to be likeable.
Me too. I thought that adding the Wallflowers into the story would kind of take away from my enjoyment of Rafe and Hannah but that wasn't the case at all. I think LK did a fantastic job of writing them into the story without them stealing the thunder away from Hannah and Rafe. I loved the scene that you mentioned because it showed us just how close each of the Wallflowers are and even after all this time and then all the time spent apart to see them all together again and acting as if they had spent everyday together was great to see and I was glad that they all came together to help Hannah, it was cute, adorable and oh so right.
That first kiss was…wow. I loved it, it was right then that I fell like a rock for Rafe. So confident and cocky and sexy he was and I ate it all up.
One of my favorite scenes was the one where Hannah gets roped into helping the little kid get the toupee back….oh how frickin' hilarious that was.
As for the whole Lillian thing, she's never been a favorite of mine but I do agree that her insecurities about Marcus threw me off a bit because of the Lillian we all knew from the other books. I didn't think anything of it though, it was just a fleeting thought, one I didn't dwell on at all so all of that was, BLAH.
C: I really thought Natalie was going to end up being a heroine in a novella with one of the Bowman twin brothers. That was at the beginning when she seemed likeable. After reading the book, though, I'm not interested in reading about her at all.
The scene about Rafe's letter and all the Wallflowers coming in was probably my favorite scene in the whole book. I just really thought that it really highlighted why these four women became the best of friends in the most unlikely of circumstances. Hannah fit right in and I loved how they took her under their collective wing.
I agree to a certain point about the Lillian thing. I think that LK was trying to show that even a woman as strong as Lillian can have insecurities. Lillian was never a favorite of mine, either, but I really felt bad for her. The part for me that was totally un-Lillian like was when she asked Marcus to be discreet. The Lillian we knew would have bashed his head with whatever heavy object was at hand.
H: You know, at first I didn't realize there was even an outside story involved (when we first heard the title, but had no synopses, I mean). I thought it was just going to be a reunion of the Wallflowers. I'm glad we got a glimpse of each of them (St. Vincent is effing hot!), but you're right, they balanced the story rather than taking it over. Oh, that scene when she got stuck on the ledge was wonderful! I really liked not only Rafe rescuing her, but also the scene after, where they decorated the tree as a family. The wager they made and the forfeit Rafe had to give up made me all melty inside. I heart him.
R: Oh yes! I know what you mean, I loved the little forfeit thing, I got all gooey inside, it was great. I'm telling you, this story was another fantastic LK book and I really, really enjoyed it.
The only thing that I was miffed about was that I didn't think we got enough Simon and Annabelle. I feel like after their story, they were done. They're mentioned and they're around but we don't get to see as much of them as we do of the others, the same with Matthew and Daisy. Those two couples are my favorite in the series and we either hear about how they're doing or they're in the background whereas Lillian and Marcus are always around and have parts in other books as well as Seb and Evie, and as much as I love them, I want to see more of the others.
Is that too much to ask for? Maybe but it doesn't stop me from wanting more sexy Simon and magnificent Matthew…=)
C: I wished there was more of Simon and Anabelle, too! Am I the only one that thought it was weird that Anabelle refers to Simon as "Mr. Hunt" to the Wallflowers? I've always thought that seemed so impersonal.
I'm re-reading Devil in Winter right now. I loved getting the small glimpse back into St. Vincent and Evie. Those two…sigh
I thought it was just going to be a Wallflower reunion book, too. I'm glad that we got a little of everything. Getting a new love story along w/ reading more about the Wallflowers, what could be better?
H: You know, it's funny, but I think Lilian and Marcus are the least favorite Wallflowers by pretty much everyone, but they're the ones that crop up most often. Even Evie and Seb take a backseat to them. Do you think LK is playing favorites? LOL
Overall I'd say this is a total winner. The main romance between Hannah and Rafe is very well done and the Wallflowers really enhanced the story. I had a couple gripes, but it goes in the keeper pile and I know I'll pick it up again. 4 out of 5 You?
R: I agree, overall the story was completely well done. The romance between Rafe and Hannah was great and easy to fall into. Great characters, great storyline makes for a winner for me and I think LK did a fab job!
4.5 out of 5 for me.
C: I was completely happy when I closed this book. I thought it was a perfect Christmas read. The only thing that would have made it better was an appearance by Derek Craven. Heh.
4.25 out of 5.
Grades:
Casee: 4.25 out of 5
Holly: 4. out of 5
Rowena: 4.25 out of 5
The Series: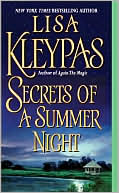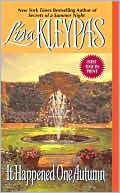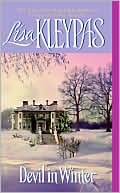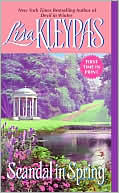 This book is available from St. Martin's Press. You can buy it here.