Sunday Spotlight is a feature we're running in 2016. Each week, we will spotlight a release we're excited about. We'll be posting exclusive excerpts and being total fangirls. You've been warned. 🙂
The Royals series by Erin Watt is another crackalicious series that I can't get enough of. This second book is just as cracked out as the last book and I ate every single word up.

Broken Prince by Erin Watt
The Royals #2
Releases on July 25, 2016 by Erin Watt
Pre-Order the Book:
AMAZON || BARNES AND NOBLE || KOBO
These Royals will ruin you…

From wharf fights and school brawls to crumbling lives inside glittery mansions, one guy tries to save himself.

Reed Royal has it all—looks, status, money. The girls at his elite prep school line up to date him, the guys want to be him, but Reed never gave a damn about anyone but his family until Ella Harper walked into his life.

What started off as burning resentment and the need to make his father's new ward suffer turned into something else entirely—keep Ella close. Keep Ella safe. But when one foolish mistake drives her out of Reed's arms and brings chaos to the Royal household, Reed's entire world begins to fall apart around him.

Ella doesn't want him anymore. She says they'll only destroy each other.

She might be right.

Secrets. Betrayal. Enemies. It's like nothing Reed has ever dealt with before, and if he's going to win back his princess, he'll need to prove himself Royally worthy.
We are so close to the release of Broken Prince and this is how I feel:
I'm going to read and re-read this scene over and over again because Reed. My poor baby Reed!
Excerpt
The house is dark and silent when I let myself in through the mudroom off the kitchen. Nearly ten thousand square feet and no one is here. A grin splits my face. With my brothers scattered, the housekeeper gone, and my dad off who knows where, that means my girl and I have the Royal mansion all to ourselves.

Hell yeah.

I break into a light jog as I cross the kitchen and climb the back stairs.

Hopefully Ella is waiting for me upstairs in her bed, looking all cute and sexy in one of my old T-shirts she's taken to sleeping in. It would be even better if that was all she was wearing… I speed up, bypassing my room, Easton's and Gid's old room until I'm outside Ella's door, which is disappointingly closed. A quick knock gets me no response. Frowning, I fish my phone out of my back pocket and shoot off a quick text.

Where RU, babe?

She doesn't answer. I tap my phone against my leg. She's probably out with her friend Valerie tonight, which is kind of good, actually, because I could use a shower before I see her. The boys were smoking a shit ton of weed over at Wade's place tonight, and I don't want to stink up Ella's room.

New plan. Shower, shave, and then hunt my girl down. I pull off my T-shirt, wad it up in my hand, and shove open my bedroom door without bothering to turn on the light. I kick off my shoes and cross the carpet to my attached bath.

I smell her before I see her.

What the…?

With the sickening scent of roses clinging to my nostrils, I swing toward the bed. "No way," I growl when I make out the shadowy figure on the mattress.

As a jolt of annoyance rips up my spine, I march back to the doorway and flick the light switch. Then I instantly regret it, because the pale yellow glow that fills the room reveals the naked curves of a woman I want nothing to do with.

"What the hell are you doing here?" I snap at my father's ex-girlfriend.

Brooke Davidson offers a coy smile. "I've missed you."

My jaw falls open. Is she fucking serious right now? I quickly swing my head out in the hall to make sure Ella's still gone. Then I head straight for the bed.

"Get out," I growl, grabbing one of her wrists to pull her off my bed. Shit, now I'm going to have to change the sheets, because if there's anything that stinks worse than old beer and weed, it's Brooke Davidson.
Howie from the Big Bang Theory sums up my thoughts perfectly:
This whole series is one shit storm after another and yet, I can't stop wanting to read more. The tag line, "The Royals will ruin you" is completely true for me. They have ruined me and I'm thirsty for more.
The Royals Series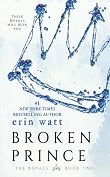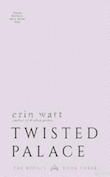 Giveaway: We're giving one lucky winner their choice of one of our Sunday Spotlight books. Use the Rafflecopter widget below to enter for one of this month's features.
Are you as excited for this release as we are? Let us know how excited you are and what other books you're looking forward to this year!
About the Author
Erin Watt is the brainchild of two bestselling authors linked together through their love of great books and an addiction to writing. They share one creative imagination. Their greatest love (after their families and pets, of course)? Coming up with fun–and sometimes crazy–ideas. Their greatest fear? Breaking up. You can contact them at their shared inbox: authorerinwatt@gmail.com