Lady Be Reckless (Duke's Daughters, #2)
by
Megan Frampton
Series:
Duke's Daughters #2
Publisher
:
Harper Collins
,
Avon
Publication Date
: February 27th 2018
Genres:
Historical Romance
Pages:
384
Add It
:
Goodreads
Amazon
|
Barnes & Noble
|
The Ripped Bodice
|
Google Play Books
The Duke's five daughters have beauty, breeding, and impeccable reputations. Or at least, they did. Now that two have chosen to follow their hearts, can the others be far behind?

Lady Olivia refuses to repeat her siblings' scandalous mistakes. Instead, she will marry the lord rejected by her sister and help with his good works. When he resists, Olivia forms another plan: win his lordship's admiration by helping his illegitimate best friend find a bride. How difficult can it be to transform the rakish Edward Wolcott into a gentleman? To ignore his virile good looks? To not kiss him in a moment of impulsive madness? Apparently, very difficult indeed.

Edward Wolcott promised his ailing father he would marry well, and it appears Lady Olivia wishes to assist him. The sparkling firebrand intends to smooth his way through London's ballrooms, parlors, and eligible ladies, while all Edward's thoughts suddenly revolve around bedrooms . . . and Lady Olivia herself. Only a scoundrel would seduce the duke's most dutiful daughter. And only a truly reckless lady would risk everything to be in his arms . . .
Megan Frampton's Lady Be Reckless, the second book in her Duke's Daughters series releases tomorrow and we're thrilled to be sharing an excerpt from the book with you lovely readers today.
Excerpt
She was kissing him again. And this time, she didn't have any excuse except that she wanted to. He froze for a moment, and she had a sudden anxious feeling that he would draw away, an embarrassed expression on his face, and inform her that kissing her was not what he actually wanted to do. That he'd done it the other evening because he'd felt sympathy for her.

But then she felt his hands grasp her waist firmly, and he drew her to him just as firmly so their bodies were pressed up against one another. And he was kissing her passionately, ruthlessly, as though she were a woman who was able to withstand the force of him.

And she was. What was more, she inhaled the force of him, wanting to participate just as fully in this kiss as he was. Learning the taste of his mouth with her tongue, sliding her hands over his shoulders and down his back, flexing her fingers so she could make out his impressive musculature.

Even his back was strong. That shouldn't surprise her, but it did.

Eventually, her hands returned to the front of his body, and she found her palms running over his chest, wishing she could reach underneath his clothing to touch his skin. Nice though his clothing felt, she imagined he would feel even nicer.

His hands were still at her waist, but his fingers had tightened, and she wondered if he was struggling with the urge to touch her as she was touching him. If she weren't so intent on kissing him so thoroughly, she'd draw back for a moment and tell him, Yes, please, do touch me in those places that suddenly seem to be clamoring for your fingers. But she wouldn't, because if she withdrew, he would stop kissing her, and what was more important, she would stop kissing him, and she didn't want that. Not at all.

The fact that he was leaving shouldn't make her feel so alone. But it did. And kissing him helped, at least for right now, at this moment.

Then she heard a noise and leapt back from him, glancing around guiltily, hoping nobody had seen them.

"I—" he began, then took one of the hands that had been at her waist and pushed the curls off his forehead. "I did not mean to allow that to happen again."

"You did not mean for this to happen again?" She rolled her eyes at him, wondering how she'd missed that he was such a dolt. A handsome, curly-haired dolt, but a dolt nonetheless.

"You are not the one who did all this," she said, gesturing to the space between them. "Let me tell you once and forever, Mr. Wolcott," she continued, emphasizing his name with a raise of her eyebrow, "there is no one who is in control of me. I chose to kiss you, not the other way around. And may I say, I regret my action, if you were going to claim responsibility for it. But it was my action, not yours." She drew herself up to her full height, which was still, unfortunately for her, many inches shorter than he, and planted her hands on her hips. Her mother would be appalled at how common Olivia appeared right now, but that didn't matter. Not when he thought that he had bestowed a kiss on her, as though she were some pitiful supplicant. Was that how he saw her?

"I see I've annoyed you, Olivia." His voice was amused, and of course that irked her further. "I merely wished to draw the blame onto myself, since I know you do not truly wish to kiss me. Because you wish—" And he stopped, a pained expression on his face.

Because you wish you were kissing Bennett, her mind supplied. Even though Bennett—Lord Carson—hadn't crossed her mind once, and she would need to examine that more thoroughly later. But meanwhile . . .

"Draw the blame onto yourself?" She stepped forward, raising one hand to point a finger at his chest. The chest that had been so intriguing to her just a few minutes ago. "As though I am not responsible for what I do? As though someone might accuse me of something untoward, and you would have to take the blame because of who you are? A man?"

She accompanied the last word with a poke to his body, making him stumble back, likely from surprise since the poke wasn't that hard.

"A bastard." He spoke in a quiet tone, and she felt the whoosh of shame flow through her on hearing his words. Hearing the pain and guilt, yes, of his acknowledging what he was—in his own eyes, as well as Society's.

She dropped her hand as though she had been touching a red-hot poker, twisting her hands together in front of her so she wouldn't do anything more foolish like touch him comfortingly or, God forbid, kiss him again.

"You are not that," she said in a furious whisper. "You should not and will not be defined by your birth. And your saying something like that just deflects from what it is that you were saying in the first place—that I was not responsible for my actions because I was not in control. Let me assure you, Mr. Wolcott—Edward—that I am entirely in control."

"Are you?" he asked, a dangerous tone in his voice. A tone that nonetheless made her shudder in an entirely good way.

"Are you in control when I do this?" and he accompanied his words by drawing her forward back into his arms, and she couldn't help herself, she raised her arms and wrapped her hands around his neck, stepping closer to him still.

"Or when I do this?" he said in a whisper, his breath on her cheek, his mouth lowering to hers.

"Or this?" he finished as he pressed his lips against hers in a firm, intense, and yes, completely controlling manner.

Dear lord, she might swoon. Or be discovered.

Or lose control.

She wished she were horrified at any of the ideas. But she was absolutely not.
Holy cow, what a scene…what a fantastic scene. I do love when the hero and heroine are wicked with each other. Teasing one another. So good.
This is me right now…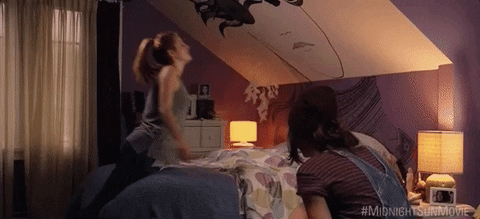 I do hope that you've put this book on your wishlist for tomorrow's release because it promises to be extra good. I can't wait!
Order the Book:
AMAZON || BARNES AND NOBLE || GOOGLE || KOBO
Duke's Daughters Series
Giveaway Alert
a Rafflecopter giveaway
About the Author
Megan Frampton
WEBSITE | TWITTER | FACEBOOK | PINTEREST | GOODREADS
Megan Frampton's love affair with books began when her parents moved her to a remote town in New Hampshire where there was only one television station. And then the TV broke. She devoured every book of fiction in her well-read parents' library, finding special joy in Georgette Heyer and the fairy tales collected and translated by Andrew Lang. Megan majored in English literature at Barnard College and worked in teh music industry for fifteen years. She lives in Brooklyn, New York, with her husband (her former intern) and her kid. (Book jacket, "A Singular Lady")