Reviewer:
Ames and Rowena
Grumpy Jake
by
Melissa Blue
Publisher
:
Self-Published
Publication Date
: November 8, 2019
Format:
eBook
Source:
Purchased
Point-of-View:
Third
Cliffhanger:
View Spoiler »
No « Hide Spoiler
Content Warning:
View Spoiler »
None « Hide Spoiler
Genres:
Contemporary Romance
Pages:
104
Add It
:
Goodreads
Amazon
|
Barnes & Noble
|
The Ripped Bodice
|
Google Play Books
Bailey Thorne doesn't hate Jake the Rake, just despises him. She blames the rumor mill at her school...and, okay, him. His adorable son has only been in preschool, but Jake has already made an impressive dent in dating the unmarried faculty. She's had to hear of his every exploit from the broken hearts he's left behind. She was fine to loathe him from afar, but now his son has entered kindergarten--and she's the teacher. It's going to be a very long school year.

Jake Polaski was more than fine to avoid Ms. Thorne after it became clear she was not amused by his very existence. But then they get stuck in an elevator for an evening. He finds out that underneath that baleful glare she always gives him, lies a warm, funny and sexy as hell woman. He does his best to not be smitten after every exchange afterward. His son needs him rational, steadfast...and love is the most uncertain thing.

It was the elevator's fault. Had it worked like it should, Bailey would have gone on with her life without seeing why so many of her co-workers had fallen for the grumpy single dad. (It's his dry wit, his playful teasing and the drool-worthy cut of his jawline.) And now she's caught in the way he doles out smiles and the dark depths of his secrets. If nothing else, she knows from rumor there's a clock ticking on their affair before it implodes because things always do with Jake the Rake, but she can't seem to walk away first.
Rowena: Amy and I have been buddy reviewing books together for a few years now but we both weren't reading much in the last few months of 2019 so we took a break but we're back. Our first buddy review for 2020 will be on Grumpy Jake by Melissa Blue.
Grumpy Jake follows Jake Polasky and Bailey Thorne as they make that journey toward they're happily ever after, together. Bailey is Jake's son's teacher and though they started off on rocky ground, getting stuck on an elevator sparks up a friendship that turns into a lot more than either of them thought.
So, Ames…what did you think?
Ames: I thought this was a cute novella. I like how its called Grumpy Jake but when Bailey noticed the rep Jake had with the teachers she was aloof towards him, so in a way she was almost grumpy too. Even Jake's son noticed that she didn't particularly care for Jake. haha For this being a novella, I thought there was a lot packed into the story and it was enjoyable.
What did you think, Ween?
Rowena: I really enjoyed this one. It was a quick romp that I thought was cute. I liked that Bailey was a teacher and we actually got to see her in action. I also liked that though this was a novella, there was still a lot of stuff packed into the story to satisfy the reader. I wasn't expecting all the steamy love scenes but I wasn't mad about them either. There wasn't much that I didn't enjoy about this one, if anything, I just wanted more because I didn't want to depart from these characters so soon. I liked Jayden and I liked the relationship that formed between Bailey and Jayden and I loved that regardless of what was going on with her and Jake, that didn't affect anything between her and Jayden. I just flat out liked this one.
Ames: It's harder to review a book we enjoy than one we didn't, don't you think? Because I agree with everything you said. Seeing Bailey in her role as a teacher and how that impacts developing a relationship with a parent of one of her students was interesting to see. And sets up the conflict nicely. Jayden was super cute and my heart broke for his and Jake's story. The heat factor was nice too. I wasn't expecting that so it was a pleasant surprise.
Overall, I don't have any complaints about Grumpy Jake. I like a grumpy hero because there's usually a softy hidden underneath that exterior and I like how Bailey called Jake out on his behaviour. They were a good match.
Rowena: You're right. I just flat out like everything about this book, I just wanted it to be longer. So I gave it a 4.25 out of 5, you?
Ames: I'm giving this one a 4 out of 5. A very strong novella and a great introduction to Blue's writing.
Final Grade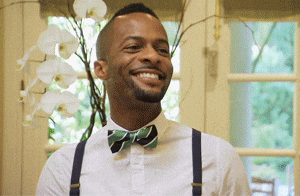 Ames: 4 out of 5
Rowena: 4.25 out of 5
Related Posts