Reviewer:
Holly
Selkies are a Girl's Best Friend
by
Molly Harper
Narrator:
Amanda Ronconi
,
Jonathan Davis
Series:
Mystic Bayou #3
Also in this series:
How to Date Your Dragon (Mystic Bayou, #1)
,
Even Tree Nymphs Get the Blues
,
How to Date Your Dragon
,
How to Date Your Dragon
,
One Fine Fae
,
Shifters in the Night
,
A Farewell to Charms
Publisher
:
Audible Original
Publication Date
: August 27, 2019
Format:
Audiobook
Source:
Audible Escape
Point-of-View:
Alternating Third
Cliffhanger:
View Spoiler »
Solid HFN, but Continuing Storyline « Hide Spoiler
Content Warning:
View Spoiler »
Violence, « Hide Spoiler
Genres:
Paranormal Romance
,
Urban Fantasy
Length:
6 hours and 33 minutes
Add It
:
Goodreads
Reading Challenges:
Holly's 2019 GoodReads Challenge
Amazon
|
Barnes & Noble
|
The Ripped Bodice
|
Google Play Books
Series Rating:
MOLLY HARPER IS BACK WITH THE NEXT WICKEDLY FUNNY, WILDLY ENCHANTING MYSTIC BAYOU NOVEL - AVAILABLE IN AUDIO FIRST!

Sonja Fong isn't afraid of a little chaos. As director of the league's research center in Mystic Bayou, a tiny town in Louisiana that's home to supernatural creatures and humans alike, she's responsible for making sure things run smoothly. It's not an easy task when her daily memos include lines like, "new equipment is needed because the old equipment was destroyed by a temper tantrum involving dragonfire."

He job puts her in the path of Dr. Will Camody, a mysterious shifter who's returned to Mystic Bayou after a long absence only to find that he's now considered an outsider. To make matters worse, the rift - a tear in the fabric of the universe that is leaking supernatural energy into the bayou - is unraveling at an alarming rate. Now Sonja and Will must team up to fix the rift and save Mystic Bayou from certain disaster, all while their own romance is heating up. Can they have a future together while the whole world is falling apart?

©2019 Molly Harper (P)2019 Audible Originals, LLC
Selkies are a Girl's Best Friend is the third full-length book in Molly Harper's Audible First Mystic Bayou series. Set in a tiny Louisiana town filled with various supernatural creatures, we're once again brought back to the problem of the open rift that's changing non-magical beings into magical ones. As the League tries to find a way to close the rift and prepare for the eventual outing of supernaturals to the rest of the world, it seems someone – or a group of someones – may be working against them.
When Sonja Fong discovers some discrepancies in some financial reports, she starts investigating the cause. When Will Carmody, the new town doctor, shows up, he upends her carefully controlled world.
We met Sonja Fong in the first book. Jillian's super-capable best friend with more connections than the phone company, she was sarcastic and hilarious. I was really looking forward to her book. Harper definitely delivered. Sonja was everything I'd hope she'd be and I really liked Will. The two of them together were sweet. I loved returning to Mystic Bayou and seeing all residents and their zany antics.
Rating: 3.75 out of 5
Mystic Bayou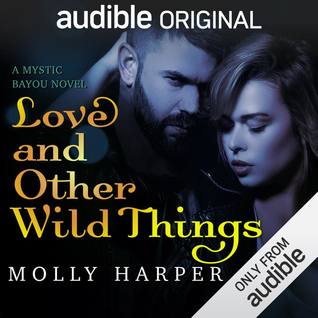 Related Posts