Reviewer:
Holly and Rowena
Don't You Forget About Me
by
Mhairi McFarlane
Publisher
:
Harper Collins
Publication Date
: January 10, 2019
Format:
eARC
Source:
Edelweiss
Point-of-View:
First
Cliffhanger:
View Spoiler »
No « Hide Spoiler
Content Warning:
View Spoiler »
Sexual Abuse « Hide Spoiler
Genres:
Women's Fiction
Pages:
433
Add It
:
Goodreads
Reading Challenges:
Rowena's 2019 GoodReads Challenge
Amazon
|
Barnes & Noble
|
The Ripped Bodice
|
Google Play Books
Sometimes you have to hit rock bottom to rise again…

The hilarious new heartbreaker from Mhairi McFarlane!

If there's one thing worse than being fired from the grottiest restaurant in town, it's coming home early to find your boyfriend in bed with someone else.

Reeling from the indignity of a double dumping on the same day, Georgina snatches at the next job that she's offered – barmaid in a newly opened pub, which just so happens to run by the boy she fell in love with at school: Lucas McCarthy. And whereas Georgina (voted Most Likely to Succeed in her school yearbook) has done nothing but dead-end jobs in the last twelve years, Lucas has not only grown into a broodingly handsome man, but also has turned into an actual grown-up with a business and a dog along the way.

Meeting Lucas again not only throws Georgina's rackety present into sharp relief, but also brings a dark secret from her past bubbling to the surface. Only she knows the truth about what happened on the last day of school, and why she's allowed it to chase her all these years…
Georgina Horspool is having a pretty awful day. She gets fired from one of the crappies restaurants in town, then goes home and finds her boyfriend in bed with someone else. But it turns out those might have been blessings in disguise, since that leads her into a job at a new pub. Except it turns out her ONE TRUE LOVE from high school, is one of the owners. Only, it turns out he doesn't remember her. George can't decide if she's thrilled or heartbroken about that. As she learns from past mistakes and tries to go forward is a positive way, she finds herself falling in love with this boy all over again…
Holly: I got the audiobook so I could listen while I was at work and on my commute. I enjoyed the narrator, but she had a pretty heavy British accent that was hard to understand at times. I listened to about half, then read the rest.
What did you think?
Rowena: I read my eARC of this book so I had no problem with the accents in my head. LOL. I really enjoyed this one. Right from the jump, I was invested in what happened between Georgina and Lucas. There were parts of the book that moved slowly but for most the part, I wanted to know what happened at every turn. Sure, I wanted knee Lucas in the balls a time or two but in the end, I really liked him and Georgina together.
Holly: I wouldn't classify this as romance. It definitely read more like women's fiction. The book was more about Georgina's personal journey and her relationship with Lucas was a side-note. I thought it was really slow in parts, too. The middle especially seemed to drag. But, like you, I was invested in Georgina's journey, and wanted to see how things would turn out for her and Lucas. I really liked the way the end played out, though I didn't fully buy into their HEA. I don't think we saw enough on-page development of their current-time romance.
Rowena: I agree I wouldn't call this a romance either since the focus of the book was more on Georgina's growth as a person, finally moving on from her past.
I really loved seeing Georgina's growth. I loved seeing her really grow into an actual relationship with her sister and her mother and then eventually, with Lucas. She had a great support system and my heart hurt for her when the people in her support group found out the truth about her past. I hurt for them all. I loved her personality and seeing her really rock it up there on stage at the open mic nights. Her Mom and sister annoyed me right up until they started supporting Georgina. I couldn't stand the Step-Dad but loved seeing Georgina's sister really step up when Georgina needed her to.
Holly: I couldn't stand Georgina's step-dad either, and I felt sorry for her mom, but I'm glad she came to a good place with her family. Especially her sister, Esther. I was pissed at her a good portion of the book, but she really came through in the end.
Man, I definitely cried at the end. Her last open mic night had all the feels.
Rowena: I agree. That last open mic night made me cry and love Georgina all the more. I'm glad that everything worked out for her in the end. She definitely deserved it and I thought Lucas handled entering her life again well.
I really connected with Georgina, right from the jump and enjoyed seeing her really come into her own. I also like Mhairi McFarlane's writing style and enjoyed the way that she brought Georgina's world to life. I definitely want to read more books by her.
Holly: I liked McFarlane's writing, too, and I'll definitely be looking for more books from her in the future.
Rowena: This one was one of my favorite reads of the month and I enjoyed it so much, I'm giving it a 4.5 out of 5. What about you?
Holly: I enjoyed it, but not as much as you did. I'm going to give it 3.75 out of 5. I really liked Georgina's personal growth, but the romance was lacking and it was really slow in the middle.
Final Grade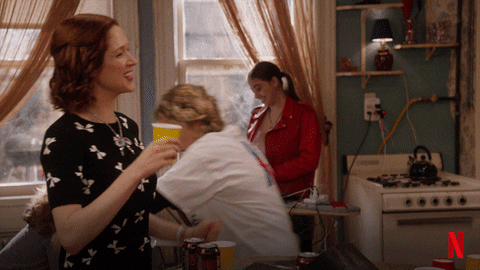 Holly: 3.75 out of 5
Rowena: 4.5 out of 5
Related Posts