Reviewer:
Holly, Rowena
Sapphire Flames
by
Ilona Andrews
Series:
Hidden Legacy #4
Also in this series:
Burn for Me (Hidden Legacy, #1)
,
Wildfire
,
White Hot
,
White Hot (Hidden Legacy, #2)
,
Burn for Me (Hidden Legacy, #1)
,
White Hot (Hidden Legacy, #2)
,
Wildfire (Hidden Legacy, #3)
,
Burn for Me (Hidden Legacy, #1)
,
Wildfire (Hidden Legacy, #3)
,
Diamond Fire (Hidden Legacy, #3.5)
,
Diamond Fire
,
Wildfire
,
Emerald Blaze
,
Sapphire Flames
Publisher
:
Avon
Publication Date
: August 27, 2019
Format:
eARC
Source:
Publisher
Point-of-View:
First
Cliffhanger:
View Spoiler »
Yes, Continuing Storyline « Hide Spoiler
Content Warning:
View Spoiler »
Violence, Gore « Hide Spoiler
Genres:
Urban Fantasy
Pages:
400
Add It
:
Goodreads
Reading Challenges:
Holly's 2019 GoodReads Challenge
,
Rowena's 2019 GoodReads Challenge
Amazon
|
Barnes & Noble
|
The Ripped Bodice
|
Google Play Books
Series Rating:
From #1 New York Times bestselling author Ilona Andrew comes an enthralling new trilogy set in the Hidden Legacy world, where magic means power, and family bloodlines are the new currency of society…

In a world where magic is the key to power and wealth, Catalina Baylor is a Prime, the highest rank of magic user, and the Head of her House. Catalina has always been afraid to use her unique powers, but when her friend's mother and sister are murdered, Catalina risks her reputation and safety to unravel the mystery.

But behind the scenes powerful forces are at work, and one of them is Alessandro Sagredo, the Italian Prime who was once Catalina's teenage crush. Dangerous and unpredictable, Alessandro's true motives are unclear, but he's drawn to Catalina like a moth to a flame.

To help her friend, Catalina must test the limits of her extraordinary powers, but doing so may cost her both her House–and her heart.
Sapphire Flames is the first book in the Hidden Legacy series featuring Catalina as the main protagonist. This book starts approximately a year after the events of Wildfire. Catalina is now head of House Baylor and in charge of the family. Nevada and Rogan are out of the country, so Catalina truly is on her own. When a new case lands in her lap – this one involving family – she'll need all her resources to keep it together…especially since Alessandro Segredo is back, and somehow involved.
Holly: Nevada and Rogan left some pretty big shoes to fill. I don't want to say I went into this book with super high expectations, but I do think I expected something other than I got. I didn't love Catalina as much as I thought I would. How about you?
Rowena: I did. I absolutely loved Catalina and I'm so ready for more of her and Alessandro. I like that Catalina isn't the billy badass that Nevada is but she's still growing into the person she's meant to be and I think her powers are so interesting. I have every faith that she's going to be just as awesome as Nevada and I look forward to being here for all of her adventures.
Holly: I knew Catalina would be different from Nevada, but I think I expected her to be more mature than she was. All her self-doubt really bothered me after awhile.
I'm looking forward to some more Alessandro. I'm super curious about him. I'm curious about Alessandro's mission and why he's being all cagey about stuff. This is one of those times when I really wish the book was alternating POVs.
Rowena: I am, too. I'm really hoping that in the next book, we'll get more into Alessandro's mission, his revenge and just his whole story in general. I do agree that they seemed to fall in love super fast but that didn't bother me. I probably would have fallen in love at first sight with Alessandro's fine ass too. Ha. Maybe their powers manifested to them that they were going to fall in love, haha, who knows. I bought it and I'm here for it.
Holly: I didn't connect with Catalina and Alessandro as much as I thought I would. I liked them both, I thought they had a strong dynamic together, but I don't know…something was lacking there for me.
I guess I didn't understand why they were in love. They barely spent time together. Yes, they both had a teenage crush, but that was based on what? A couple IG photos and one conversation? I just didn't feel that connection, so the ending didn't impact me as much as it could have.
Maybe it was because he was such a flirt, but I didn't get the sense that his feelings were genuine. Maybe if we'd seen him being more serious? I'm not sure.
Rowena: I think that Ilona Andrews writes entertaining stories and this wasn't any different for me. I couldn't read this story fast enough. I enjoyed everything, I look forward to seeing where Catalina's story takes her in the next book, and I'm here for seeing each of the young Baylor's really grow into themselves and their powers. I really want to see them learn their powers and see their powers grow as they learn them. Man, there's so much to look forward to. I can't wait.
Rowena: I also really, really want more Arabella. I would definitely be on board with her getting her own set of books as well as Leo. They're all such interesting characters and I think they would carry their own books really well.
Holly: I agree that IA writes entertaining stories, though. and I love the Baylor family. Arabella, Leon, Grandma Freida..I heart them all.
Rowena: I inhaled this book so fast both times that I read it and I'm so here for all of it. The second time that I read it, I mean to savor the experience but nope…I was too thirsty for more so I just jumped right in. Andrews means business with this series. This was a great addition to an already fabulous series.
Holly: While I love this world, I spent most of the book impatient with Catalina. I wanted her to stop all her internal "I'm not good enough, he doesn't even like me" nonsense and get on with growing up. I'm waiting for her to grow into being the Head of House and to start acting like the Prime she is.
Still, for all that I can't deny I was super excited to jump into this one and I can't wait for the next. I'm giving it 3.75 out of 5. You?
Rowena: I'm giving it 4.25 out of 5.
Final Grade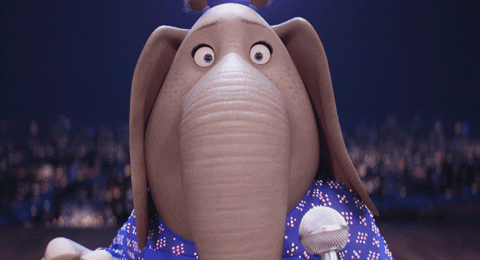 Holly: 3.75 out of 5
Rowena: 4.25 out of 5
Hidden Legacy
Related Posts