Reviewer:
Holly
Even Tree Nymphs Get the Blues
by
Molly Harper
Narrator:
Amanda Ronconi
,
Jonathan Davis
Series:
Mystic Bayou #2.5
Also in this series:
How to Date Your Dragon (Mystic Bayou, #1)
,
How to Date Your Dragon
,
How to Date Your Dragon
,
Selkies are a Girl's Best Friend
,
One Fine Fae
,
Shifters in the Night
,
A Farewell to Charms
Publisher
:
Audible Studios
Publication Date
: June 6, 2019
Format:
Audiobook
Source:
Audible Escape
Point-of-View:
Alternating Third
Cliffhanger:
View Spoiler »
No « Hide Spoiler
Content Warning:
View Spoiler »
Betrayal, « Hide Spoiler
Genres:
Urban Fantasy
Length:
3 hrs and 3 mins
Add It
:
Goodreads
Reading Challenges:
Holly's 2019 GoodReads Challenge
Amazon
|
Barnes & Noble
|
The Ripped Bodice
|
Google Play Books
Series Rating:
A hilarious new standalone novella brimming with otherworldly charm from the reigning queen of paranormal romantic comedy Molly Harper!

Ingrid Asher is the newest resident of Mystic Bayou, a tiny town hidden in the swamp where shapeshifters, vampires, witches and dragons live alongside humans.

Ingrid doesn't ask for much. The solitary tree nymph just wants to live a quiet life running her ice-cream shop in peace. Unfortunately, she can't seem to shake her new neighbor, Rob Aspern, head of the League's data science department and so good looking it just isn't fair.

If there's one thing Ingrid doesn't need, it's someone poking around in her business. But the more she gets to know the hunky mathematician, the more she finds herself letting her guard down. Can she trust him with her secrets, or will her past destroy everything?
Even Tree Nymphs Get the Blues by Molly Harper is was a cute, light story set in the town of Mystic Bayou, where mythical creatures have lived in peace for hundreds of years. Ingrid Asher is a tree nymph who recently decided to move to Mystic Bayou to open a creamery. She's still recovering from a terrible betrayal by someone she trusted, so she doesn't open up easily. The residents of Mystic Bayou are strange to her, for they're all open and want to be her friend.
Rob Aspern is generally pretty slick with the ladies, but Ingrid has flustered and all kinds of tongue-tied. She seems wary around everyone else, but she's downright icy to him. As he works on winning her trust, he finds himself falling for her.
This was a very short listen. I really enjoyed both narrators and easily fell into the story. I love Mystic Bayou and I was ridiculously excited to return to the world. I'm sad it was so short, but that's about me wanting more from the world than a reflection of the story itself. I thought things wrapped up nicely and the story ended on a sweet note (more "let's see where this goes" than "Let's live happily ever after").
I can't wait for the next installment.
Rating: 4 out of 5
Mystic Bayou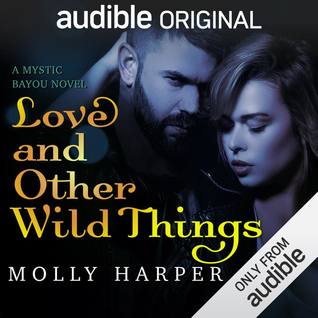 Related Posts