Sunday Spotlight is a feature we began in 2016. This year we're spotlighting our favorite books, old and new. We'll be raving about the books we love and being total fangirls. You've been warned. 🙂
It is no secret around here that I like love adore Lexi Blake and every single thing that she writes. I should thank Rowena for introducing me to Lexi. It was reading her review of Ruthless that hooked me. After reading her review, I picked up Ruthless and haven't looked back. Reading the Lawless series then turned me onto her Masters and Mercenaries series. I'm not generally a fan of BDSM, but this series is written so tastefully that it's impossible not to love it. Her characters are so real.
Given how much I adore Lexi, imagine my excitement when I read about Order of Protection and her new Courting Justice series. We're talking about bouncing in my seat, jumping for joy excitement. When I read the synopsis, I was even more excited. If I wasn't so lame when it comes to reading, I would have already read and reviewed this book for you guys. As is stands, I haven't read it yet. If any of you have read it, please share! Did you like it? Did you not like it?
Order of Protection
by
Lexi Blake
Series:
Courting Justice #1
Also in this series:
Order of Protection (Courting Justice #1)
,
Evidence of Desire (Courting Justice #2)
Publication Date
: June 5, 2018
Point-of-View:
Third Person
Genres:
Contemporary Romance
Pages:
336
Add It
:
Goodreads
Amazon
|
Barnes & Noble
|
The Ripped Bodice
|
Google Play Books
Series Rating:
A sexy and suspenseful new contemporary romance from New York Times bestselling author Lexi Blake where love and law entwine for a conviction of the heart.

To high-end defense attorney Henry Garrison, Win Hughes is a woman he met during one of the most trying times of his life. She's soft and warm, and he finds solace in their brief relationship. But Win has a secret. She's actually Taylor Winston-Hughes—born to one of the wealthiest families in the country, orphaned as a child by a tragic accident. Win moves in the wealthiest circles, but her lavish lifestyle hides her pain.

When her best friend is murdered in the midst of a glittering New York gala, Win's charged with the crime, and the only person in the world she wants to see is Henry.

Henry is shocked at the true identity of his lover, but he can't reject the case. This trial could take his new firm into the stratosphere. Still, he's not getting burned by Win again. And yet every turn brings them closer together.

As the case takes a wild turn and Win's entire life is upended, she must look to the people she's closest to in order to find a killer. And Henry must decide between making his case and saving the woman he loves...
Order the Book:
AMAZON || BARNES AND NOBLE || KOBO
Excerpt
This was a dream. A nightmare. She would wake up and be back in the little bungalow on the island. She would turn over and Henry would kiss her and make love to her and she would be all right. This time she would do what she should have. She would tell him she didn't want to leave him. She would ask him to rethink his plans to stay in touch. They could spend weekends together. She would explain her situation and that she could afford to fly into New York whenever she wanted to.

If only she would wake up.

"Ms. Winston-Hughes, I asked you a question. If you don't want to talk right now, I can take you to a cell. I think you'll find a lot of lovely people to talk to in there. We can take this up again in the morning after you've had some time to think about cooperating."

She hadn't been in a cell yet. Somehow she didn't think it would be a pleasant experience.

"I want to talk to my lawyer. I need a lawyer," she forced the words out. She was making a mistake by talking to the police by herself. They didn't believe her. They wanted her to confess to something she hadn't done.

She had to try to come out of this fog and start thinking.

His chair slid back, but before he could get a hand on her, the door came open.

"Detective, step back. My client asked for a lawyer. Unless you want to give me a reason to go to a judge tonight, I suggest you step away and allow my client to speak with her attorneys."
She gasped because she'd met this man before. David. Henry's partner. Why was he here? He was a big presence as he pressed through the door. Even though it was long after midnight, he was wearing a tuxedo, though he'd pulled the tie loose.

He looked like he'd come from a party. Had he been there?

Nothing made sense. Her head hurt so much.

The detective sighed and shook his head, looking back to her. "He can't save you. Admit what happened. This is going to go better for you if you leave the lawyers out. Tell us what you did and maybe, just maybe, we can make a deal. You let a few days go by and there won't be a deal to be had."

A familiar voice caught her attention. "Detective, you've made your point clear. Now allow me to make mine. My client has invoked her right to counsel. Leave the room and turn off any cameras or devices you have recording. Understand if I find out you've violated attorney/client privilege, that I will have your job and your pension. Do I make myself clear?"
Henry. Oh, god, Henry was here and her whole soul seemed to come back to life. Henry was here. He'd come to help her. He was dressed in a perfectly tailored suit and looked like power and authority and safety.

He was here.

The detective sneered Henry's way. "Yeah, I get it. You need to understand that he can't save you. Once this evidence is processed, you'll be going to jail, little girl. You're going there tonight because no judge in the world is going to save you. Your privilege is over."

"Could we get the handcuffs off her?" David asked. "She's not running and she's not violent."

"The dead body in her bedroom tells me something different, Counselor," the detective replied.

"I would like to be alone with my client, detective," Henry said, his teeth clenched.

She couldn't take her eyes off him. He was so big and strong. When he'd held her, she'd been safe and now he was here. She felt terrible, but it was okay because Henry was here and everything was going to be all right.

The detective turned and walked to the door. "You don't have all night. She's not going anywhere. There won't be a bail hearing for a while, so prepare your client for a nice long weekend. She's going to do well in the holding pen. Or hell, maybe we'll move her for a few days. Let her see how the other half lives."
The door closed behind him and she was left alone with him.

"Henry?"

He turned to her, his eyes cold as ice. His suit was designer, custom fit to his strong body. The shoes he was wearing had to cost a thousand dollars a pair. This wasn't the laid back, beach boy she remembered. This man was a professional. "Please call me Mr. Garrison. I'll call you Miss Winston-Hughes, unless you prefer Taylor. No? Excellent. Miss Winston-Hughes, your uncle has hired my firm to represent you in this case. Do you understand the charges against you?"
Courting Justice
Giveaway Alert
We're giving one lucky winner their choice of one of our Sunday Spotlight books. Use the Rafflecopter widget below to enter for one of this month's features.
Sunday Spotlight: June 2018
Are you as excited for this release as we are? Let us know how excited you are and what other books you're looking forward to this year!
About the Author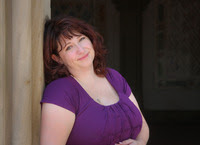 Lexi Blake
WEBSITE || FACEBOOK || TWITTER || PINTEREST
NY Times and USA Today bestselling author Lexi Blake lives in North Texas with her husband, three kids, and the laziest rescue dog in the world. She began writing at a young age, concentrating on plays and journalism. It wasn't until she started writing romance and urban fantasy that she found the stories of her heart. She likes to find humor in the strangest places and believes in happy endings no matter how odd the couple, threesome, or foursome may seem.

Her first novel, Their Virgin Captive: Masters of Ménage, Book 1, was a collaboration with New York Times bestselling author Shayla Black. There are five more books available in the series: Their Virgin's Secret, Their Virgin Concubine, Their Virgin Princess, Their Virgin Hostage, and Their Virgin Secretary. The next book in the series, Their Virgin Mistress, is releasing this April.

In addition to the Masters of Ménage series, she is the author of the Masters and Mercenaries series. There are eight full-length novels and four novellas available now, with more coming in 2015.

In 2013, Lexi also began releasing her urban fantasy series, Thieves. The first five are available now, with Ripper, a spin-off to the series, coming in 2015.
Related Posts