Reviewer:
Holly & Rowena
Hello Stranger
by
Lisa Kleypas
Series:
The Ravenels #4
Also in this series:
Cold-Hearted Rake
,
Devil in Spring
,
Devil in Spring
,
Devil in Spring (The Ravenels, #3)
,
Devil's Daughter (The Ravenels #5)
,
Devil's Daughter
,
Chasing Cassandra
,
Devil in Disguise
Publisher
:
Harper Collins
,
Avon
Publication Date
: February 27th 2018
Point-of-View:
Third Person
Genres:
Historical Romance
Pages:
400
Add It
:
Goodreads
Amazon
|
Barnes & Noble
|
The Ripped Bodice
|
Google Play Books
Series Rating:
A woman who defies her time

Dr. Garrett Gibson, the only female physician in England, is as daring and independent as any man—why not take her pleasures like one? Yet she has never been tempted to embark on an affair, until now. Ethan Ransom, a former detective for Scotland Yard, is as gallant as he is secretive, a rumored assassin whose true loyalties are a mystery. For one exhilarating night, they give in to their potent attraction before becoming strangers again.

A man who breaks every rule

As a Ravenel by-blow spurned by his father, Ethan has little interest in polite society, yet he is captivated by the bold and beautiful Garrett. Despite their vow to resist each other after that sublime night, she is soon drawn into his most dangerous assignment yet. When the mission goes wrong, it will take all of Garrett's skill and courage to save him. As they face the menace of a treacherous government plot, Ethan is willing to take any risk for the love of the most extraordinary woman he's ever known.
Hello Stranger is the fourth book in Lisa Kleypas' Ravenels series and it follows, Dr. Garrett Gibson and Mr. Ethan Ransom. Both characters were introduced in the previous books and both characters are linked to the Ravenels in different ways.
Dr. Garrett Gibson is the only female doctor in England and she's one busy woman. She's sworn that her career is more important than marriage and has no plans to marry as it will interfere with her job. When she meets Ethan Ransom and starts taking an interest in him, things change.
Mr. Ethan Ransom has been infatuated with Dr. Gibson from the jump. He knows that he can't have her because his life is a dangerous one but that doesn't stop him from wanting her, from wanting to be near her and when a friendship sparks up between them and then a relationship, Ethan knows that to protect her, he should keep his distance but he can't stay away from her.
When the danger comes and meets them head-on, Garrett must save Ethan's life so that he can fight the biggest fight of his life.
Rowena: Our joint review for March is Hello Stranger by Lisa Kleypas and it's a book that Holly and I have been anxious to read for quite some time now. I've lagged because I was wrapped up in Ilona Andrews but once I finally settled in and started reading Hello Stranger, it was good stuff.
What did you think, Holly?
Holly: It was good. I kind of thought Garrett might be too independent, or Ethan might be too overbearing, but I think they found a good balance. He didn't try to stifle her and she didn't insist she could do everything on her own to the detriment of her safety. I was a little sad in the beginning that she wasn't able to whoop his arse, though. Can you imagine his face if she'd taken him down on the street?
Rowena: I had the same thoughts going into the book, especially after reading that scene where she had to fight off her attackers and Ethan stepped in and helped her. The way that she kept insisting that she got it, I was like, "Oh hell, are we going to get a whole lot of this for the remainder of the book?" I'm glad to see that that wasn't the case.
I really enjoyed both Ethan and Garrett. They were wonderful together. I loved that Ethan was fighting to save the lives of thousands and that Garrett cared a whole bunch about saving his life. I did think that they went from kissing to I love you pretty quickly but I can't even care about that because I adored Ethan so much. I just happy sighed while typing that because, holy cow, that speech that Ethan gave Garrett when he thought he was going to die?
swoon
Holly: I was really surprised at how quickly she changed her mind from "I won't ever marry" to "Let's get married". But then if Ethan had courted me like that is have married him quick, too. He was so wonderful. He's by far the most flowery Kleypas hero, I think, but it really worked for him. He was so sweet. I love him so much.
Rowena: Same. I would have been dressed in my wedding dress when he showed up with that monkey picture. LMAO.
Holly: Ha, I can just see you all "Oh, hello Ethan. I do." But same, though. He was swoony.
Rowena: He would have been for a big surprise when he moved those covers off. I don't even care that I would have married in a wedding dress that was wrinkled to shit. I would have been all, "I do, I do, I do, I do" Hahaha.
Holly:I can just see you all curled up in the bed wearing a wedding dress. "Surprise!" HAHA
What did you think of the suspense plot?
Rowena: I was much more invested in the romance between Ethan and Garrett than I was the suspense plot. It was just okay in my opinion. I think there was a lot going on and not a lot of page time to devote to each little thing. I don't think we spent enough time with Jenkyns or even with the whole suspense plot to really get the motivation behind it but overall, that wasn't what I was reading the book for so I guess I let it slide because I loved what I was getting from what I actually wanted from the story. Does that make sense?
Holly: I agree the romance was the most compelling part of the story. I was in a rush to get back to them as a couple, so the suspense plot was more filler than anything else. I will say something about it bothered me. It wasn't how quickly it was resolved, but more how quickly things seemed to happen in the end. Maybe that's just the power of fiction, but everything seemed to snowball once Ethan had his evidence.
Let's talk about the elephant in the room…or the Indian woman in the story, as the case may be. A short paragraph thrown in mentions "training" Ethan did in India with a woman who trained him in the art of Kama Sutra. It jarred me when I read it, because it seemed rather out of place. But aside from thinking "That was unnecessary" it didn't really register for me. It wasn't until I saw the way others felt about it that I considered the full ramifications of what Kleypas had done by including it. I don't know her, but she seems like a class act. Her response to the reviewers who were angered by the inclusion of it was fair and right, imo.
What about you? Did you notice it? Did you have any thoughts about it? I will say, that small part did not ruin the book for me. It wasn't necessary in any way, but it didn't turn me off from reading.
Rowena: I read this book after I read the review over at Smart Bitches and from how ragey the reviewer was, I went into this book prepared to be jarred but when I got to the part where it's mentioned, it was so small and I was expecting something really big that I was more jarred by that then what's in the story. If that makes any sense. The reviewer wasn't wrong though. It wasn't needed to further the story and I'm glad that LK responded the way that she did.
Overall, I enjoyed the book. I enjoyed getting to know Garrett, seeing her in action and I loved the romance between her and Ransom. I really loved Ransom. Like, a lot a lot. Give me all the Ransoms, please. So while the suspense was the weakest part of the book, the romance and seeing everyone again more than makes up for that, IMO. I give this one a 4.25 out of 5. You?
Holly: I loved Ransom so much. I was bothered by how quickly Garrett decided she was in love and ready for marriage, but honestly Ethan was so great he kind of made the whole book for me. I'm going to give it 4 out of 5.
Final Grades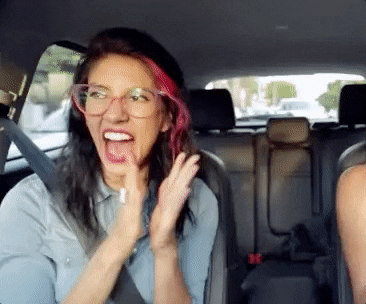 Holly: 4 out of 5
Rowena: 4.25 out of 5
The Ravenels Series
Related Posts