Reviewer:
Rowena
Burn for Me (Hidden Legacy, #1)
by
Ilona Andrews
Series:
Hidden Legacy #1
Also in this series:
Burn for Me (Hidden Legacy, #1)
,
Wildfire
,
White Hot
,
White Hot (Hidden Legacy, #2)
,
White Hot (Hidden Legacy, #2)
,
Wildfire (Hidden Legacy, #3)
,
Burn for Me (Hidden Legacy, #1)
,
Wildfire (Hidden Legacy, #3)
,
Diamond Fire (Hidden Legacy, #3.5)
,
Sapphire Flames
,
Diamond Fire
,
Wildfire
,
Emerald Blaze
,
Sapphire Flames
Publisher
:
Harper Collins
,
Avon
Publication Date
: October 28th 2014
Point-of-View:
First Person
Genres:
Urban Fantasy
Pages:
400
Add It
:
Goodreads
Amazon
|
Barnes & Noble
|
The Ripped Bodice
|
Google Play Books
Series Rating:
#1 New York Times bestselling author Ilona Andrews launches a brand new Hidden Legacy series, in which one woman must place her trust in a seductive, dangerous man who sets off an even more dangerous desire…

Nevada Baylor is faced with the most challenging case of her detective career—a suicide mission to bring in a suspect in a volatile case. Nevada isn't sure she has the chops. Her quarry is a Prime, the highest rank of magic user, who can set anyone and anything on fire.

Then she's kidnapped by Connor "Mad" Rogan—a darkly tempting billionaire with equally devastating powers. Torn between wanting to run or surrender to their overwhelming attraction, Nevada must join forces with Rogan to stay alive.

Rogan's after the same target, so he needs Nevada. But she's getting under his skin, making him care about someone other than himself for a change. And, as Rogan has learned, love can be as perilous as death, especially in the magic world.
Burn for Me is the first book in Ilona Andrews Hidden Legacy series and it follows Nevada Baylor as she navigates the magical world that she's thrown into but not really a part of.
Nevada Baylor is a private investigator who took over the reins of her family PI firm after her father died. She lives in a magical Houston, TX where the more magic you have, the more powerful your House is. She likes to keep her head down and do her job, because it's hard work trying to stay afloat if you're not a part of a House and don't have any real magic. All of that changes when Nevada is forced to take on a case that she can't possibly survive and being backed into a corner by the people that own her mortgage isn't all that great either so Nevada has no choice but to take on a suicide mission and see where it takes her.
Adam Pierce is a bad guy who embraces being bad. When his family hires Nevada's firm to find him and bring him home, Nevada is thrown into the mix of some pretty bad business and when Mad Rogan, a powerful Prime from one of the biggest Houses in Houston, kidnaps her for information, her life is thrown into a freaking mixer. Trying to stay alive becomes Nevada's first priority because she has to take care of her family.
Burn for Me was a damn good book. I loved every minute of it. I loved getting to know Nevada and her family (every single member of her family) and then I loved getting to know Mad Rogan. Mad Rogan was everything. He flat out rocked my world. This entire book was so exciting and fun and I laughed so much throughout the entire reading. I also texted Holly a lot. It was just great. I loved when Rogan shows up with a bouquet of red carnations. I loved when he called Augustine Pancakes. I especially loved when he says, "Let's dance" to Adam at the end. For most of the book, this is what I looked like whenever Mad Rogan was on the scene.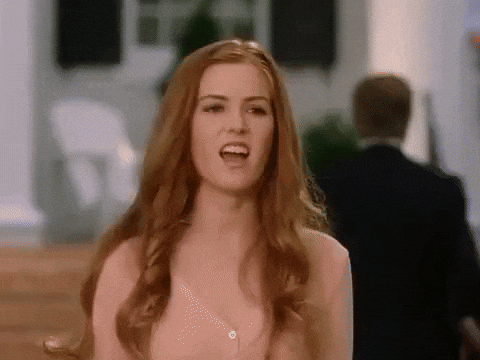 I have loved pretty much every single book that I've read by Ilona Andrews but I think I loved this one the most. Mad Rogan and Nevada's relationship is going to be so much fun reading about and I am so here for it. I'm really interested in seeing Nevada learn more about herself and her magic (because you know she's got some hidden magic up her sleeve) and I'm also really looking forward to seeing more from her family. Catalina, Arabella and even Bern and Leon.
This book was the bomb and I couldn't start the next book fast enough. Thank goodness, I didn't have to wait three years for the next book. How did anyone survive that wait? Sheesh, do I recommend this book? Hells year, bro. Read it, love it and jump on the next one as fast as you can. You won't regret it.
Hidden Legacy
Grade: 5 out of 5
Related Posts