With the end of 2017 behind us, who's ready to look forward to the new year? I know that we are. 2017 was pretty rough but lucky for us, we have much to look forward to in books this coming year. Here are the books that we are most anticipating in 2018.
Casee

Ocean's Light by Nalini Singh.
Security specialist Bowen Knight has come back from the dead. But there's a ticking time bomb in his head: a chip implanted to block telepathic interference that could fail at any moment—taking his brain along with it. With no time to waste, he should be back on land helping the Human Alliance. Instead, he's at the bottom of the ocean, consumed with an enigmatic changeling…

Kaia Luna may have traded in science for being a chef, but she won't hide the facts of Bo's condition from him or herself. She's suffered too much loss in her life to fall prey to the dangerous charm of a human who is a dead man walking. And she carries a devastating secret Bo could never imagine…

But when Kaia is taken by those who mean her deadly harm, all bets are off. Bo will do anything to get her back—even if it means striking a devil's bargain and giving up his mind to the enemy…
It's no surprise that I love anything Naili writes. Bring it on.

Winter Igniting by Rebecca Zanetti.
His only goal was survival until he met her…

With nothing to lose, former cop Damon Winter agrees to an undercover op, infiltrating a cult in the dangerous post-Scorpius world. After one look at his new partner, he knows she belongs far away from not only the cult, but from him. She's sweet and kind and has no business being in peril, but she's determined to help. Suddenly, the part he's playing as her man explodes into a passion neither of them had expected.

She hadn't purposefully faced risk until she met him…

April Snyder has survived loss, pain, and uncertainty. Now she's ready to live again. There's nothing left but to make a difference for others, so why not go undercover in the cult? Now all she has to do is keep it professional and ignore her handsome, deadly, overbearing partner, who's too sexy for her peace of mind. Intrigue, risk, and danger make for an irresistible temptation–until enemies close in, threatening everyone they've sworn to protect.
I've really enjoyed Zanetti's dystopian series. I'm really looking forward to this one.

The Woman Left Behind by Linda Howard.
Jina Modell works in Communications for a paramilitary organization, and she really likes it. She likes the money, she likes the coolness factor—and it was very cool, even for Washington, DC. She liked being able to kick terrorist butts without ever leaving the climate-controlled comfort of the control room.

But when Jina displays a really high aptitude for spatial awareness and action, she's reassigned to work as an on-site drone operator in the field with one of the GO-teams, an elite paramilitary unit. The only problem is she isn't particularly athletic, to put it mildly, and in order to be fit for the field, she has to learn how to run and swim for miles, jump out of a plane, shoot a gun…or else be out of a job.

Team leader Levi, call sign Ace, doesn't have much confidence in Jina–who he dubbed Babe as soon as he heard her raspy, sexy voice–making it through the rigors of training. The last thing he needs is some tech geek holding them back from completing a dangerous, covert operation. In the following months, however, no one is more surprised than he when Babe, who hates to sweat, begins to thrive in her new environment, displaying a grit and courage that wins her the admiration of her hardened, battle-worn teammates. What's even more surprising is that the usually very disciplined GO-team leader can't stop thinking about kissing her smart, stubborn mouth…or the building chemistry and tension between them.

Meanwhile, a powerful Congresswoman is working behind the scenes to destroy the GO-teams, and a trap is set to ambush Levi's squad in Syria. While the rest of the operatives set off on their mission, Jina remains at the base to control the surveillance drone, when the base is suddenly attacked with explosives. Thought dead by her comrades, Jina escapes to the desert where, brutally tested beyond measure, she has to figure out how to stay undetected by the enemy and make it to her crew in time before they're exfiltrated out of the country.

But Levi never leaves a soldier behind, especially the brave woman he's fallen for. He's bringing back the woman they left behind, dead or alive.
Linda Howard? Yes, please.

The Darkest Warrior by Gena Showalter.
He is ice…

Puck the Undefeated, host of the demon of Indifference, cannot experience emotion without punishment, so he allows himself to feel nothing. Until her. According to ancient prophecy, she is the key to avenging his past, saving his realm and ruling as king. All he must do? Steal her from the man she loves—and marry her.

She is fire…

Gillian Shaw has suffered many tragedies in her too-short life, but nothing could have prepared the fragile human for her transition into immortality. To survive, she must wed a horned monster who both intrigues and frightens her…and become the warrior queen she was born to be.

Together they burn.

As a rising sense of possession and obsession overtake Puck, so does insatiable lust. The more he learns about his clever, resourceful wife, the more he craves her. And the more time Gillian spends with her protective husband, the more she aches for him. But the prophecy also predicts an unhappily-ever-after. Can Puck defeat fate itself to keep the woman who brought his deadened heart back to life? Or will they succumb to destiny, losing each other…and everything they've been fighting for?
Gillian was supposed to end up with someone else, but this works for me. I can't wait to see how this ends up. I am bummed we have to wait until June.
#1 New York Times bestselling author of the Breeds series delivers the novel fans have been waiting for–mixed Coyote/Wolf Breed Cassie Sinclair finally gets her story!

It's been over a decade since she was introduced as an unforgettable eight-year-old in Elizabeth's Wolf. Now all grown up, Cassie is unique among the Breeds as a Coyote/Wolf mix. She has long known that her mate was somewhere out there, but he's stayed frustratingly out of sight and beyond her senses. Cassie has decided to make her move and her mate is ready to make his. The Breed world will be rocked to its foundation as dangerous secrets are revealed.
Yes. Cassie has been a character that I've been waiting for for ten years. I'm so excited to finally get her book. I'm sure that Lora Leigh won't disappoint.

Order of Protection by Lexi Blake.
To high-end defense attorney Henry Garrison, Win Hughes is a woman he met during one of the most trying times of his life. She's soft and warm, and he finds solace in their brief relationship. But Win has a secret. She's actually Taylor Winston-Hughes–born to one of the wealthiest families in the country, orphaned as a child by a tragic accident. Win moves in the wealthiest circles, but her lavish lifestyle hides her pain.

When her best friend is murdered in the midst of a glittering New York gala, Win's charged with the crime, and the only person in the world she wants to see is Henry.

Henry is shocked at the true identity of his lover, but he can't reject the case. This trial could take his new firm into the stratosphere. Still, he's not getting burned by Win again. And yet every turn brings them closer together.

As the case takes a wild turn and Win's entire life is upended, she must look to the people she's closest to in order to find a killer. And Henry must decide between making his case and saving the woman he loves…
A new series by Lexi Blake? I know I'll love it.
Holly
I want all the books Casee and Rowena want, too. Just in case you were wondering.

Guild Hunter #11 (Guild Hunter #11) by Nalini Singh.
There's no info about this one out yet, but we will be getting a Guild Hunter book toward the end of the year. I can't wait.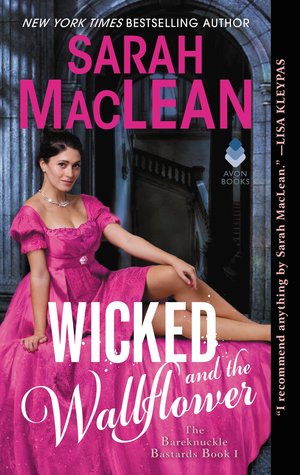 Wicked and the Wallflower (The Bareknuckle Bastards #1) by Sarah MacLean.
When Wicked Comes Calling…

When a mysterious stranger finds his way into her bedchamber and offers his help in landing a duke, Lady Felicity Faircloth agrees—on one condition. She's seen enough of the world to believe in passion, and won't accept a marriage without it.

The Wallflower Makes a Dangerous Bargain…

Bastard son of a duke and king of London's dark streets, Devil has spent a lifetime wielding power and seizing opportunity, and the spinster wallflower is everything he needs to exact a revenge years in the making. All he must do is turn the plain little mouse into an irresistible temptress, set his trap, and destroy his enemy.

For the Promise of Passion…

But there's nothing plain about Felicity Faircloth, who quickly decides she'd rather have Devil than another. Soon, Devil's carefully laid plans are in chaos, and he must choose between everything he's ever wanted…and the only thing he's ever desired.
A new Sarah MacLean series! I love the premise for this one.

Burn Bright by Patricia Briggs.
They are the wild and the broken. The werewolves too damaged to live safely among their own kind. For their own good, they have been exiled to the outskirts of Aspen Creek, Montana. Close enough to the Marrok's pack to have its support; far enough away to not cause any harm.

With their Alpha out of the country, Charles and Anna are on call when an SOS comes in from the fae mate of one such wildling. Heading into the mountainous wilderness, they interrupt the abduction of the wolf–but can't stop blood from being shed. Now Charles and Anna must use their skills–his as enforcer, hers as peacemaker–to track down the attackers, reopening a painful chapter in the past that springs from the darkest magic of the witchborn…
I love Charles and Anna. I've already read this and let me tell you..it's fab. I know I'll be reading it again soon.

The Chase (Briar Hockey #1) by Elle Kennedy.
Fitzy & Summer's story!
You guys! Fitzy and Summer!!!! I NEED THIS BOOK IN MY LIFE.

Magic Triumphs by Ilona Andrews.
Mercenary Kate Daniels must risk all to protect everything she holds dear in this epic, can't-miss entry in the thrilling #1 New York Times bestselling urban fantasy series.

Kate has come a long way from her origins as a loner taking care of paranormal problems in post-Shift Atlanta. She's made friends and enemies. She's found love and started a family with Curran Lennart, the former Beast Lord. But her magic is too strong for the power players of the world to let her be.

Kate and her father, Roland, currently have an uneasy truce, but when he starts testing her defenses again, she knows that sooner or later, a confrontation is inevitable. The Witch Oracle has begun seeing visions of blood, fire, and human bones. And when a mysterious box is delivered to Kate's doorstep, a threat of war from the ancient enemy who nearly destroyed her family, she knows their time is up.

Kate Daniels sees no other choice but to combine forces with the unlikeliest of allies. She knows betrayal is inevitable. She knows she may not survive the coming battle. But she has to try.

For her child.

For Atlanta.

For the world.
The last Kate Daniels book! ::sob::
Rowena
I love making lists of the books that I'm looking forward to releasing so I've had this particular list all ready to go for months now. There are a lot of books on my most anticipated list but at the very top, these books have stayed.

I Think I Love You (Oxford #5) by Lauren Layne.
A game of seduction between two best friends goes deliciously wrong in an irresistible Oxford Novel that brims with wit and sexual tension. Library Journal hails Layne's work as "exemplary contemporary romance."

Brit Robbins knows that dating in New York City is hard—she just hoped to have it mastered by age thirty. But after yet another promising suitor says they have no sparks, Brit decides it's time to torch her dating game and try a new plan. And who better to coach Brit through the art of seduction than the guy who first gave her the "let's be friends" card?

Hunter Cross has always figured there's nothing his best friend Brit can do to surprise him. But Brit's request is a surprise he doesn't see coming—and one he's definitely not prepared for. Hunter and Brit have always been careful to keep things perfectly platonic, but the fake dates and faux flirting are starting to feel like the real deal. And soon Hunter realizes he has taught Brit too well. Not only has she become an expert at seduction, the man becoming thoroughly seduced is him.
I'm pretty sad that this is probably going to be the last Oxford book that we're going to get because I adore this series. Like, a lot. Lauren Layne continues to win me over with each new release she comes out with and I'm on pins and needles waiting for this one to release. I can't wait! I'm Team Hunter and Brit!

Brooklynaire (Brooklyn Bruisers #4) by Sarina Bowen.
Seven years ago he became her boss. Somewhere along the way he also became her friend. But could they be more?
I have been waiting for this book since we first met Becca and Nate in Rookie Move. The chemistry is bright and strong and I am a sucker for that secret love thing that Nate's got going on for Becca. I cannot wait to see Becca come into her own feelings for Nate. Ooh, I just know that Sarina is going to deliver a great story for these two and I'm so here for it.
There isn't a book cover for this one yet but I just know that I'm going to love that too.

Hot Asset (21 Wall Street #1) by Lauren Layne.
Rich, successful, and handsome-as-hell, hotshot Ian Brady is one of the biggest names on Wall Street–and the biggest player in Manhattan. His life priorities? Working, winning, and women. In that order. But when Ian's firm comes under suspicion of insider trading, he finds himself face-to-face with one fiercely feminine SEC agent who's determined the only one dropping to their knees will be Ian. And he's about to realize that the only woman he can never have is the only one he really wants.
I know, I know, another Lauren Layne book. I can't help it though. She's my favorite author right now and I'm really, really looking forward to this big city romance. A hot shot hero and a strong heroine who won't take any shit from that hot shot hero? Sign me the hell up!

Hello Stranger (The Ravenels #4) by Lisa Kleypas.
A woman who defies her time

Dr. Garrett Gibson, the only female physician in England, is as daring and independent as any man—why not take her pleasures like one? Yet she has never been tempted to embark on an affair, until now. Ethan Ransom, a former detective for Scotland Yard, is as gallant as he is secretive, a rumored assassin whose true loyalties are a mystery. For one exhilarating night, they give in to their potent attraction before becoming strangers again.

A man who breaks every rule

As a Ravenel by-blow spurned by his father, Ethan has little interest in polite society, yet he is captivated by the bold and beautiful Garrett. Despite their vow to resist each other after that sublime night, she is soon drawn into his most dangerous assignment yet. When the mission goes wrong, it will take all of Garrett's skill and courage to save him. As they face the menace of a treacherous government plot, Ethan is willing to take any risk for the love of the most extraordinary woman he's ever known.
My favorite genre to read is contemporary romance but there are quite a few historical romances that have caught my eye and this is one at the very top of my must read in 2018 list. Holly, Ames and I have talked about this book and have some theories on how it's linked to the Ravenel's family and I can't wait to see if our theories pan out. I also can't wait to see Ransom and Garrett fall in love because the sparks flew crazily around in the previous books. I just know that it's going to be great.

Dirty Charmer (The Bodyguards #1) by Emma Chase.
Abigail Haddock is stunning, sensible, and some would say…stuffy. But it's not really her fault. She was raised in one of Wessco's oldest, most affluent, aristocratic families—"stuffy" is their middle name. So is successful. Abby's working overtime to distinguish herself as a top-notch physician, just as her family legacy demands.

She doesn't have time for nonsense.

Tommy Sullivan's all about nonsense.

Sure, he's an elite bodyguard with lethal skills and co-owner of the renowned, S&S Securities Firm—protector of the wealthy and titled. But he's also rowdy, fun and thoroughly irresistible.

Tommy knows how to have a good time, and he's never seen someone more in need of a good time than Abby. Kissing wouldn't hurt either. The lass needs long, wet, filthy kisses—STAT—and he's just the man for the job.

It doesn't take long for a wildly sexy, sinfully satisfying, no-strings attached arrangement to turn into something more. Something sweet and addictive and real. But Tommy and Abby are too royally stubborn to admit it.

Opposites attract, everyone knows that. But can they last—can they love…for forever?
Tommy's book! I really like Emma Chase's romances (except that one that I try not to think about) and I really enjoyed her Royally series so seeing that Tommy is getting his own book in a spin off from that series excites me. I'm so looking forward to digging into Tommy's love story.
What books are at the top of your most anticipated releases for this year? Anything we're missing?
Related Posts