Holly: There weren't a ton of books in August I felt like I needed to buy, so I relaxed my guard a bit. Which was a huge mistake, because OMFG my bank account is crying right now. September, why have you forsaken me??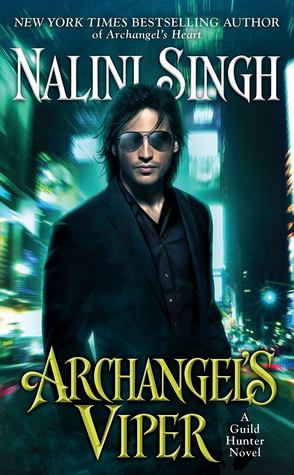 Archangel's Viper (Guild Hunter #10) by Nalini Singh.
Enter New York Times bestselling author Nalini Singh's breathtakingly passionate Guild Hunter world with the story of a woman who isn't a vampire or an angel…or human…

Once a broken girl known as Sorrow, Holly Chang now prowls the shadowy gray underground of the city for the angels. But it's not her winged allies who make her a wanted woman—it's the unknown power coursing through her veins. Brutalized by an insane archangel, she was left with the bloodlust of a vampire, the ability to mesmerize her prey, and a poisonous bite.

Now, someone has put a bounty on her head…

Venom is one of the Seven, Archangel Raphael's private guard, and he's as infuriating as he is seductive. A centuries-old vampire, his fangs dispense a poison deadlier than Holly's. But even if Venom can protect Holly from those hunting her, he might not be able to save himself—because the strange, violent power inside Holly is awakening…

No one is safe.
Holly: I love this series. It's darker and more gritty than the Psy/Changeling series. I loved Holly and Viper.
Casee: YES

Secrets in Death (In Death #45) by J.D. Robb.
A new novel in the #1 New York Times bestselling series: Lt. Eve Dallas must separate rumors from reality when a woman who traffics in other people's secrets is silenced.

The chic Manhattan nightspot Du Vin is not the kind of place Eve Dallas would usually patronize, and it's not the kind of bar where a lot of blood gets spilled. But that's exactly what happens one cold February evening.

The mortally wounded woman is Larinda Mars, a self-described "social information reporter," or as most people would call it, a professional gossip. As it turns out, she was keeping the most shocking stories quiet, for profitable use in her side business as a blackmailer. Setting her sights on rich, prominent marks, she'd find out what they most wanted to keep hidden and then bleed them dry. Now someone's done the same to her, literally—with a knife to the brachial artery.

Eve didn't like Larinda Mars. But she likes murder even less. To find justice for this victim, she'll have to plunge into the dirty little secrets of all the people Larinda Mars victimized herself. But along the way, she may be exposed to some information she really didn't want to know…
Holly: I'm so behind in this series it's ridiculous. I might need to just binge-read 10 books to catch up. Yes, I'm still buying them. Don't judge me.
Casee: I totally judge. How can you get so far behind in this series? I'm one book behind.

Ashes Reborn (Souls of Fire #4) by Keri Arthur.
The next blazing-hot installment of the Souls of Fire series from the New York Times bestselling author of Flameout

The clock is ticking as Emberly – a phoenix capable of taking human form – races to take revenge against the sadistic and mysterious Rinaldo. The elusive rebel leader threatens to keep killing until he is given all of the research about a plaguelike virus derived from vampire blood.

Forced to reach out to the Paranormal Investigations Team for help, Emberly and her partner, Jackson, must decide who to trust as they follow the trail of dead bodies. When classified information is leaked and their safe house is ambushed, Emberly's suspicions are confirmed – someone at PIT has betrayed them.

A final battle looms and Emberly will need to command all her powers – or watch the world turn to ash…
Holly: I just started reading Arthur a few months ago. I haven't started this series yet, but I have book 1 TBR.

The Scotsman Who Saved Me (Seven Brides for Seven Scotsman #1) by Hannah Howell.
From New York Times bestselling author Hannah Howell comes a brand new series featuring the MacEnroys, a family of seven strong, seductive Scottish brothers who have come to America with nerves of steel—and who will take no prisoners when it comes to love…

A brutal attack on Emily Stanton's family has left her for dead . . . until she is found in the woods by a handsome stranger with a thick brogue who vows to protect her. There's only one problem: As a woman with a noble English background, she has no business keeping company with such a man.

For Scotsman Iain MacEnroy, Emily's high-tone accent is a bitter reminder of the oppressive regime he left behind. The last thing he needs is to be burdened by the needs of a beautiful, blue-eyed Englishwoman. But taking care of elegant, educated Emily begins to transform Iain in ways he never imagined. Could it be that the deep divisions from the old world no longer apply in the new—and that Iain and Emily can share a passion as lush and wild as the Scottish highlands themselves?
Holly: I've been reading Howell for ages, but I finally had to give up on her long-running Murray and Wherelocke series'. I'm excited to see how this new series shapes up.

Play On (Play On #1) by Samanthan Young.
Nora O'Brien chased a dream from Indiana to Scotland, so sure it was the right thing to do. Three years later she was left in her adopted country with nothing to her name but guilt and regret.

Until Aidan Lennox entered her life.

Older, worldlier, a music producer and composer, the sexy Scot should never have made sense for Nora. But somehow, in each other, they found the light they were looking for, the laughter and the passion—the strength to play on despite their past losses.

But when life dealt Aidan another unlucky hand, instead of reaching for her he disappeared. The agonizing loss of him inspired something within Nora. It fired her spirit— the anger and hurt pushing her forward to take control and reach for her dreams.

Finally pursuing a career on stage while she put herself through college, everything is how Nora wants it. She's avoiding heartbreak and concentrating on her goals.

Sounds easy but it's not. Because Aidan is back. And for some reason he hates Nora.

He's determined to be at war with her. And she has absolutely no idea why.
Holly: I'm on the fence about this book. I really liked her On Dublin Street series, but I'm not huge on second chance love stories where the h/h hate each other for undisclosed reasons. I'll reserve judgement for now, but hopefully it won't be one of those "It's a secret why we hate each other" books. I hate those.
Rowena: Like Holly, I'm on the fence about this book. I, too, really enjoyed the On Dublin Street series but I also really hated the second book in the Into the Shallows series and the blurb for this book reminds me of that series so while I'd like to put this on my wishlist…I'll have to wait and see what everyone else says about it first.

The Final Score (Play by Play #13) by Jaci Burton.
In the new Play-by-Play novel by the New York Times bestselling author of Rules of Contact, a star quarterback is torn between his love of the game—and the woman who may be the love of his life.

Nathan Riley is ready to follow in the footsteps of his famous football player father. He's been drafted as quarterback for his dad's former team, and his sports future is bright. When his friend Mia Cassidy moves to the same city, their years-long friendship suddenly sparks hot, reminding him of the one night they had together in college that he can never forget.

Like Nathan, Mia is from a sports dynasty family and embarking on an incredible new career—as founder of her own sports management company. Her friendship with Nathan means everything to her, and tossing sex into the mix again could jeopardize it all. But the chemistry between them has always sizzled, and it isn't long before Mia realizes she wants more with Nathan than just late-night talks and pizza.

Passion has a funny way of changing the rules, and soon Nathan and Mia realize that to win it all, they'll have to make an unexpected play for love.
Holly: Sexy sports book by Jaci Burton? Enough said.
Rowena: I haven't read every book in this series but the ones that I have read, I have enjoyed. The hero for this book is the son of the couple in the very first book in this series and I'm low key interested in how that will go. I'm definitely going to give this one a go.

Chasing Christmas Eve (Heartbreak Bay #4) by Jill Shalvis.
Meet cute…

Run for the hills—temporarily. That's Colbie Albright's plan when she flees New York for San Francisco. Wrangling her crazy family by day and writing a bestselling YA fantasy series by night has taken its toll. In short, Colbie's so over it that she's under it. She's also under the waters of a historic San Francisco fountain within an hour of arrival. Fortunately, the guy who fishes Colbie out has her looking forward to Christmas among strangers. But she's pretty sure Spencer Baldwin won't be a stranger for long.

Make merry…

Spence's commitment to hiding from the Ghosts of Relationships Past means he doesn't have to worry about the powerful—okay, crazy hot chemistry—he's got with Colbie. Just because she can laugh at anything, especially herself… just because she's gorgeous and a great listener just because she gets Spence immediately doesn't mean he won't be able to let Colbie go. Does it?

and hope for a miracle.

Now the clock's ticking for Colbie and Spence: Two weeks to cut loose. Two weeks to fall hard. Two weeks to figure out how to make this Christmas last a lifetime.
Holly: I'm still mostly on a break from contemporary romances, but I have this series TBR and this one sounds good.
Rowena: Finally, we're getting Spence's book. I'm ALL in for that.

Forsaken by Night (Moonbound Clan #2.5) by Larissa Ione.
Desire collides with danger as a vampire and a shapeshifter cross paths in this searing MoonBound Clan story from New York Times and USA TODAY bestselling paranormal romance author Larissa Ione.

After accidentally shifting into a wolf—and getting stuck—Tehya, herself a vampire, has spent the last twelve years as the pet of Lobo, another vampire who has the unique gift of communicating with wolves.

When Lobo found Tehya starving and nearly frozen to death, he took her in and nursed her back to health, all the while completely unaware that she was really a fellow vampire. But there was always something special about her, and he finds out exactly how special after she's injured and returned to her true form. Desire collides with danger as he soon finds that he must protect not only Tehya but also himself…
Holly: I am so excited Larissa Ione is finally coming back to this series. I've been waiting years! I hope this novella means there;s a full-length novel coming in the VERY NEAR future.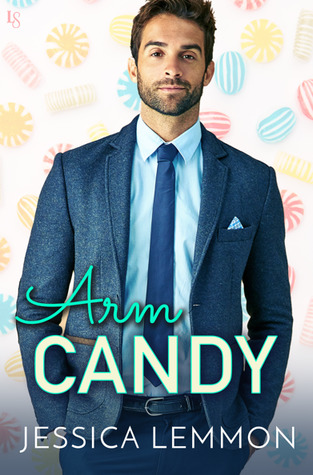 Arm Candy (Real Love #2) by Jessica Lemmon.
Last call! At the end of the night, a clean-cut hunk and a rebellious bartender act on their unlikely chemistry in this frisky standalone novel from the author of Eye Candy.

Davis: I've had my eye on Grace Buchanan for a while now. Unlike the bubbly blondes I usually date, the feisty, flame-haired bartender both intrigues and bewilders me. Something about Grace—the tattoos? the nose ring?—makes every part of me sit up and beg. There's only one problem: She hates me. Trading insults and one-liners has become our M.O. But when Grace bets me that I can't get a date with a non-blonde if my life depends on it, I'm determined to prove her wrong by landing the ultimate non-blonde: her.

Grace: I'm used to regulars hitting on me, and I've turned them all down, except for one: Davis Price. I like giving him a hard time, and he's kind of cute in his suit and tie—if you're into that kind of thing. Anyway, I don't care how many blondes he takes home . . . until one of them sidles up to him in my bar. Nuh-uh. But after my little bet with Davis backfires, our first date lands us in the sack. So does the second. And the third. Neither of us wants more than the best sex of our lives. The trouble is, it's not a question of what I want. It's what I need. And what I need is Davis.
Rowena: This series is really shaping out to be an enjoyable one for me and I really enjoyed this book. Davis was everything I wanted him to be and I'm putting this book on this month's list because everyone should binge this one. Davis will make it worth your while. 🙂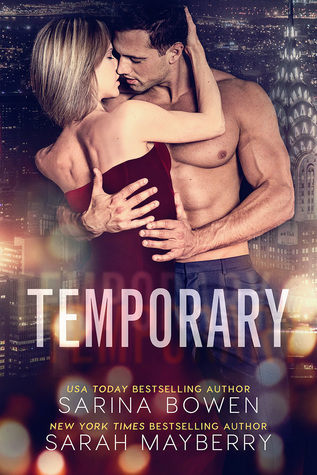 Temporary by Sarina Bowen and Sarah Mayberry.
The most beautiful man I've ever seen is the one who can ruin everything…

The first time I lay eyes on Callan Walker, I know he'll be trouble. With his smug grin, hot Aussie accent and thousand dollar shoes, he's just the kind of rich guy who always gets what he wants.

And he wants two things: a night of sin, and my cooperation as he outmaneuvers his powerful mother to take control of his uncle's estate.

I can't afford either one. I'm the only thing standing between my little sister and the foster care system. He may have money and charm on his side, but I have something even more powerful — pure desperation. This temp job at his mother's company can become a full time job for me. It has to.

But when Callan's eyes rake over my body, sometimes I forget my obligations. His piercing gaze finds the fun, optimistic girl I used to be and not the tired person I've become.

And it works–if only for a moment. Our night together was a mistake. I can't afford to get sucked into his high-powered family's treachery. But the closer I get to Callan, the more layers I find beneath those expensive clothes. Though I can't forget this is temporary. He's temporary. I have too much to lose.

Too bad my foolish heart didn't get the memo…
Rowena: Sarina Bowen is one of my favorite contemporary authors and she paired up with Sarah Mayberry to write a contemporary romance? I'm so in. I trust both of these women to entertain the socks right off of me so of course this book is on my wishlist.
Holly: Sarina Bowen + Sarah Mayberry = TOTAL WIN. Come to mama.

Gentlemen Prefer Heiresses (Scandalous Gentlemen of St. James #4.5) by Lorraine Heath.
Lord Andrew Mabry, the second son of the Duke of Greystone, has no desire to marry. As the spare, he has no obligation to provide an heir and he rather enjoys spending his days and nights in play with the demimonde. But more and more of late, he finds himself wanting to play naughty games with the American heiress, Gina Hammersley.

After her scandalous older sister marries a marquess, Gina Hammersley suddenly finds herself the darling of London with beaux a plenty calling on her, sending flowers, and filling her dance cards. Unfortunately, the one she desires most is the one who has no wish to be caught in the marriage trap: Lord Andrew Mabry.

But when they are discovered in a compromising situation, this unlikely pair must decide whether to face scandal or discover if the passion they've always felt is strong enough to lead them into love.
Rowena: Mabry and Gina??? Yippy skippy! I cannot wait to dig into this book. I love this series!

Dark Legacy by Christine Feehan.
In a beautiful compound hidden away from the world, Emeline Sanchez tries to blunt the pain that has wracked her body ever since her terrifying ordeal in the labyrinth beneath the city—when she was forced to exchange blood with an evil master vampire.

Now, it's his voice that haunts her…that calls to her in the dark…that never lets her rest. And while the children that she helped to free from his clutches struggle to heal, watched over by their Carpathian protectors, Emeline knows one thing: she must sacrifice herself to keep them all from harm…

For her beauty is irresistible to the vampires, her psychic ability like a drug. Whipped into a frenzy, they'll never stop coming for her. And only the taste of one Carpathian warrior—the rush of his blood—can save her…
Casee: I never pass up a Christine Feehan.
There you have it…a look at the books we're looking forward to in September. Any books we missed? What books are you looking forward to?
Related Posts