Reviewer:
Holly
Scandal in Spring (The Wallflowers #4)
by
Lisa Kleypas
Series:
The Wallflowers #4
Also in this series:
Again The Magic
,
The Devil in Winter
,
A Wallflower Christmas
Publisher
:
Harper Collins
,
Avon
Publication Date
: March 17th 2009
Genres:
Historical Romance
Pages:
400
Add It
:
Goodreads
Amazon
|
Barnes & Noble
|
The Ripped Bodice
|
Google Play Books
Series Rating:
Quirky and fun-loving American heiress Daisy Bowman is the last unmarried Wallflower. Her exasperated father has informed her that if she can't find a husband by the end of her third London season, she will be forced to marry a man she hates—the ruthless entrepreneur Matthew Swift.

Daisy is horrified. A Bowman never admits defeat, so she decides to do whatever it takes to marry someone . . . anyone . . . other than Matthew. What she doesn't count on, however, is Matthew's unexpected charm, or the blazing sensuality that soon flares beyond both their control. And Daisy discovers that the man she has always hated just might turn out to be the man of her dreams.

But when a scandalous secret is uncovered, it could destroy both Matthew and a love more passionate and irresistible than Daisy's wildest fantasies.
Scandal in Spring is the fourth and final book in Lisa Kleypas' Wallflower series. I was very anxious to read it, because though I didn't really care for It Happened One Autumn, I loved Devil In Winter and was curious about Daisy. Plus, something happens with Daisy and Cam Rohan in DIW, and I wondered if it would go anywhere. It didn't, but that worked for me, because I ended up really liking this hero for Daisy.
Daisy's been out for a couple of seasons but doesn't have any marriage prospects lined up and her father is upset about it. He tells her she either has to bring someone up to scratch within a certain amount of time, or he's setting her up. Daisy is horrified when her father tells her who he's chosen. None other than the scrawny, cold, machine-like Matthew Swift, whom she hasn't seen in years.
Matthew isn't the same scrawny, cold guy anymore, however. Now he's all man, built and muscular and charming and…perfect for Daisy. Only, she refuses to see that at first. Matthew has wanted Daisy since he first laid eyes on her ten years ago, but he's harboring a secret that could destroy his life, so he knows he can't risk being with Daisy.
Though I enjoyed this one, it doesn't come close to Devil in Winter (my favorite of the series). I never really got a feel for Matthew. I just never felt connected to him like I did with Sebastion.
Daisy was a great heroine. I had some issues with the way she was constantly referred to as elfish, but that's a personal issue and doesn't have much to do with the story itself. Though she TRIED to dislike Matthew, she couldn't, and I loved that once she committed she stuck with it.
The character development was kind of weak. Though I got a great feel for Daisy, I didn't get hardly anything for Matthew. He just didn't seem…alive to me. Plus, his "secret" was just silly. I mean, the secret itself wasn't, but the way it played into the story was. In the end, it was solved way too easily. It didn't make one lick of sense that Kleypas added this element in and didn't expand upon it. Besides, it seems to me that she already played this storyline out in Stranger In My Arms.
I'm not a fan of Lillian Bowman. She drove me crazy.. Bitch had her own book, she didn't need to star in this one, too. Though she bugged a little in her own story, she was downright obnoxious in this one. I hated her. Flat out. She drove me to distraction the way she constantly meddled and told Daisy what to do and refused to listen to anyone but her overblown self. She didn't seem strong and independent at all, but needy, controlling and bitchy. Very bad form, IMO.
Overall the story was good, but not amazing. I enjoyed Daisy and liked how once she made a decision she stuck with it, but I wasn't super impressed with this last installment in the series.
3.5 out of 5 (mostly for Daisy)
The Series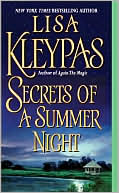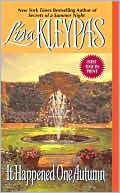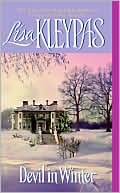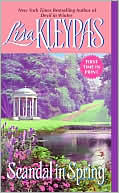 This book is available from Avon. You can buy it here or here in e-format.
*This review was originally published at Sanctuary's Finest
Related Posts