Publisher
:
Berkley
,
Penguin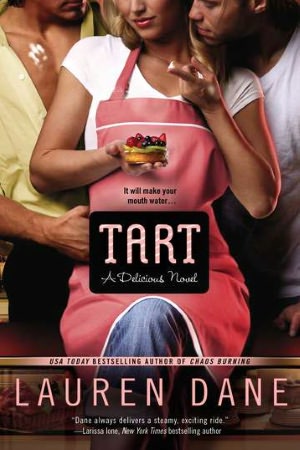 Holly's review of Tart (Delicious, Book 3) by Lauren Dane
USA Today bestselling author Lauren Dane serves up a sweet, sensual, and hot-to-the-touch novel in which one woman's most intimate desires are stirred by two very special ingredients

Juliet Lamprey is having the time of her life running her successful bakery, TART, when Gideon Carter comes back into her life. Returning home to help his grandfather run the family on the farm, Gideon is back for good. When they meet again, the spark between them is immediate, and it isn't long before the former childhood friends play catch up in bed.

That's not good news for local lawyer Cal Whaley. Though the sexually open but strictly monogamous Cal has loved Jules for a long time, he's hardly ever taken it further than friendship. When he sees her start to fall for Gideon, he knows he has to make his move or risk losing her forever.

Who would have anticipated that all three of them would connect on such an intimate level? The trio's scalding liaisons take them places they've never dreamed. But such an intensely passionate and unusual relationship comes with equally as complicated emotions, and when Jules must suddenly leave town, she wonders if she'll have a choice to make when she returns.
Tart is book three in Dane's Delicious series, an off-shoot of her wildly popular Brown Siblings series. The Brown siblings show up occasionally, or are mentioned, but the focus stays on the new characters. I like that.
Juliet Lamprey has been half in love with Cal Whaley, her best friend's brother, forever. They grew up together and she started crushing on him as a girl and it grew from there. Unfortunately for her, Cal is mostly gay and – aside from one kiss they shared back in the day – not interested in her. When Gideon Carter comes back to help his grandfather run their family farm, Juliet is surprised to feel a good amount of attraction to him. Since she's been on a dry spell, she figures this is the prefect opportunity to have a little fun. But it turns out there's more than attraction between them. What starts out as a mild flirtation quickly becomes more.
They're mostly in love before Cal realizes he's about to lose his chance with Juliet. He hasn't made a  move on her because he's afraid of losing their friendship if they deepen things. Since she's his sister's best friend and grew up as one of the family, their relationship isn't the only one that would suffer if something went wrong. But when he sees how she is with Gideon, he knows he can't let her go.
Gideon wants Jules. He knew before they ever got started that she was going to be more than a fling. He isn't about to lose her to Cal..but that means he might have to share her. He realizes quickly that her feelings for Cal are deep and won't easily be ignored. Though she chooses Gideon when Cal backs her into a corner, he knows a part of her wants to be with Cal. So he suggests they try a threesome..not for a single night, but as a relationship. The truth is, he's been with men in the past and he's attracted to Cal. And if that means he doesn't lose Jules, well, he's willing to do whatever it takes.
Juliet is torn between two men. Can she have both? Will they be able to make it?
One of the things I love about Dane's menage novels is how she tackles the real problems that would come about in this type of relationship. The stigma in society and the toll an unconventional lifestyle takes on family and friends is well covered here. This isn't a decision they can make lightly. Not only are their outside influences to consider, but the trials and tribulations three people face while trying to make a triad work.
Juliet is a strong woman. She owns her own business – which she just expanded – and knows her own mind. She isn't the type to cling to a man or rely on someone to take care of her. So for her to end up in a relationship with two strong-willed alpha-males..well, let's just say it takes some adjusting. I liked that she was practical in her approach to their relationship and not afraid to tackle the heavy stuff. My heart hurt for her when it came to the relationship she had with her family and I wish she'd stood up for herself a little sooner, but at the end of the day she was someone I respected.
I liked both Gideon and Cal, though my opinion of Cal was slightly tarnished because of the way he went about letting Jules know he was interested. I felt like he should have manned up long before then, or at least gone about expressing his feelings in a different way. Still, it was obvious he cared for her and wanted her happiness above all else, so I was able to forgive him.
The three of them had a strong relationship. They didn't make the decision lightly and they had to work hard for it, but they each gave it their all.
I really enjoy Dane's fresh approach to contemporary romance. This is a strong series that features great relationships and emotional bonds. I highly recommend it if you're looking for something a little spicy and a lot fun.
4 out of 5
This book is available from Berkley. You can buy it here or here in e-format. This book was provided by the publisher for an honest review.
Related Posts