Genres:
Paranormal Romance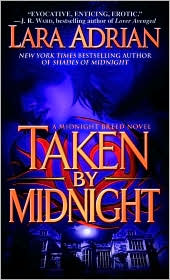 Casee's review of Taken by Midnight (Midnight Breeds, Book 8) by Lara Adrian.
In the frozen Alaskan wilderness, former state trooper Jenna Darrow survives an unspeakable breach of body and soul. But with her narrow escape comes an even greater challenge. For strange changes are taking place within her, as she struggles to understand—and control—a new hunger. To do so, she will seek shelter in the Boston compound of the Order, an ancient race of vampire warriors whose very existence is shrouded in mystery. Perhaps the most mysterious of them all is Brock, a brooding, dark-eyed alpha male whose hands hold the power to comfort, heal . . . and arouse.

As she recovers under Brock's care, Jenna finds herself drawn to the Order's mission: to stop a ruthless enemy and its army of assassins from subjecting Earth to a reign of terror. Yet in spite of their resolve, a purely physical relationship without strings soon binds Brock and Jenna together with a desire fiercer than life and stronger than death itself—until a secret from Brock's past and Jenna's own mortality challenges their forbidden love to the ultimate trial by fire.
I thought this was one of the better books in Adrian's Breed series. Instead of Breed + Breedmate = lurve, Jenna was a human. Well, sort of human. In the previous book she was held captive by the Ancient and he put some kind of parasite or equally sci-fi strange thing in her body that has attached itself to her spinal cord. All of a sudden she's not quite human. Her ability to heal is faster, she can hear things she shouldn't, she can run faster and leap tall buildings in a single bound. The thing is, she doesn't like it. All she wants to do is go back to her old life.
Brock has felt responsible for Jenna since the moment the Order found her on the verge of death in her cabin. Since bringing her back to the compound, Brock has stayed at her side using his gift to block her pain. When she wakes up and freaks out (which is putting it mildly) he is there to take the brunt of her anger and pain. The weird thing is he doesn't mind it. His feelings for Jenna are bewildering, especially since she isn't a Breedmate.
As the days go by, Jenna's natural fear of what is happening wears off and her desire to help kicks in. As she gets to know the Breedmates, she realizes the enormity of the task they face. Finding missing Breedmates is something she thinks she can help with, using her years of experience as a cop. As she begins to help, she also opens up to Brock which is something that she isn't ready for. It's something that she hates herself for as a matter of fact. Since the night that her husband and daughter were killed in a car accident, Jenna has blamed herself. She believes that she has no right to happiness.
There was definitely forward momentum in the series as a whole. I've been reading the series since the first book came out, so I really appreciate how far it has come. I think that Adrian has continued to make it interesting and has kept the reader guessing. That's important when you have a series that has as many books as this one.
What I liked about this book was that Brock didn't let the fact that Jenna didn't have a Breedmate mark effect his love for her. He loved her. Period, end of story. Sure, there were drawbacks, but Brock wouldn't let that get in his way of being with Jenna. He also helped Jenna overcome her past. How can you not love a guy like that?
4.25 out of 5.
This book is available from Dell. You can buy it here or here in e-format.
The series: