Casee: The holidays have been kicking my butt. I have been reading crap for the last week. I finished Of Blood and Bone by Nora Roberts at 4:30 this morning. Unfortunately it was not an up all night reading session. It was more of a wake up before dawn, get coffee, sit down, pick up the book and decide to get this book over with. Yep, that's my feels about this book. Lets just say there was a whole lot of skimming. I think I'm going to pick up Demon's Mercy by Rebecca Zanetti. I was so excited when I saw that she was already releasing another book in her Dark Protectors series!
I also stopped listening to Hard Hitter by Sarina Bowen. I really like O'Doul, but Ari? Not so much. I was having a hard time with her so I decided to take a break. Now I need to pick between Dirty English by Ilsa Madden-Mills (new-to-me author) or Clean Sweep by Ilona Andrews. Both on audio. I know which book both Holly & Rowena would choose for me.
Holly: I spent the week reading books from Suzanne Wright's Phoenix and Mercury Pack series. I read Feral Sins, Wicked Cravings and Carnal Secrets from the Phoenix Pack and Spiral of Need and Force of Temptation from the Mercury Pack. I know I read several of SW's books when they were released, but I only marked Feral Sins in my reading log, so I'm not sure how many I got through. I've been enjoying both series, though i think I prefer the Mercury Pack books. They could be about 100 pages shorter each, but as I've read/listened to 5 in the past week, they're obviously doing something for me.
I'm not sure what I'm going to read next. I have a huge influx of family coming in, so we'll have to see how much reading time I have.
Rowena: First off, Casee quit messing around. Just listen to the Ilona Andrews already.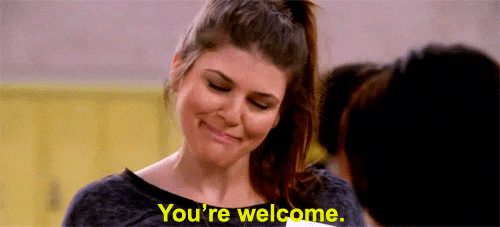 Christmas is in a few days and I'm still surprised that Brenna and I will be on our own this year. I'm not sad about that. I don't think that I'm going to miss not having the entire family around (we had them for Thanksgiving). I'm actually pretty stoked to be doing our own thing. We're going to have waffles with fresh berries, homemade whipped cream and all of our favorite breakfast things for breakfast and then we're going to do our own steak Christmas dinner. I can't wait!
As far as reading goes though, this week my reading picked way up. I went from reading one book in two weeks to reading all of the books the next week.
I read The One You Fight For by Roni Loren and that book made me cry, it made me sigh and I was super satisfied with the ending. I'm really enjoying that series by Loren. I also read Famous in a Small Town by Emma Mills which was another great contemporary YA read for me. After that, I read Illegally Yours by Kate Meader and enjoyed it. I'm so glad that they changed the cover because the heroine pictured on the first cover was not black and Trinity was definitely a strong black woman. She was fantastic! After that, I jumped into Playing for Keeps by Jill Shalvis and enjoyed that one as well. Caleb was everything I hoped he would be.
Now, I'm reading 99 Percent Mine by Sally Thorne. I'm not that far into the book but I'm hopeful that I'll love this one just as much as I loved The Hating Game. I can't wait to jump in after I get off of work.
Giveaway Alert
We are very fortunate here at Book Binge. We have loads and loads of books to read and we want to share the wealth so each week, we'll be tacking on a Freebie Friday giveaway to our What Are You Reading posts. This week, we're giving away…
Final Siege (Love Over Duty, #2)
by
Scarlett Cole
Series:
Love Over Duty #2
Publisher
:
St. Martin's Press
Publication Date
: January 30, 2018
Format:
Print
Point-of-View:
Alternating Third
Genres:
Romantic Suspense
Pages:
304
Add It
:
Goodreads
Amazon
|
Barnes & Noble
|
The Ripped Bodice
|
Google Play Books
IN THE LINE OF FIRE…

Former SEAL Malachai "Mac" MacCarrick is all about the future he's created with his Navy brothers in Eagle Securities, taking assignments in the most dangerous places, and doing things no one but ex-military would attempt. But when an urgent phone call brings his troubled past—and the woman he once loved—into the present, it's a chance to redeem himself that he can't refuse.

STRAIGHT TO THE HEART…

An investigative journalist researching an explosive story, Delaney Shapiro tells herself she got over Mac—and his role in her brother's death—a long time ago. But the first moment she sees him at her bedside in an overseas hospital, she knows it's not true. Every moment together rekindles the desire that once burned between them, and now that she's a target for an emerging Russian arms dealer, Mac won't let her out of his sight. To protect her, he'll risk it all—including his life…
What Are You Reading: Final Siege by Scarlett Cole
What are you reading four days before Christmas? Any new or old holiday books that we need to know about?