Reviewer:
Casee, Holly, and Rowena
Like the Wind
by
J. Bengtsson
Narrator:
Callie Dalton
,
Zachary Webber
Publisher
:
Audible Studios
Publication Date
: January 15, 2019
Format:
Audiobook
Source:
Audible Escape
Point-of-View:
Alternating First
Genres:
New Adult
Pages:
335
Length:
9 hours, 23 minutes
Add It
:
Goodreads
Reading Challenges:
Casee's 2019 GoodReads Challenge
,
Holly's 2019 GoodReads Challenge
,
Rowena's 2019 GoodReads Challenge
Amazon
|
Barnes & Noble
|
The Ripped Bodice
|
Google Play Books
Prepare to laugh, cry, and fall in love with this enthralling new romance from J. Bengtsson - available in audio first!

When a letter from his supposedly deceased mother finds its way into his hands, life changes in an instant for international pop star Bodhi Beckett.

Reeling from the deception of those closest to him, Bodhi spirals out of control and is sent to a secluded mansion in the coastal mountains of Southern California for some rest and relaxation. But the retreat proves to be anything but relaxing when a raging wildfire sets the landscape around him ablaze.

While escaping the flames, Bodhi rescues Breeze, a quirky, pet-loving woman, and together the two fight their way to safety. In the aftermath of the fire, Bodhi and Breeze hit the road to uncover the truth about his family. What neither of them expected is to forge a powerful connection that will change their lives forever...but can it survive the real world, or will it disappear like the wind?
This month's featured review is Like the Wind by J. Bengtsson, chosen by Casee. This is a rockstar romance that features a pop star hero who saves his heroine from a fire and then the heroine gives his rockstar ass a place to hide while he figures some stuff out and through it all, they fall in love. This was a really quick read and the perfect audiobook for a quick road trip.
Casee: What did you guys think? Good choice? Bad choice? Better than Hate Notes?
Holly: It was definitely better than Hate Notes for me. I really liked the beginning. I was super interested in the fire and how they were going to escape. After that things kind of went downhill.
Casee: I agree that it was super interesting in the beginning.
Rowena: Hmm, I enjoyed Hate Notes and I didn't hate this one but I didn't love this one either. I don't know, the dialogue was super cheesy to me and I don't know, I just never came to care for either Bodhi or Breeze. They were fine but meh, that's about it for me.
Casee: I didn't really connect with Breeze at all. Other than her wanting to save all the animals from the fire, I found her to be rather selfish. She acted like she was being selfless, but it didn't come across that way to me. I did really enjoy Bodhi though.
Holly: I didn't think Breeze was anymore selfish than Bodhi. That ridiculous temper tantrum he threw for 3 months, then disappearing without telling his father he wasn't dead after the fire, then pulling Breeze into his drama and his life without preparing her for it? That screams "SELF CENTERED" to me.
Casee: The only thing I didn't like about Bodhi was the 3-month temper tantrum. I could understand everything else. He seemed to me like someone that was scared. He found someone he potentially wanted to keep in his life and he was scared to lose her. Especially since the last person (nanny) that he got attached to disappeared.
Rowena: Yeah, Bodhi's three-month tantrum was super annoying but I was more annoyed with him when he let his family and friends think he was dead so that he can meet his Mommy Dearest. That wasn't cool. At all. I felt bad for RJ because thinking your best friend is dead and then finding out that your best friend couldn't be bothered to call him to assure him that all was well because he was getting close to a girl? That's fucked up.
Holly: I really struggled with Bodhi not telling the guys he was still alive. I guess I kind of? understood why he didn't want to contact his father, but his bandmates who were his family? Especially RJ? That was just shitty all the way around.
Rowena: I also thought it was super strange that he "saves" Evan from their mother's life, telling Evan that he was Evan's Eddie, but immediately starts planning a trip with Breeze that does not include Evan, is going to take him away from Evan for a long ass time and basically drops Evan in Tucker's lap and Evan, who suffered from abandonment issues wasn't bothered about it.
Holly: That whole thing with Evan was not well done. They had no on-page time to make me think they were going to forge a relationship, and why was Bodhi so effing irresponsible? I just couldn't.
Rowena: It was a total dick move, a move that I didn't think he was sorry enough for. Sure, his Dad was a controlling dick but I don't think anyone deserved that kind of emotional bomb. Nobody in this book, for sure.
Holly: I really didn't like the short timeline for their romance. They met, went through an intense few hours together and BAM, two days later they were in LURRVVE? Nope.
Casee: I agree that the timeline was much too short. I think being together in the fire and almost dying was supposed to show how magnified feelings are. Obviously, it didn't work very well for us.
View Spoiler »
The ending where he told her he was going to be a solo artist? How is that level of fame different from Bodhi's current level of fame? Why was Breeze okay with it all of a sudden? It didn't make sense. « Hide Spoiler
Rowena: I was also not moved all that much with the grand gesture in the end with Bodhi showing up at the family reunion. A whole lot of the book had me looking like this: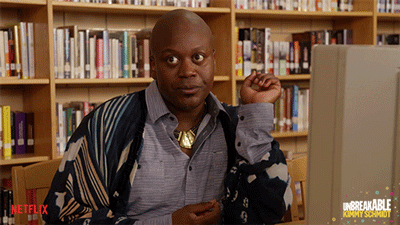 Holly: Also, the way Breeze was immediately into Bodhi and focused on how hot he was, and how to get him to kiss her, and all the fantasy why they were fleeing from a fire? That was annoying af.
And I know I'm probably just old af, but she lost her car in the fire. She didn't think to, Oh, I don't know, contact her insurance agent?
Rowena: Haha, I thought the same thing as Breeze and Bodhi are making their way to the Bay. I kept thinking, "When are you going to deal with your busted up car?"
I did really like Breeze's Mom and Step-Dad. They were pretty great. I laughed out loud when they turned up the sex scenes of their show so that Bodhi and Breeze could hear through the walls.
Holly: I liked Breeze's parents, too, but why were they described as these hippy people who lived in the neighborhood eyesore and refused to sell out, who were, in fact, selling out. I didn't understand why that part was included in the book. It made no sense.
Casee: Alrighty then. I'm giving this one a 3. What about you guys?
Rowena: Overall, this book made me feel super old because I was grouchy throughout most of this book and I didn't think the author did a good enough job of making me suspend belief over a lot of shit that happens in this book. The fire stuff, the Mommy issues, the Daddy issues, the super quick romance that blossomed overnight (literally), it was super easy for me to stop reading the book and roll my eyes over what was happening. So yeah, I had a lot of issues connecting with both Bodhi and Breeze. I had issues with the author's writing style and though there were parts of the book that I enjoyed, this isn't a book that I will reread. I give it 2.75 out of 5.
Holly: I'm giving it 2.5. I did like the romance itself if I didn't think too hard about it, and I liked the beginning and Breeze's parents. The rest was pretty blah.
Final Grades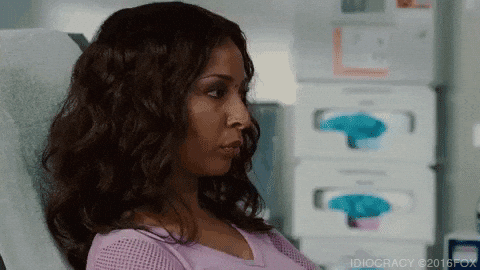 Casee: 3 out of 5
Holly: 2.5 out of 5
Rowena: 2.75 out of 5
Related Posts