Sunday Spotlight is a feature we began in 2016. This year we're spotlighting our favorite books, old and new. We'll be raving about the books we love and being total fangirls. You've been warned. 🙂
Serpentine (Anita Blake, Vampire Hunter, #26)
by
Laurell K. Hamilton
Series:
Anita Blake #26
Also in this series:
Guilty Pleasures
,
The Laughing Corpse
,
Circus of the Damned
,
The Killing Dance
Publication Date
: August 7, 2018
Point-of-View:
First
Genres:
Urban Fantasy
Pages:
496
Add It
:
Goodreads
Amazon
|
Barnes & Noble
|
The Ripped Bodice
|
Google Play Books
Series Rating:
Vampire hunter Anita Blake has managed to overcome everything she faces. But this time there's a monster that even she doesn't know how to fight...

A remote Florida island is the perfect wedding destination for the upcoming nuptials of Anita's fellow U.S. Marshal and best friend Edward. For Anita, the vacation is a welcome break, as it's the first trip she gets to take with wereleopards Micah and Nathaniel. But it's not all fun and games and bachelor parties...

In this tropical paradise Micah discovers a horrific new form of lycanthropy, one that has afflicted a single family for generations. Believed to be the result of an ancient Greek curse, it turns human bodies into a mass of snakes.

When long-simmering resentment leads to a big blowout within the wedding party, the last thing Anita needs is more drama. But it finds her anyway when women start disappearing from the hotel, and worse--her own friends and lovers are considered the prime suspects. There's a strange power afoot that Anita has never confronted before, a force that's rendering those around her helpless in its thrall. Unable to face it on her own, Anita is willing to accept help from even the deadliest places. Help that she will most certainly regret--if she survives at all, that is...
Order the Book:
AMAZON || BARNES AND NOBLE || KOBO
Excerpt
Donna's hand hesitated above my arm, as if she was going to touch the claw marks just below the burn. The scars from the shapeshifted witch made the cross a little crooked. Edward hadn't been there for that wound. I'd been working with the police on my own that time, before I had a badge and was officially on the job myself, back when I'd just been a vampire executioner, consulting with the police. Edward had just been Edward, cold-blooded assassin who specialized in killing monsters, both human and otherwise. I hadn't even known he had a legal identity as Ted Forrester, bounty hunter. Now we were both U.S. Marshals with the Preternatural Branch. We did the same job legally and for Edward, for far less money.

She pointed vaguely at the small slick scar on the side of my arm, and then the thin, almost dainty scar on my right arm that was barely noticeable. "I know that's a bullet graze and that's a knife wound, because Ted has similar ones." She looked at me, her brown eyes going large in her tanned face. She looked suddenly younger, or more innocent, as if I got a glimpse of what she might have looked like at fifteen. "I stopped asking about where the other scars come from, because Ted told me the truth and they were almost all stories like the werewolf attack that killed my first husband, except that Ted goes out hunting the monsters. The monster that killed Frank broke into our house. It was a once-in-a-lifetime tragedy, but Ted and you go out looking for it."

"We hunt rogue vampires and lycanthropes that have murdered people. We keep people safe by killing the things that kill them."

She nodded, biting her lower lip, the frown lines deep between her eyes. There was real fear in them. Maybe she was remembering the death of her first husband, and that was probably in the mix of terror, but I thought it was more anticipating future tragedy than dwelling on the past. I looked into Donna's eyes and saw the fear that every time the man she loved left for work, he might not come back. I could tell her that he was more likely to die in a car crash, or from a dozen innocent household accidents, than be eaten by monsters, but it wouldn't help the emotions I saw in her eyes.

"I know you and Ted save lives. I know you keep other families safe from the monsters. I know that."

I reached out and touched her arm. "You know that Ted is the best, the absolute best at this job."

She nodded again, a little too fast and a little too often. "He says the same about you." She grabbed my hand where it touched her arm and held on. "I always feel better when you're with him, because he says you're the best, next to him."

"He helped train me, so he's still complimenting himself." I smiled when I said it and got a weak smile in return.

"I don't know what I'd do if anything happened to him," she said. She started tearing up. I hugged her because I didn't know what else to do, but apparently it was the wrong thing, because she started crying harder, clinging to me like she was really going to start sobbing. Fuck, what did I do now? How did I make her feel better about one of the truths of our job?

She went very still in my arms, and the crying slowed. She pushed away with her face still wet with tears and asked, "What's on your back?"

"Nothing," I said.

"I felt it."

I half turned and she touched the edge of the place where a vampire servant had tried to drive one of my own wooden stakes into my back. It was low on my back, and they'd just tried to shove the stake in without using a mallet. It doesn't work that way in real life, not if you're only human-strong, anyway. Lucky for me it had just been a human in league with the vampire I'd been hunting, and not a vampire.

"That's one of your own stakes driven into you, isn't it?" she asked. She wasn't crying anymore, so it was better, right?

"Yeah," I said.

"Ted has one like it; that's why I know what it is. You know it's right there." She touched the side of my hip where bathing suits and underwear covered.

"I've never seen that one."

"Oh," she said, and looked confused.

"I've never seen Ted nude, so I missed that one."

There was a derisive snort, half laugh and half just rude noise, from the other side of the dress rack. Dixie, one of Donna's oldest friends and a bridesmaid, came into view.
Anita Blake, Vampire Hunter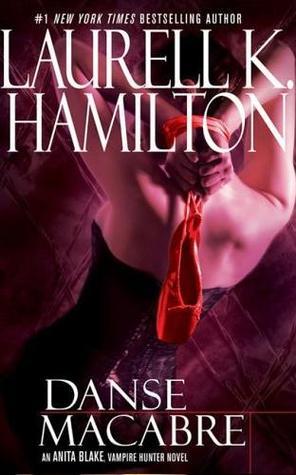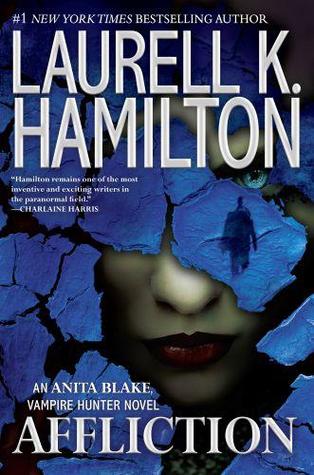 Giveaway Alert
We're giving one lucky winner their choice of one of our Sunday Spotlight books. Use the Rafflecopter widget below to enter for one of this month's features.
Are you as excited for this release as we are? Let us know how excited you are and what other books you're looking forward to this year!
About the Author
Laurell K. Hamilton
WEBSITE | TWITTER | FACEBOOK | INSTAGRAM | PINTEREST | GOODREADS
Laurell Kaye Hamilton (born February 19, 1963) is an American multi-genre writer. She is best known as the author of two series of stories, Anita Blake: Vampire Hunter and Merry Gentry.

Her New York Times-bestselling Anita Blake: Vampire Hunter series centers on Anita Blake, a professional zombie raiser, vampire executioner and supernatural consultant for the police, which includes novels, short story collections, and comic books. Six million copies of Anita Blake novels are in print. Her New York Times-bestselling Merry Gentry series centers on Meredith Gentry, Princess of the Unseelie court of Faerie, a private detective facing repeated assassination attempts.

Both fantasy series follow their protagonists as they gain in power and deal with the dangerous "realities" of worlds in which creatures of legend live.

Laurell was born in rural Arkansas but grew up in northern Indiana with her grandmother. Her education includes degrees in English and biology from Marion College (now called Indiana Wesleyan University).
Related Posts