Downed (Gridiron #3) by Jen Frederick.
He's the guy no one likes…

Despite winning two national championships, JR "Ace" Anderson was sent packing from his old school after losing the trust of his coach. At Southern U, he has a second chance to prove that his college legacy isn't endless debauchery and selfishness. But his reputation precedes him, and his teammates offer a chilly welcome in the locker room. The one person who is willing to accept him is the very woman he should stay away from—his new coach's daughter.

She's the girl everyone loves…

Bryant Johnson's only goal in life is to make others happy, even at her own expense. One look at her father's new star quarterback, and she knows that Ace is her next project. With a reputation for being a "jerk whisperer", Bryant has spent her last three years at college reforming sorry behavior and turning bad boys into the best boyfriends ever. In Ace, though, she's met with surly resistance and a sizzling attraction she doesn't expect. Fixing this wounded warrior will be her biggest challenge yet. Not falling for him will be even harder.

Between her big heart and his damaged one, a battle is ensuing. In this game of love, every defense will crumble.
Rowena: This book rocked my socks and I have been looking forward to reading it since I found out Frederick was working on it. I wasn't too thrilled with who the hero was because I hated him in the last book but I learned my lesson. Trust Frederick to take care of us (the readers) and she totally did in this one. So good. Put this on your list of books to binge on. You won't be sorry!

Someone Like You (Oxford #3) by Lauren Layne.
Lauren Layne's bestselling Oxford Series continues with the poignant, heartwarming story of New York's most eligible bachelor, Lincoln Mathis, a man who's living a lie—until his dream woman takes away the pain.

Lincoln Mathis doesn't hide his reputation as Manhattan's ultimate playboy. In fact, he cultivates it. But behind every flirtatious smile, each provocative quip, there's a secret that Lincoln's hiding from even his closest friends—a tragedy from his past that holds his heart quietly captive. Lincoln knows what he wants: someone like Daisy Sinclair, the sassy, off-limits bridesmaid he can't take his eyes off at his best friend's wedding. He also knows that she's everything he can never have.

After a devastating divorce, Daisy doesn't need anyone to warn her off the charming best man at her sister's wedding. One look at the breathtakingly hot Lincoln Mathis and she knows that he's exactly the type of man she should avoid. But when Daisy stumbles upon Lincoln's secret, she realizes there's more to the charming playboy than meets the eye. And suddenly Daisy and Lincoln find their lives helplessly entwined in a journey that will either heal their damaged souls . . . or destroy them forever.
Rowena: Lincoln Mathis. He's been the gorgeous writer at Oxford magazine that I have wanted to get to know for what feels like forever and we're finally getting his book. I was fortunate to get an advanced readers copy of this book and you guys, you won't be sorry that you binged on this one because Lincoln is everything and you should add this book to your TBR list for that reason alone. So stinkin' good!

Shut Up and Kiss Me (Lost Boys #2) by Jessica Lemmon.
Cade: I tried. I really tried. I should be out of this small town by now, finishing my law degree and partnering up with my buddies, but I couldn't resist one last street race. Now I'm sidelined in the hospital, and while my injuries will heal, I'm not so sure my voice will return. What kind of attorney can't talk? Yeah, exactly. I'm afraid that I won't be able to come back from this… until Tasha Montgomery reawakens every competitive bone in my body.

Tasha: I nearly watched Cade Wilson die on that lonely stretch of road. He's damn lucky just to be alive, even if he doesn't realize it. I know he's destined for bigger and better things, but I don't mind helping him get there as he relearns everything he took for granted. Cade's a good student, a real perfectionist; I can tell how much his stutter bothers him. But when he lets his kisses do the talking, everything else disappears. And one day, maybe he'll be able to tell me that he wants me—as much as I want him.
Rowena: Jessica Lemmon is a new to me author this year that I'm enjoying right now. I've read a couple of her books and have enjoyed all of them, this one included. This is the second book in the Lost Boys series, about a young man who is recovering from a really bad car accident. He's pretty much mute for a huge chunk of this book but I really enjoyed getting to know both Cade and Tasha so it is my recommendation that you binge on this book this month as well. 🙂

Island of Glass (Guardians Trilogy #3) by Nora Roberts.
The final Guardians Trilogy novel from the #1 New York Times bestselling author of Bay of Sighs and Stars of Fortune.

As the hunt for the Star of Ice leads the six guardians to Ireland, Doyle, the immortal, must face his tragic past. Three centuries ago, he closed off his heart, yet his warrior spirit is still drawn to the wild. And there's no one more familiar with the wild than Riley—and the wolf within her…

An archaeologist, Riley is no stranger to the coast of Clare, but now she finds herself on unsure footing, targeted by the dark goddess who wants more than the stars, more than the blood of the guardians. While searching through Irish history for clues that will lead them to the final star and the mysterious Island of Glass, Riley must fight her practical nature and admit her sudden attraction to Doyle is more than just a fling. For it is his strength that will sustain her and give her the power to run towards love—and save them all…
Rowena: Nora Roberts is one of my favorite romance novelists of all time. I put all of her books on my TBR lists even though I haven't read her in such a long time. Still, this is going on my wish list.
Holly: I have the first two books in my TBR pile. NR is hit-or-miss for me, but this trilogy sounds really intriguing.

Hit the Spot (Dirty Deeds #2) by J. Daniels.
New York Times bestselling author J. Daniels brings us the next book in her Dirty Deeds series.

Is this love or just a game?

Tori Rivera thinks Jamie McCade is rude, arrogant, and worst of all . . . the sexiest man she's ever laid eyes on. His reputation as a player is almost as legendary as his surfing skills. No matter how her body heats up when he's around, she's determined not to be another meaningless hookup.

Jamie McCade always gets what he wants. The sickest wave. The hottest women. And Tori, with her long legs and smart mouth, is definitely the hottest one. He knows Tori wants him-hell, most women do-but she won't admit it. After months of chasing and one unforgettable kiss, it's time for Jamie to raise the stakes.

Jamie promises that soon Tori won't just want him in her bed, she'll be begging for it-and he might be right. Somehow he's found the spot in her heart that makes her open up like never before. But with all she knows about his past, can she really trust what's happening between them? Is Jamie playing for keeps or just playing to win?
Rowena: If you read my review of the first book in this series, Four Letter Word, you're probably wondering why this book is on my wish list since I hated that book so much but it is. I'm curious about Jamie (Mr. Hottie McHotPants) and Tori. Their back and forth in Four Letter Word was interesting to me and I want to give this author and series another chance so yep, this is on my wish list.

This is Our Song (Shaughnessy Brothers #4) by Samantha Chase.
She knows him by reputation

Riley Shaughnessy knew that to stand out in his large family, he'd have to go big. Making a name for himself as a musician wasn't easy, but he followed his dreams to rock-star success. But the relentless expectations of fans is not helping the slump he's in now. So of course the person who attracts him is the woman who is not impressed by fame.

Which gives Riley Shaughnessy a lot to prove

Entertainment reporter Savannah Daly is completely unfazed by pretty-boy rock stars. She's just here to get her interview and write her story. But spending an entire month with the Shaughnessys is going to show Savannah a side of Riley she never could have guessed.
Rowena: I haven't read anything by this author before but I'm curious and very interested in checking her out. I want to say that she was brought to my attention by Nath but I can't remember. This book is definitely on my to be read list for December.

The Hero (Sons of Texas #1) by Donna Grant.
THE HERO'S HOMECOMING

Owen Loughman is a highly-decorated Navy SEAL who has a thirst for action. But there's one thing he hasn't been able to forget – his high school sweetheart, Natalie. After over a decade away, Owen is returned home to the ranch in Texas for a dangerous new mission that puts him face-to-face with Natalie and an outside menace that threatens everything he holds dear. He'll risk it all to keep Natalie safe – and win her heart. . . .

Natalie Dixon has had a lifetime of heartache since Owen was deployed. Fourteen years and one bad marriage later, she finds herself mixed up with the Loughman's again. With her life on the line against an enemy she can't fight alone, it's Owen's strong shoulders, smoldering eyes, and sensuous smile that she turns to. When danger closes in, she holds close to the only man she's ever loved…
Rowena: I've had my eye on this book for a few months now. A Navy SEAL and second chance romance? Count me in.

Off the Rails by Jill Sorenson.
A dedicated American agent risks everything for a forbidden beauty in this sensual, turbo-charged novel from the RITA-nominated author of Against the Wall ("A sexy, unique love story that I devoured in one day."—Monica Murphy).

Four years ago, when Ian Foster was working as a border patrol agent, he rescued an eighteen-year-old Mexican girl who'd been left for dead. He never forgot the gorgeous, resilient Maria Santos. Now Ian is an undercover ICE agent on the trail of a ruthless criminal with an intriguing connection: Maria. She holds the only clue to the man's whereabouts. And Ian is tasked with crossing the border to find her.

Maria has always carried a torch for Ian, the handsome American who saved her life. When he shows up in her hometown, the attraction between them ignites. His intense gaze sets her blood on fire. But Maria is in serious danger. She owes a favor to a drug lord, and soon she's caught in the crosshairs of a treacherous takedown operation. Once more, Ian's her sole hope of survival—and his sizzling touch rekindles a passion that goes beyond borders.
Rowena: Jill Sorenson is a great author. I've been enjoying her books for years now and she's got another book coming out this month that is on my to be read list. Her books are gritty, raw and real. I really like that about her books so I can't wait to dig into this one.

Four Weddings and a Sixpence Anthology by Julia Quinn, Elizabeth Boyle, Stefanie Sloane, and Laura Lee Guhrke.
Beloved authors Julia Quinn, Elizabeth Boyle, Laura Lee Guhrke, and Stefanie Sloane deliver the stories of four friends from Madame Rochambeaux's Gentle School for Girls who find an old sixpence in their bedchamber and decide that it will be the lucky coin for each of their weddings…

"Something Old"
Julia Quinn's prologue introduces her heroine Beatrice Heywood and the premise for Four Weddings and a Sixpence.

"Something New"
In Stefanie Sloane's unforgettable story, an ever-vigilant guardian decrees that Anne Brabourne must marry by her twenty-first birthday. But love finds her in the most unexpected of ways.

"Something Borrowed"
Elizabeth Boyle tells the tale of Cordelia Padley, who has invented a betrothed to keep her family from pestering her to wed. Now she'll need to borrow one to convince them she's found her true love.

"Something Blue"
In Laura Lee Guhrke's story, unlucky Lady Elinor Daventry has her sixpence stolen from her and must convince the rake who pilfered the coin to return it in time for her own wedding.

"… and a Sixpence in Her Shoe"
Julia Quinn finishes with the story of Beatrice Heywood, who never believed that the sixpence was anything but a tarnished old coin—until it led all of her friends to true love. But her faith in the coin is tested when it keeps sending her to the wrong man!
Rowena: Avon puts out these fun historical anthologies every once in a while and I'm always going to read them. They're such fun, especially around the holidays so I'm definitely going to be reading this one.

Moonshadow (Moonshadow #1) by Thea Harrison.
Her past is a blank, her future uncertain….

Recovering from a shooting, LAPD witch consultant Sophie Ross leaves her job and travels to the U.K. to search for answers about her childhood. When she encounters a Daoine Sidhe knight of the Dark Court, she becomes entangled in an ancient hatred between two arcane forces.

He has given his body and soul to fight for his people….

Barred from his homeland along with his surviving brother knights, Nikolas Sevigny is embroiled in a conflict that threatens everything he holds dear. Only by uniting his people's resources can they hope to prevail against Isabeau, the deadly Queen of the Light Court. He will do anything and use anyone to return home to Lyonesse.

When Nikolas encounters Sophie, he sees a tool to be used. The insouciant witch might be the key to unlocking every passageway that has been barred to the knights of the Dark Court, even as a fascination for her takes root in what's left of his soul.

Sophie has no intention of becoming anyone's pawn, yet the fierce Nikolas is so compelling, she can't deny the temptation that endangers her guarded heart.

As magic threatens Lyonesse, Queen Isabeau unleashes her merciless Hounds, and Nikolas and Sophie become embroiled in a race for survival. Meanwhile, the passion that ignites between them burns too hot to be denied and quickly turns into obsession.

Thank goodness they both know better than to fall in love…
Rowena: Thea Harrison's Elder Races series is one that I started this year but never got around to finishing. Coming across this book, a spin off of that series captured my interest and I'm seeing good early reviews for this one so it's on my list. I'm gonna read it. For reals. 🙂
Holly: I love this series. I can't wait to get back to this world.

One Fell Sweep by AUTHOR NAME.
Gertrude Hunt, the nicest Bed and Breakfast in Red Deer, Texas, is glad to have you. We cater to particular kind of guests, the ones most people don't know about. The older lady sipping her Mello Yello is called Caldenia, although she prefers Your Grace. She has a sizable bounty on her head, so if you hear kinetic or laser fire, try not to stand close to the target. Our chef is a Quillonian. The claws are a little unsettling, but he is a consummate professional and truly is the best chef in the Galaxy. If you see a dark shadow in the orchard late at night, don't worry. Someone is patrolling the grounds. Do beware of our dog.

Your safety and comfort is our first priority. The inn and your host, Dina Demille, will defend you at all costs. We ask only that you mind other guests and conduct yourself in a polite manner.
Holly: I read this as a free serial on the author's website, but the full-length version (with bonus content) releases this month and I can't wait.

Rules of Contact by Jaci Burton.
In the new Play-By-Play novel by the New York Times bestselling author of Unexpected Rush, a football player with all the right moves on the field needs a better game plan for his love life.

A defensive end for the San Francisco Sabers, Flynn Cassidy is used to being in the spotlight—he just doesn't enjoy it. But if getting in front of the cameras will help his new restaurant succeed, he's willing. Now if he could just meet a woman who loved him and not his fame…

After her divorce, Amelia Lawrence is thrilled to start over as head chef at Ninety-Two. It's just the opportunity she needs to heat up her career—if only she wasn't wildly attracted to her sexy new boss. Their chemistry might be sizzling hot, but Amelia has no intention of being burned again.

Amelia is genuine and fun and Flynn can't get enough of her—and Amelia loves every second she spends with the tough but tender Flynn. But trust is a hard fought battle for both of them. Breaking the rules of contact and surrendering to their passion was easy, but are they willing to risk their hearts to win at the game of love?
Holly: I really enjoyed this one. I'm behind in the series, but I didn't feel like I missed anything by picking this one up. Food and Football..what more does a girl need in a novel?

Force of Temptation by Suzanne Wright.
Harley Vincent is resigned to life in the human world. Sure, being a margay shifter is half her nature, but life among humans gives her the freedom to roam and do as she pleases. That is, until anti-shifter extremists target her, putting her life in immediate danger.

When an old acquaintance and onetime fling, Jesse Dalton, shows up to offer the protection of his pack, Harley hesitates. She may have feelings for Jesse that go beyond their one-night stand, but life among shifters means giving over her independence to the needs of pack. Plus Mercury Pack has its own threat to face: a rich half-shifter is determined to claim their territory at any cost.

Jesse, who lost his true mate as a child, has wanted Harley since their night together, and he's not letting her go again. They may not be destined for each other, but he knows she belongs to him and with his pack. Even if he can convince her to join him now, can he convince her to stay?
Holly: Wright is a great PNR author. I still need to read the first book in this series, but I really liked her other books. I expect good things from this series.

Miracle on 5th Avenue by Sarah Morgan.
Hopeless romantic Eva Jordan loves everything about Christmas. She might be spending the holidays alone this year, but when she's given an opportunity to housesit a spectacular penthouse on Fifth Avenue, she leaps at the chance. What better place to celebrate than in snow-kissed Manhattan? What she didn't expect was to find the penthouse still occupied by its gorgeous–and mysterious–owner.

Bestselling crime writer Lucas Blade is having the nightmare before Christmas. With a deadline and the anniversary of his wife's death looming, he's isolated himself in his penthouse with only his grief for company. He wants no interruptions, no decorations and he certainly doesn't appreciate being distracted by his beautiful, bubbly new housekeeper. But when the blizzard of the century leaves Eva snowbound in his apartment, Lucas starts to open up to the magic she brings…This Christmas, is Lucas finally ready to trust that happily-ever-afters do exist?
Holly: Contemporary romance has been mostly miss for me lately, but Tracy was telling me about this book a couple weeks ago and it sounds great. Plus, Jen and Tina both liked it. So I added it to my TBR.
He definitely wasn't supposed to get that email…

Subject: My Boss.

Have I already told you that I hate my boss today?

Sexy as hell or not, this pompous, arrogant, ASSHOLE asked me to pick up his dry cleaning the second I walked through the door. Then he told me that I needed to take his Jaguar to a car wash that was ten miles outside of the city, but only after I needed to stand in a never-ending line to buy some type of limited, hundred-dollar watch.

I honestly can't wait to see the look on his face two months from now when I tell him that I'm quitting his company and that he can kiss my ass. KISS. MY. ASS.

All those former fantasies about him kissing me with his "mouth of perfection" or bending me over my desk and filling me with his cock are long over. OVER.

Your bestie,
Mya
Holly: This one sounds really cute. I really liked the other books by Whitney G I read.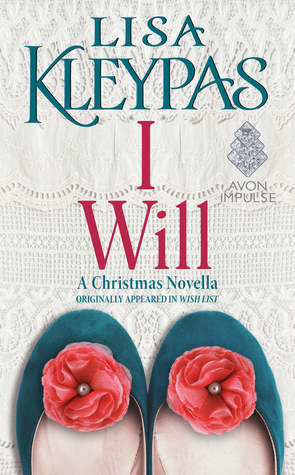 I Will by Lisa Kleypas.
Andrew, Lord Drake, has been cut out of his father's will because of his dissolute manner of living. To be reinstated, Andrew decides to pretend that he has changed his wicked ways.

As part of his plan, he wants to convince his father that he is courting a respectable woman with the intention of marrying her. The problem is, he doesn't know any decent women, except for his friend's spinster sister, Miss Caroline Hargreaves. He blackmails the reluctant Caroline into helping him, and so the charade begins…
Holly: This is a reprinted novella. I'm excited to add it to my e-collection.
Related Posts