Sunday Spotlight is a feature we're running in 2016. Each week, we will spotlight a release we're excited about. We'll be posting exclusive excerpts and being total fangirls. You've been warned. 🙂
This year has been the year of the Psy/Changeling series for me. I glommed the hell out of this series in the beginning of the year and my love for this series grew with each book that I read. I was sad when I was completely caught up but forgot about my sadness when this book came onto my radar…I'll take more Psy/Changeling goodness in the form of a few short stories. Bring it on.

Wild Embrace by Nalini Singh
Series: Psy/Changeling #15.5
Releases on August 23, 2016 by Berkley
Pre-Order the Book:
AMAZON || BARNES AND NOBLE || KOBO
The "alpha author of paranormal romance"* presents a stunningly sensual collection of four all-new Psy-Changeling novellas, in which taboos are broken, boundaries are crossed, and instincts prove irresistible…

Echo of Silence
In a deep-sea station, Tazia Nerif has found her life's work as an engineer, keeping things running smoothly. But she wants nothing more than to break down the barrier of silence between her and her telekinetic Psy station commander…

Dorian
A changeling who can never shift lives a life of quiet frustration—until he learns how to let his leopard come out and play…

Partners in Persuasion
Still raw from being burned by a dominant female, wolf changeling Felix will never again risk being a plaything. But for dominant leopard Dezi, he's the most fascinating man she's ever met. She just has to convince this gun-shy wolf that he can trust the dangerous cat who wants to take a slow, sexy bite out of him…

Flirtation of Fate
Seven years ago, Kenji broke Garnet's heart. Now the wolf packmates have to investigate the shocking murder of one of their own. And the more Kenji sees of the woman Garnet has become, the deeper he begins to fall once more. But even his primal instincts are no match for the dark secret he carries…
This series has so much going for it and one of my favorite parts of the series is getting to see more and more Psy's question their conditioning for Silence. Stefan is a powerful TK who was found lacking so was denied entrance into the Arrow Squad, he spends his time overlooking things on Alaris. This excerpt introduces us to Tazia, the human engineer that works for Stefan on Alaris and who just might the person that melts the ice around Stefan's heart…
Excerpt
Tazia didn't run into Stefan again until five days later—possibly because she'd done everything in her power to avoid contact. When she did end up in the same space as him, it was at the senior staff meeting where they went over the health of the station piece by piece, including the health of the crew and anything else that might affect the smooth running of Alaris.

Not up for discussion were any current research projects.

Because while it was Stefan's task to make sure Alaris ran smoothly, all staff and crew safe, it was water changeling Dr. Night who headed the research team and through whom all related data was funneled. Tazia figured the split had something to do with BlackSea not wanting the Psy to co-opt research they'd funded. She wondered if Stefan was troubled by the implied lack of trust, then realized he wasn't troubled by anything.

"I think we should have another station event midmonth." That came from Allie Livingstone, the station's chief counselor. "A single monthly get-together isn't enough, not when some people inevitably miss it because of their shifts. As a result, it might be two months before they have a chance to blow off steam in a group setting."

"I'm willing to take your lead on this, Ms. Livingstone." Stefan's tone was even, his form motionless where he stood at the front of the room. Around him, some of the crew slouched in sofas, a few held up the wall, while Tazia leaned against a sofa arm.

"However," Stefan added, "you must ensure these social events do not leave the crew unable to function. The researchers set their own hours, but I need my crew alert if the station is to run at maximum efficiency."

Allie shoved a hand through her strawberry blonde hair. "Yeah, sorry about that. No more hangovers, I promise. I was thinking about a quiz night." She held up her hands when several people groaned. "You mock me now but I bet you all get into it. Competitive lot that you are."

"Are there any other nonstandard matters that require discussion?" Stefan looked straight at Tazia.

And she wondered if he could see her thoughts, see how her mind kept replaying the sight of his strong, beautiful body doing those chin-ups.

He was telepathic after all.

No, she reminded herself, uninvited telepathic contact was against the rules of the Psy race, and Stefan would never break the rules.

"The lift situation remains stable?"

She nodded in response to his question. "We'll be fine until the next delivery." Breaking the piercing intensity of the eye contact, she glanced around the room. "If any of you have noticed anything else buggy, let me know. I've got some leeway this week with the routine maintenance completed."

She kept her head down the rest of the meeting, but swore she could feel Stefan's eyes on her throughout. Impossible, of course. He'd never pay extra attention to a particular crew member when he already had the information he needed from that crew member. Slipping out as soon as he dismissed the meeting, she headed down into the bowels of Alaris to tinker with a nonessential system.

He found her there fifteen minutes later. "Is there a problem with that component?"

"No," she said shortly, frustrated that he'd followed her into her territory.

When he simply waited, she blew out a breath and wiped away a tendril of hair using the back of her hand. "I have an idea about streamlining this system for better efficiency and I have the time to work on it today."

"I see." His eyes lingered on her cheek.

Flushing as she realized she'd no doubt streaked her skin with grease yet again, she turned back to her work, determined to ignore both him and her stupidly thudding heart. When she turned around a few minutes later, Stefan was gone.

Posted by arrangement with Berkley, a member of Penguin Group (USA) LLC, A Penguin
Random House Company. Copyright © Nalini Singh, 2016.
Every time I hear we're getting a new Psy/Changeling series, I do this exact dance:
Don't forget, this book goes live on August 23rd so it's just around the corner. Yay!
Psy/Changeling Series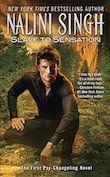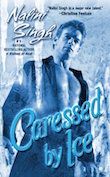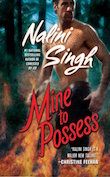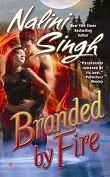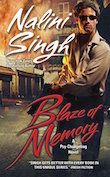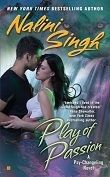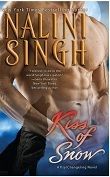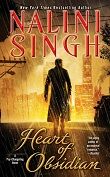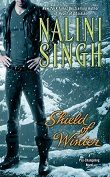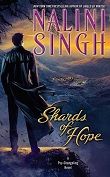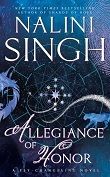 Giveaway: We're giving one lucky winner their choice of one of our Sunday Spotlight books. Use the Rafflecopter widget below to enter for one of this month's features.
Are you as excited for this release as we are? Let us know how excited you are and what other books you're looking forward to this year!
About the Author

WEBSITE || FACEBOOK || INSTAGRAM || TWITTER || BLOG
I've been writing as long as I can remember and all of my stories always held a thread of romance (even when I was writing about a prince who could shoot lasers out of his eyes). I love creating unique characters, love giving them happy endings and I even love the voices in my head. There's no other job I would rather be doing. In September 2002, when I got the call that Silhouette Desire wanted to buy my first book, Desert Warrior, it was a dream come true. I hope to continue living the dream until I keel over of old age on my keyboard.

I was born in Fiji and raised in New Zealand. I also spent three years living and working in Japan, during which time I took the chance to travel around Asia. I'm back in New Zealand now, but I'm always plotting new trips. If you'd like to see some of my travel snapshots, have a look at the Travel Diary page (updated every month).

So far, I've worked as a lawyer, a librarian, a candy factory general hand, a bank temp and an English teacher and not necessarily in that order. Some might call that inconsistency but I call it grist for the writer's mill.
Related Posts