Sunday Spotlight is a new feature we're running in 2016. Each week, we will spotlight a release that we're excited about. We'll be posting exclusive excerpts and being total fangirls. You've been warned. 🙂
To start things off, Jill Sorenson has a book coming out next month that I forgot I wanted. You see, back in 2011 I read The Edge of Night and really enjoyed it. You can read my review of that book here. I also really enjoyed the secondary romance but wanted more from Eric's character and wanted a longer, fully fleshed out romance for Eric and Meghan. I hoped Eric would get his own book and my wishes came true because Against the Wall comes out on February 2, 2016 and…IT'S ERIC AND MEGHAN'S BOOK!
Excuse me while I do a little happy dance…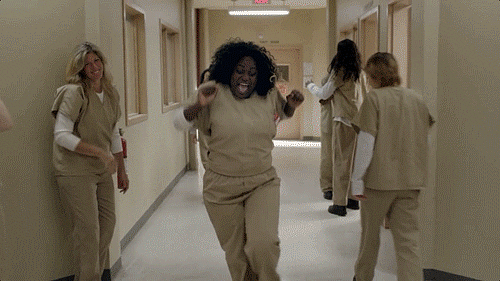 After reading the premise for this book, I'm even more excited because holy cow…I'm so stoked to see these two all grown up and falling in love again. I have every faith that Jill Sorenson will work her magic and completely win me over. I can't wait for more Eric. Eric Hernandez is full of yum. In my head, this is Eric.
heart eye emoji
Against the Wall
by
Jill Sorenson
Publisher
:
Loveswept
Publication Date
: February 2, 2016
Genres:
Romantic Suspense
Pages:
280
Add It
:
Goodreads
Amazon
|
Barnes & Noble
|
The Ripped Bodice
|
Google Play Books
Fans of Katie McGarry, Simone Elkeles, and Tammara Webber will love Against the Wall! As teenagers, they fell for each other despite the odds. But now that Eric and Meghan are all grown up, they're reunited by fierce passion and dangerous secrets.

Eric Hernandez is the bad boy of every schoolgirl's fantasies—and every mother's nightmares. But after serving time for manslaughter, he's ready to turn his life around. He just needs a chance to prove himself as a professional tattoo artist. The one thing that keeps him going is the memory of the innocent beauty he loved and left behind. Meghan Young's world isn't as perfect as it looks. The preacher's daughter is living a lie, especially now that Eric is back. Tougher, harder, and sexier than ever, he might be the only person she can trust. But there's no telling what he'll do to protect her if he learns the truth, and that's a risk Meghan won't let him take. And yet, back in the arms of the troubled boy with the artist's soul, Meghan can't help surrendering to the man he's become. Praise for Jill Sorenson "Jill Sorenson's sleek sensuality and fresh new voice are sure to score big with readers."—New York Times bestselling author Cindy Gerard "With Jill Sorenson, you are guaranteed a dangerously addictive, gut-wrenchingly fast-paced read."—New York Times bestselling author Stephanie Tyler Includes a special message from the editor, as well as an excerpt from another Loveswept title.
Jill Sorenson set this excerpt up for us and I'm more than a little anxious. Check it out: In this excerpt, Meghan returns to her brother's house to search for a letter she wrote to Eric while he was in prison.
Excerpt
I park in the driveway at Noah's house and unlock the front door. I'm greeted by silence, so I head straight to the den. Eric's not there. The bed is neatly made with a black backpack sitting on top of it. I'm tempted to search through his stuff, but I resist the urge. I came for my letter, which he rejected. He didn't want it then and he doesn't deserve to read it now.
The only question is…where did I put it?

I start in the closet, shoving my old clothes aside. My body hums with a strange sort of tension. It takes me a minute to realize that it's anger. I'm mad at myself for leaving the letter behind. I'm mad at Eric for coming back from prison, more handsome than ever. I'm mad at Chip for bruising my arm. I'm mad at my parents for being so disappointed in my choices. I'm mad at the world and at the way things worked out.

I find some photos and jewelry in a shoebox, but my letter isn't there. I suspect that April has moved my belongings and I feel a twinge of pique. Leaving the closet in a disarray, I check the nightstand. Eric's clothes are in the top drawer, along with a shaving kit and a stick of deodorant. I imagine removing the lid to smell it like a lovesick girl.

I grit my teeth and shove that drawer shut, moving on to the next one. There's a large manila envelope stuffed with letters that aren't mine. I peek inside anyway. I can't read the folded pages without removing them, but I recognize the slanted masculine scrawl.

Before I can snoop further, someone walks in the front door.

"Hello?"

It's Eric. I toss the envelope back into the drawer and shut it quickly. He appears in the doorway before I have a chance to escape. I can't come up with an excuse to be in here, so I just stare at him, my heart racing. He's wearing the same shirt as yesterday with the sleeves rolled up to his elbows. His boots are work-worn, his jaw smooth. Freshly shaved. There's no hint of softness in his body. He's all sharp edges.

He's quieter than I remember, more self-possessed. There's a new stillness in him, as if he's braced for trouble. "You don't have to clear out your stuff on my account. I told April not to bother you."

I cross my arms over my chest to hide my trembling hands. Then I glance into the closet, which is full of the quirky thrift shop clothes I used to wear, BC. Before Chip. "I wanted to pick up a few things."

Eric stands at the threshold, studying me. He looks hot. Not just good-looking hot, but sweaty-hot, as if he's been walking in the sun for miles. He probably wants me to leave so he can freshen up. I imagine him stripping down to the waist and my brain short-circuits. He's got more tattoos now. Harder muscles, broader shoulders.

I clear my throat, flushing. I feel trapped and awkward, in danger of embarrassing myself. I can't find my letter with him watching. "I'm sorry about Chip."

Eric shrugs. "It's okay."

"No, it's not. He was rude."

"Does he know about…?" He trails off, making a vague gesture between us.

"He knows now."

His gaze searches mine, brow furrowed as if he's wondering how many details I shared. He makes no attempt to apologize for the things he said when I visited him in jail. Maybe he doesn't remember that conversation—or care.

"I heard Noah set you up with an interview at Fine Ink."

"Yeah, he did."

Matthew Fine is my best friend's dad. He met Noah through me. "How'd it go?"

"Pretty good. I start tomorrow."

"You move fast."

"Not always."

I'm not sure what he means by that. He moved pretty fast with me. Then again, I threw myself at him.
"I need a bag for my stuff," I say, brushing by him. April keeps trash bags in the kitchen. I grab one and return to the den. Eric makes himself scarce while I start tossing vintage tees and secondhand dresses into the large plastic bag.

When I'm done, I tiptoe to the desk in the corner. It has a hidden drawer that I haven't thought about in ages. My fingers search the underside of the desk for the release mechanism. It pops open and sure enough, there's a pale blue envelope inside, next to a cross on a thin silver chain. Eric left it for me the day he got arrested. He seemed to know he wasn't coming back from that fight.
I shove the necklace into my pocket and hide the letter in the clothes. Then I pick up the trash bag and drag it out. Eric is in the living room, drinking a soda. He opens the front door because my hands are full.

"I'll carry that for you," he says.

"No, I've got it."

I try to sidestep him, but I'm all out of sorts and clumsy. I stumble over a potted plant by the entryway. He grabs my arm to save me from falling on my ass. Unfortunately, it's the tender arm. I wince as he steadies me.

"Are you okay?"

"I'm fine."

His hand slides to my elbow. It's a man's hand, strong and dark against my pale skin. The fingerprint bruises are visible on my upper arm, just under the edge of my shirtsleeve. He pushes up the fabric, frowning. "What happened to you?"

"Nothing."

"Chip did this?"

"I bruise easily," I say.

The last thing I want is Eric going after Chip. The two of them hated each other on sight. I don't need any more grief from Chip, and Eric is supposed to stay out of trouble. One slip and he'll be back in prison.

He releases my arm, which tingles from his touch. Then his eyes travel down my body, as if searching for more injuries. I'm wearing a thin tunic blouse with cutoff denim shorts and huarache sandals. His gaze lingers on my bare legs.

We both notice the silver chain at the same time. It must have slipped from my pocket. Now it's lying on the carpet, glittering in the afternoon haze like a beacon of shame. He bends down to retrieve it.

"That's yours."

"I know," he says flatly.

I want to tell him that the item means nothing to me, but I'm not the best liar. My mouth goes dry and I don't trust my voice. He puts the cross in his pocket, straightening. I couldn't bring myself to fling the necklace off the end of the pier after he went away. Instead I crushed it into my fist and wept.

Moving past him, I continue out the door. He follows me to my car and helps me put the bag in my trunk. I stand by the curb, self-conscious. I can smell freshly cut grass and warm dirt. Bees buzz in the background, swarming high in the trees. My face is hot, heart racing. I feel alive in an uncomfortable way. It's as if I've been reanimated or woken up from a coma. I'm not ready for this much stimulation.

"You look good," he says.

"So do you," I reply, mildly resentful of this fact. He doesn't look good for someone who's been in prison for three years, either. He looks good, period. He looks hard and healthy and strong. He looks like he hasn't seen a pretty girl in a long time and he wants to eat me up.

"I'd better go," I say.

"Yeah. You'd better."

Despite the warning in his tone, I don't move. The memory of our ill-fated affair, and the way he broke things off, hangs in the air between us.

I can't let him use me and toss me aside again just because he's eager for female attention. He's young and well-built. He's always been handsome. He'll have no trouble finding a girl to hook up with. He needs a single girl, one who won't cause so many complications in his life. Noah would be furious if Eric touched me, and Chip would go ballistic.

Even so, I lean forward to kiss him goodbye. My lips brush his cheek, lingering close to his mouth. It's a friendly kiss, even sisterly, but I'm taunting him and he knows it. His jaw clenches with tension.

I want to elicit a reaction from him. I want to make him sorry. I have this revenge-fantasy of getting him excited and then pushing him away.
Excuse me for a minute…
Holy smokes, I can't freaking wait for this book to come out. I've got a case of major grabby hands so I'm pretty sure that come February 2nd, this is going to be me…
Giveaway: We're giving one lucky winner their choice of one of our Sunday Spotlight books. Use the Rafflecopter widget below to enter for one of January's features.
a Rafflecopter giveaway

Are you as excited for this release as we are? Let us know how excited you are and what other books you're excited for this year!
Related Posts