Five Books Everyone Should Read is a new feature we're running in 2015. We've asked some of our favorite authors, readers and bloggers to share five books that touched them or have stayed with them throughout the years.
With Valentine's Day happening this month,  Rowena and I decided to suggest Five Romance Novels Everyone Should Read. Below are five romance novels for those who haven't read or claim to not like romance.
For fans of dramatic suspense novels we recommend Cry No More by Linda Howard.
Count your blessings; they can be snatched away in an instant. It is a sentiment Milla Edge knows too well. With an astonishing blend of savvy, instinct, and passion, Milla displays an uncanny gift for finding lost children. When all seems helpless, desperate souls from across the country come to her for hope and results. Driven by an obsessive desire to fill the void in other people's lives, Milla throws herself into every case–all the while trying to outrun the brutal emotions stemming from a horrific tragedy in her past.
Traveling to a small village in Mexico on a reliable tip, Milla begins to uncover the dire fate of countless children who have disappeared over the years in the labyrinth of a sinister baby-smuggling ring. The key to nailing down the organization may rest with an elusive one-eyed man. To find him, Milla joins forces with James Diaz, a suspicious stranger known as the Tracker who conceals his own sinister agenda.
As the search intensifies, the mission becomes more treacherous. For the ring is part of something far larger and more dangerous, reaching the highest echelons of power and influence. Caught between growing passion and imminent peril, Milla suddenly finds herself the hunted–in the crosshairs  of an invisible, lethal assassin who aims to silence her permanently.
Although there's a romantic thread that runs through the story, this is a dark, intense read about a mother who lost her child and the depths she'll go to find him. This dark tale takes a gritty look at the underbelly of society. Obsession, Vengeance, Betrayal, Passion…this book has it all.
For fans of historical fiction, we recommend Pride and Prejudice by Jane Austen.
One of the most universally loved and admired English novels, Pride and Prejudice was penned as a popular entertainment. But the consummate artistry of Jane Austen (1775–1817) transformed this effervescent tale of rural romance into a witty, shrewdly observed satire of English country life that is now regarded as one of the principal treasures of English language.
In a remote Hertfordshire village, far off the good coach roads of George III's England, a country squire of no great means must marry off his five vivacious daughters. At the heart of this all-consuming enterprise are his headstrong second daughter Elizabeth Bennet and her aristocratic suitor Fitzwilliam Darcy — two lovers whose pride must be humbled and prejudices dissolved before the novel can come to its splendid conclusion.
Naturally this is a classic, but I know many skip over it since it focuses heavily on the emotional development between Elizabeth and Darcy. This is more than a romance novel, however. The social commentary, nuanced familial relationships and vivid English countryside setting make this an engrossing read.
For fans of Fantasy, we recommend Angels' Blood by Nalini Singh.
Vampire hunter Elena Deveraux knows she is the best- but she does not know if even she is good enough for this job. Hired by the dangerously beautiful archangel Raphael, a being so lethal that no mortal wants his attention, Elena knows failure is not an option—even if the task is impossible.
Because this time, it's not a wayward vamp she has to track. It's an archangel gone bad.
The job will put Elena in the midst of a killing spree like no other—and pull her to the razor's edge of passion. Even if the hunt does not destroy her, succumbing to Raphael's seductive touch just might. For when archangels play, mortals break.
This isn't the most popular of Singh's series', but it's one of the best in terms of world-building and creativity. The power balance between the archangels of the world is interesting, but it's the fast-paced story and depth of he characters that really makes this story stand out.
For fans of comedy we recommend Just the Sexiest Man Alive by Julie James. 
No woman could resist him—except the one he wanted most…
Cool, Calm, Collected…
Nothing fazes Taylor Donovan. In the courtroom she never lets the opposition see her sweat. In her personal life, she never lets any man rattle her—not even her cheating ex-fiancé. So when she's assigned to coach People's "Sexiest Man Alive" for his role in his next big legal thriller, she refuses to fall for the Hollywood heartthrob's charms. Even if he is theJason Andrews.
Confident, Famous, Irresistible…
Jason Andrews is used to having women fall at his feet. When Taylor Donovan gives him the cold shoulder, he's thrown for a loop. She's unlike any other woman he's ever met: uninterested in the limelight, seemingly immune to his advances, and shockingly capable of saying no to him. She's the perfect challenge. And the more she rejects him, the more he begins to realize she may just be his perfect match.
An ambitious  attorney, a somewhat spoiled movie star…okay, this sounds like your classic fluff. And it is. There are some cheesy parts. What sets it apart is the witty dialogue, snappy banter and the strong-minded female character.  There's quite a bit of humor and the development of their friendship really paves the way for their romance.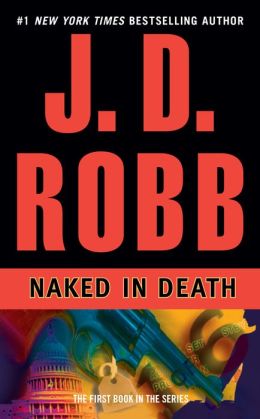 For fans of C.S.I. type drama Naked in Death by J.D. Robb.
In a world of danger and deception, she walks the line–between seductive passion and scandalous murder…Eve Dallas is a New York police lieutenant hunting for a ruthless killer. In over ten years on the force, she's seen it all–and knows her survival depends on her instincts. And she's going against every warning telling her not to get involved with Roarke, an Irish billionaire–and a suspect in Eve's murder investigation. But passion and seduction have rules of their own, and it's up to Eve to take a chance in the arms of a man she knows nothing about–except the addictive hunger of needing his touch.
Don't let the number of novels in the series deter you. Each one focuses on a new murder case for homicide Lt. Eve Dallas. The interpersonal relationships develop over the course of the series, but it's Eve's personal growth that makes the series. She's a kickass cop who would rather go head to head with a junkie than talk about her emotions. Though fans of the series often go on about Roarke, it's Eve who makes the series come alive.
Eve aside, the books are also interesting for the social commentary and politics. The books are set in the 2050's-2060's, but there isn't a lot of weirdness. There's off-planet travel and hover cars, but that aside the world isn't much different. New drugs, new murders, same tired excuses. This is easily a world I can imagine 40-some odd years in the future.
As with any genre, there are some truly terrible romance novels on the market, but there are also some true gems. Perhaps these aren't the novels others would recommend, but they five stayed with us or touched us in some way. We feel there a pretty good representation of the genre.
Are there other romance novels you'd recommend? Which ones do you feel represent the genre in a positive way?
Related Posts