Publisher
:
Avon
,
Harper Collins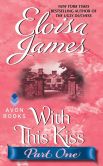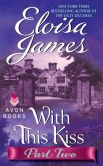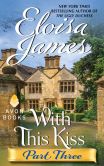 From our friends over at
Avon
, some exciting news:
As You Wish…
New York Times Bestselling Author Eloisa James
Releases a Sweeping New Love Story in Three Parts:
"With This Kiss" Poised to Be the Digital Publishing Event of the Season!
Eloisa James is one of the savviest authors in (print & digital) publishing today: the author, who is also a noted Shakespeare professor and the acclaimed author of her celebrated memoir, "Paris in Love," is constantly pushing the envelope.
She is adept in remaining foremost in her readers' hearts and minds: from penning full-length, sweeping romances that craftily weave in references to classic literature, to writing short form novellas for digital-first publication; from working with leading retailer Barnes & Noble to curate their monthly romance recommendations through her syndicated "Reading Romance" column, to publishing swoon-worthy original non-fiction content that allows her audience to get rose-colored glimpses into the author's own very exciting life…it may be said that Eloisa is romance.
And now, this brilliant American writer is thrilled to present her newest endeavor, WITH THIS KISS, parts one, two and three. This novel, a digital original that will be published interstitially, is the eagerly-awaited story of two characters born of two previous Eloisa James titles, The Ugly Duchess and Seduced by a Pirate.
Readers are already on tenterhooks, eagerly waiting for the romance between Lady Grace Ryburn and the dashing young naval lieutenant, Colin Barry, to develop. The love story will play out as an extended seduction, over the course of three weeks, as Avon Books releases WITH THIS KISS: Part One as a digital original on 3/12/13 (e-ISBN 9780062276933: $0.99); WITH THIS KISS: Part Two on 3/19/13 (e-ISBN 9780062276940: $0.99); and WITH THIS KISS: Part Three on 3/26/13 (e-ISBN 9780062276957: $0.99).
For avid Eloisa James collectors, there will be a limited edition run of AS YOU WISH, the complete collection of this beautifully woven love story in three parts, published in a special bound edition with "Seduced by a Pirate," available on 3/26/13 (ISBN 9780062276964; $5.99)
For more information on these interconnected tales, or to learn more about the author, visit www.EloisaJames.com, or www.facebook.com/eloisajamesfans. Starting March 12, Eloisa will also be leading a special, month-long Facebook discussion group (https://www.facebook.com/groups/WithThisKiss/). The author is looking to engage her readers in a vibrant read-along book club, where she will tease what's coming next as each 'chapter' of the interstitial publication is set to release, answer questions, and indulge in her audience's love for romance. She is excited by the opportunity, saying, "I don't think we have enough anticipation in our lives as adults — I used to wait months for Christmas when I was a kid. Months! I'm hoping the group will make anticipation fun again. And get people talking, naturally!"
About the Author:
New York Times bestselling author Eloisa James writes historical romances for HarperCollins Publishers. Her novels have been published to great acclaim. A reviewer from USA Today wrote of Eloisa's very first book that she "found herself devouring the book like a dieter with a Hershey bar"; later People Magazine raved that "romance writing does not get much better than this." Her novels have repeatedly received starred reviews from Publishers' Weekly and Library Journal and regularly appear on the best-seller lists.
After graduating from Harvard University, Eloisa got an M.Phil. from Oxford University, a Ph.D. from Yale and eventually became a Shakespeare professor, publishing an academic book with Oxford University Press. Currently she is an associate professor and head of the Creative Writing program at Fordham University in New York City. Her "double life" is a source of fascination to the media and her readers. In her professorial guise, she's written a New York Times op-ed defending romance, as well as articles published everywhere from women's magazines such as Good Housekeeping and More to writers' journals such as the Romance Writers' Report.
WITH THIS KISS, Part One
*Digital Original*
e-ISBN 9780062276933
On-Sale 34/12/13
$0.99
WITH THIS KISS, Part Two
*Digital Original*
e-ISBN 9780062276940
On-Sale 3/19/13
$0.99
WITH THIS KISS, Part Three
*Digital Original*
e-ISBN 9780062276957
On-Sale 3/26/13
$0.99
AS YOU WISH
*Limited Edition Paperback Original*
ISBN 9780062276964
On-Sale 3/26/13
$5.99
This book is available from Avon. You can pre-order these books here or here in e-format. This book was provided by the publisher for an honest review.
Related Posts