Genres:
Romantic Suspense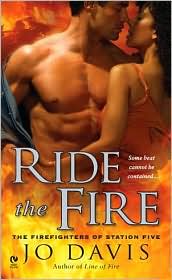 Casee's review of Ride the Fire (Firefighters of Station Five, Book 5) by Jo Davis.
After he lost his wife and children to tragedy, Capt. Sean Tanner Show alldrowned his pain with alcohol. Now, fresh from rehab, he wants to regain the trust of his team and begin again. The last thing he needs is to have feelings for beautiful firefighter Eve Marshall. But even as they dare to explore their growing desire, Sean learns that his family may have actually been murdered. And that a shadow from his past has returned to finish off Sean-and anyone he loves.
It's been a long, hard road for Sean Tanner. We've followed him from book one where he was sort of an ass and watched him spiral downward. We've watched him hit rock bottom (que Eminem) and start climbing his way back up. As soon as he begins that hard climb back up, someone from his past comes back to settle an old score. Which causes a bigger problem than it should since Sean has no idea who is fucking with him.
If his old "friend" had returned even a year earlier, Sean would have ended it before it could have even begin. Now he's sober and thinking with a clear, er, clearer head than he has had in awhile and some things aren't adding up. It also helps that he has Eve Marshall by his side pointing out things that he otherwise wouldn't see.
Oh yes, Eve. The person that he doesn't deserve. And he really doesn't deserve her. He never has. She's always been right there in front of him. Waiting. In this book she plays it like she's stronger than that; she's not going to be that woman. The woman that waits and waits and waits. But isn't that what she's been doing all along? She's waited for him to grieve. She's watched him turn to alcohol. She's seen him at his worst and she still waits. She's seen him get help and then relapse. Yet she still waits. But she's not that woman. I think that I lost respect for Eve awhile ago so I would have been happy if she wasn't Sean's heroine. I know. Slap me with a spoon. I'm a horrible person. I got over the whole Eve/Sean thing awhile ago.
This book was a big boo-hoo for me. The only thing that made it worth reading was seeing Sean become the man that he was meant to be. You could see it lurking in the previous books, but it never came out. It was a tragedy what happened to his family. Jo Davis has an amazing way of writing that makes it think that it could happen to you. There is a closeness shared by people that risk their lives together that came across loud and clear. That is one of the things I loved about this series. That is one of the things that I loved about this book. I'm grateful that it wasn't missing. If it had been, this book may have been a total dud.
I know this isn't the greatest review. I would give the romance a 2 out of 5. Overall a 3 out of 5.
This book is available from Signet. You can buy it here or here in e-format.
The series:
Related Posts