Genres:
Romantic Suspense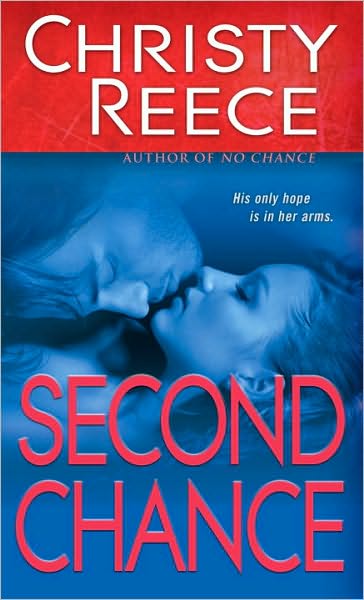 Casee's review of Second Chance (Last Chance Rescue, Book 5) by Christy Reece.
Working for Last Chance Rescue, Cole Mathison has been to hell and back. But being responsible for the death of an innocent man is a hell like no other. Longing for redemption, Cole finds himself embroiled in the mysterious disappearance of Keeley Fairchild's young children. Rescuing the children is his mission—but falling in love with the widow of the man he inadvertently killed was never in the plans. When Keeley's life is threatened, Cole's demons must take a backseat to the most important mission of his life. He might never know the heaven of Keeley's arms, but he'll never survive the hell of failing to save her.
Christy Reece is an author that gets better with each book. This is the second book in her latest trilogy, which continues the Last Chance Rescue series. Cole Mathison was last in Rescue Me. Everyone at LCR thought he was dead. He was really has been held captive for a year and had all cognitive thinking taken away from him by a crazy doctor. While drugged, Cole accidentally kills a man that he later learns was abducted much like him. Since he was rescued, Cole has made it his job to watch out for his widow and children.
Keeley has worked hard to get life back on track for her twin daughters after her husband was murdered. When her children are taken right in front of her, Keeley is understandably devastated. I thought that Reece did a phenomenal job of writing emotions from Keeley's POV. As a parent, getting your child taken from you is one of your worst nightmares. It's something that you don't even contemplate. If I were to contemplate it, I imagine that I would have felt and reacted much of the way that Keeley did. I found myself literally hurting when thinking about what she must have went through. It made me forget (only for a moment) that she is a fictional character.
It was when Cole left his post as Keeley's protector that Hailey and Hannah were taken. If the fact that he killed her husband didn't create enough guilt, the fact that he wasn't there when Keeley needed him most was something that he couldn't forgive himself for. As soon as Noah McCall tells him what has happened, he takes the first plane out and lands on Keeley's doorstep.
When Cole arrives, it's been months since the kidnapping. Every day, Keeley feels a little less hope. Cole breathes hope into a situation that seems to have none, something that Keeley desperately needs. Cole had never seen Keeley before that, so he is shocked and uncomfortable with his attraction to her. When she comes to him for solace and comfort, he can't turn her away even though he knows that she would hate him if she knew the truth about him.
Cole quickly zeroes in on the fact that the person that arranged for the twins to be taken is someone that hates Keeley and wants her to suffer. Everything bad that has happened to Keeley in the past several years is connected to someone that has intense hatred for her. The only person Keeley can think of is her mother-in-law, who has hated her from the day her husband brought her home.
Second Chance is about second chances. It's about not being afraid to take another chance when it is handed to you. This book was very well written. I loved both Keeley and Cole. They were a couple that had both been through so much, I just wanted them to be as happy as possible.
4.25 out of 5.
This book is available from Ballantine. You can buy it here or here in e-format.
The series:
Related Posts