Genres:
Romantic Suspense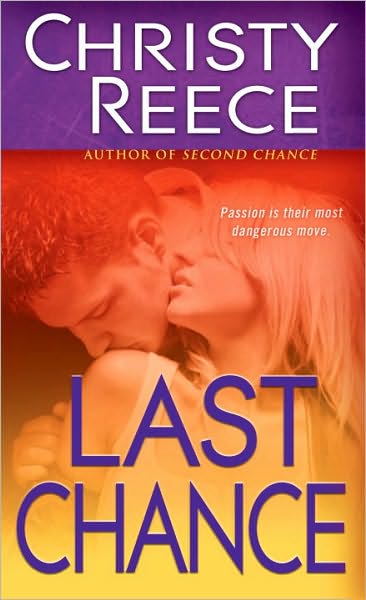 Casee's review of Last Chance (Last Chance Rescue, Book 6) by Christy Reece.
McKenna Sloan saved Lucas Kane's life and then vanished. Lucas moved mountains trying to find her again, and finally McKenna relented—for one fleeting night. The truth is, McKenna's life is all about the dark, deception-filled world of Last Chance Rescue, and for her, there's no hope of love or Lucas. But fate, and Lucas's determination, soon change everything. A kidnapped young woman, a lure to out a killer and the fierce need to bring a criminal to justice combine for one explosive event. For a woman who specializes in staying away from relationships and staying in the heart of danger, this is the most impossible mission of all. Because the odds are deadly, and the passion won't die.
This is my favorite book of the series. Love, love, LOVE it.
McKenna Sloan was in No Chance. She was the operative that went undercover to save Skylar. McKenna was an intriguing character from the beginning. She was one of those shady operatives that would do anything (and I mean anything) to save an innocent person. She was instrumental in rescuing Lucas Kane from his abductors. McKenna couldn't not save Lucas. Somewhat of a celebrity, McKenna has followed him in the news for years. She couldn't leave him to die.
Since she rescued him, Lucas has been searching for McKenna. When he first starts looking for her, he doesn't even know her name. All he knows is that he has to know the woman that fought for him so courageously. In a last attempt to locate her, he hires Last Chance Rescue, having no idea until he is sitting in front of Noah McCall that McKenna is one of LCR's. When Noah promises to pass on the message, all Lucas can do is wait.
McKenna has isolated herself for so many years that she can't resist Lucas. In a few meetings, Lucas and McKenna are hooked on each other, though McKenna still can't stay. She has demons that will follow her to her grave; demons that she won't allow to touch Lucas. Every time she leaves Lucas, she tells herself that it will be the last time she will see him, yet she can't stay away.
Lucas isn't without influence and makes the decision to solve McKenna's problems for her. That was about the only thing Lucas did that made me want to smack him. Without consulting McKenna, he decided to take matters into his own hands and "fix" her problems. That way they could be together. The decision was made with arrogance first, then actually wanting to help McKenna. If that makes sense.
Damien is a man that made McKenna's life into hell. Killing her family when she was just a teenager, Damien promised McKenna that they would always be together. Though he was thought to have died in a prison riot, McKenna knows that he is alive and well. For years she has stayed under the radar, always one step ahead of Damien. She knows that she will have to confront him some day. It isn't until she meets Lucas that she thinks the confrontation will be sooner rather than later.
McKenna was such a fighter, but she wasn't beyond asking for help. I loved seeing her realization at the fact that she has family. She has people that would go to the death to protect her. After everything McKenna has sacrificed, no one deserved it more than her.

4.5 out of 5.
This book is available from Ballantine. You can buy it here or here in e-format.
The series:
Related Posts