I don't generally like making New Years resolutions. Big resolutions lead to big disappointments. This year I decided to make a relatively easy resolution: keep track of all the books I read. How hard could it be? I keep the spreadsheet on my work laptop, which I (unfortunately) have to take everywhere. Keeping track for 15 days and I've already noticed how the # of reviews and the # of books read are getting farther and farther apart. Then I thought that I'd just do lightning reviews at the end of each month for all the books I didn't review. There's one problem with that. My memory is shit. So waiting until the end of the month doesn't really work b/c by then I would forget everything except for the plot. Maybe not even that.
Why did I feel the need to explain that? I'm not sure. I think part of it was explaining it to myself.
I'm Watching You by Mary Burton (Spoilers)
3 out of 5
The first kill was easy. The second much easier.No guilt, no remorse, just a rush of adrenaline surging through him as each life drains away, and the pleasure of knowing that their deaths help his beloved Lindsay. And there are so many more who deserve to die…
The first twisted gift to Lindsay O'Neil arrives hidden in a bouquet of flowers. When her estranged husband, Detective Zack Kier, is assigned to the case,Lindsay's past comes back with a vengeance.Because only Zack knows the dark secret she lives with—or so she thinks. Now nothing can prepare her for the nightmare to come…
Everything Lindsay's stalker does, every life he takes,is for her. But when Lindsay spurns his gifts, she and those she loves most become targets of a depraved madman whose rage is growing, and who is waiting,watching, closer than she ever feared…
This book was eerily similar to I'm Watching You by Karen Rose. Not just the title, but the plot as well. I could have handled the fact that the heroes in both books were cops. A lot of heroes are cops when it comes to romantic suspense. What I didn't like was that the villain, while definitely dangerous, was really trying to "help" the heroine. It was exactly the same in Karen Rose's book.
There was also too much going on. In the end, the villain ended up saving the heroine from a secondary villain who was even more evil than the 1st villain. If that doesn't make your head spin, well, good for you. *g*
I did like the heroine. She was very likable for the most part. I just thought she should get over her relationship hangups. While she had a past that I wouldn't wish on anyone, she got help before it ruined her. So I just felt that she didn't resolve her relationship with her husband in the manner I would expect from a personality like hers.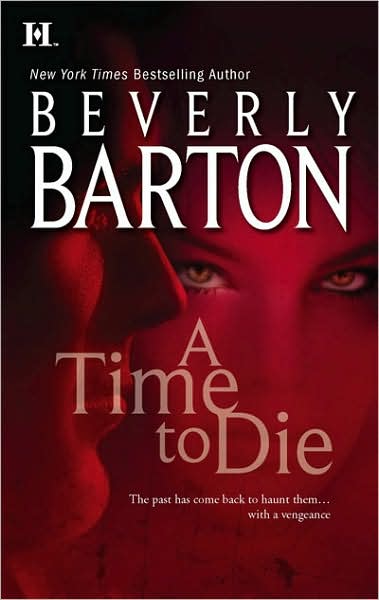 A Time to Die by Beverly Barton
3 out of 5
Ten years ago, Black Ops commando Deke Bronson's bullet left up-and-coming journalist Lexie Murrough paralyzed.
It's taken years of painful physical therapy to bring Lexie back from the brink. And Deke is just grateful that she has no memory of his part in the incident that left her injured and him emotionally scarred. He's tried to put the past behind him, leaving the military and joining the Dundee Agency, but he's never been able to forgive himself.…
When Lexie, now head of an international charity organization, begins receiving terrifying threats from the son of the dictator killed during that long-ago operation, it's Deke who's assigned to keep her safe from harm.
Maybe it's fate's way of giving him another chance, but falling for Lexie isn't supposed to be part of the deal. And what if she finally discovers the truth?
Every time I read a Beverly Barton book, I continually have to remind myself that she's southern. Every time the heroine bursts out with "Oh Mercy!", I think of my grandmother. I got several chuckles as I was reading.
As I was reading (in between giggling), I kept hearing the theme song for the Small World ride at Disneyland. "It's a small world after all. It's a small world after all. It's a small world after all, it's a small, small, world". Yes, I am crazy.
See, 10 years ago when Lexie was a journalist, she was covering a story in the Middle East. While she was there, a group of mercenaries assassinated the newly elected President, the story which she was covering. She took a bullet in the back and was paralyzed (not plagiarized). Whose shot her? You guessed it…Deke. Now does the "Small World" reference make me seem a little more sane?
This is typical Barton fare. Southern woman who is independent seeks bodyguard to protect her body. Sex optional. Danger, danger, danger. Fall in love. Deny, deny, deny. Kill bad guy.
The end.
Just a Taste by Deirdre Martin
3.5 out of 5
While trying to keep his retired hockey star brother out of the kitchen, Anthony Dante has turned his restaurant into a Brooklyn institution. But the stunning Vivi Robitaille is giving him some competition with her new bistro. The table is set for a culinary war-until things start getting spicy.
I love Anthony Dante. How can you not love a hero that has no qualms about taking a lawn chair and going to his wife's grave to talk to her? Every single Sunday?
So overall, I think this was a good book. There were many different elements that made it very amusing. I wasn't really feeling Anthony and Vivi, though. While the French-born Vivi was the polar opposite of Ant's wife, she was almost too French. I enjoyed the sparring between the two of them. I enjoyed how Vivi constantly messed up American slang and sayings. I just didn't like them together romantically. I also thought Vivi was too naive considering her childhood. It just wasn't believable.
Without the comic relief that Michael, Ant's brother provided, this book wouldn't have been nearly enjoyable. There was also "Insane Lorraine" who had a big crush on Anthony and didn't have any problem with letting him know how she felt.
While I enjoyed this book, it didn't wow me like some of her previous work.
Related Posts