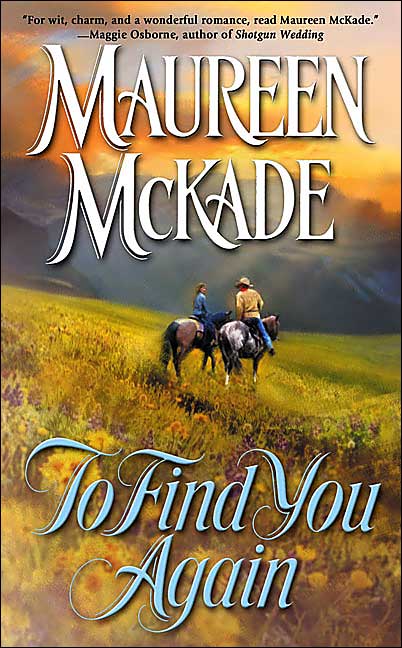 Book description:
It has been seven years since Emma Hartwell's capture by a tribe of the Lakota Sioux. But her recent rescue by the US Cavalry feels like anything but salvation. She has been forced to leave behind her beloved child, and return to the family who can't accept her, only to be shunned by the townspeople as an outcast. Emma is haunted by her life with the Elk tribe. She sets off on a dangerous journey, fueled by a fierce love of her son and fears for his safety, in an effort to find the tribe and reclaim him.
Only Ridge Madoc stands in her way. A former army scout with a keen tracking sense and a keener sense of justice, Ridge has been sent by Emma's father to bring her back–a task that will give him the chance of reclaiming some of the land that was rightfully his. But, he never expected a woman as determined and courageous as Emma. Now, Emma must appeal to Ridge to help her with her desperate quest, and Ridge must struggle with his desire for a woman who no longer has a place in his world…

I really hate getting in reading ruts. It really effects me in unpleasant ways. When nothing sounds good, what do you do? I start going through my different piles of TBR books (they're semi-organized). I look at different books and remember when and where I bought them, but for the life of me can't remember why I bought them. Since I'm in a (sort of) rut, I decided to try to get back into historicals. I have so many good historicals, but I just haven't been in the mood for them. I'm really glad I picked up this book by Maureen McKade b/c it was a very good read.
When Emma Hartwell was "rescued" from the Lakota tribe she had lived with for 7 years, she was gravely wounded and had a vague feeling that something was missing. It wasn't until she was recovering from a life threatening saber wound that she realized what she was missing…her son, Chayton. Not daring to breathe a word of her son's existence to anyone, Emma quietly went through her days trying to remain unobtrusive. That was hard b/c even though the town believed that Emma was in the Lakota camp against her will, they still referred to her as a "Squaw woman". They looked at her as a fallen and soiled woman. They didn't even know the full truth, that she had willingly married and had a child with one of the Lakota warriors.
Though her mother and father decide to send her to her Aunt Alice's back east, Emma knows that they mean well. After vivid nightmares that make her believe that harm will come to her son, she also knows that she won't leave without him. The day before she's to leave, she sneaks out and begins the long process of following the tribe.
When John Hartwell comes to Ridge Madoc trying to hire him to find Emma, Ridge is dubious. This is the same man that basically stole land that had been in Ridge's family for generations. It didn't matter that he obtained it legally…buying it from his drunken stepfather was the same as taking it for free as far as Ridge was concerned. Hartwell also refused to hire him as a ranch hand when Ridge went looking for work. Nonetheless, Ridge can't pass up the opportunity to make the kind of money that Hartwell is offering.
Ridge soon learns that there is more to Emma that anyone realizes. Finding first her trail, then Emma herself, Ridge is satisfied that he can have Emma back in 2-3 days. He didn't plan on having his tea drugged and getting his horse stolen. Now it's a matter of pride and Ridge doggedly follows Emma's trail. When he once again finds her, they strike a deal. Ridge will accompany Emma to the Lakota camp in return for doubling the money her father is offering. Ridge accepts.
I really found this book fascinating. Emma was a woman caught in two separate worlds during a time that you had to be in one or the other. Though she lived with the Lakota's for 7 years, she was no longer fully accepted in their midst. In the white world, she was looked upon as an Indian. The only person that didn't look upon her with disdain was Ridge. Even then, she knew that they had no future. Not only did she think he couldn't accept that she married a Lakota (incorrectly, I might add), but she also knew how hard it would be for him when she brought her son back.
As a mother, I could completely understand Emma's dilemma. On one hand, she wanted her son. She wanted the baby she she carried all those months. But she also knew that he would be better being raised by people that accepted him. The scene where her and Ridge rode away from the Lakota camp, leaving Chayton behind was heart breaking.
It was a mother's instinct that made her go back to the camp. It was there they saw the carnage brought upon the tribe by the Confederate Army. Though she feared she was too late, Emma found Chayton scared, but unharmed. It was then she vowed that she would not be separated with him again. Taking him back to her parents house laid the grown work for the next section and the ending of this book.
Though this is a time long past, I felt Emma's heartbreak that people wouldn't accept an innocent three year old boy without slurring him or his mother. When Emma's mom and sister embraced Chayton as part of the family, I rejoiced with Emma. When Ridge offered to marry Emma and happiness was within her grasp, a bitter enemy from the tribe comes to take Chayton away from her forever.
This is not a book that will give you the warm fuzzies. This is a book that will engage your emotions and maybe even make you a little teary.
4 out of 5.
Related Posts